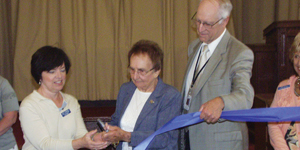 By BILL HALBFOERSTER
A ribbon cutting ceremony, sponsored by the Nazareth Area Chamber of Commerce, marked the dedication of a new short-term rehabilitation unit at Gracedale, the Northampton County Home, on Monday afternoon.
The ceremonial ribbon was jointly cut by Helen Fischl, the first admission to the unit, and John Stoffa, Northampton County Executive, as they stood with a number of dignitaries.
Millard D. Freeman, Gracedale Administrator, welcomed more than 50 persons present, noting that the opening of the unit is a "great milestone," as the Southeast I section that was officially closed in August 16, 2011 has been re-opened "as a place to restore life and give people hope."
Stoffa noted that Gracedale is ideally located in the center of the county, and with the new rehab unit is providing "a very valuable service."
Robert F. Werner, a member of Northampton County Council, noted that it took eight months to make the change. He commended the staff as an "outstanding group of people who care," and remarked that the unit is a "a new era of stewardship at one of the finest facilities in the Lehigh Valley."
Tina Smith, president of the Nazareth Chamber, led the audience in the Pledge of Allegiance and introduced a number of local dignitaries. They noted their thanks for building a facility in Northampton County, making it a better place to live.
Background
Faced with a dwindling census at Gracedale, residents of Southeast-I were relocated through the vast facility in Upper Nazareth Township last year. The administrators completed an operational assessment, in which they planned to re-open SE-I as a 26-bed short-term rehabilitation unit and converting one of the four-bed rooms to a satellite therapy gym to enhance the rehabilitation process.
Adjacent to the short-term unit is long-term and respite care. STR offers quick admissions seven days a week with 24-hour visiting. Benefits include Wi-Fi, on-staff pastor, hospice care, local trips for the residents, a beauty and barber shop, alternative care (dementia), and local entertainment units. They accept a variety of insurances, Medicare and Medicaid.
Gracedale has a dedicated person in its business office to help families apply for medical assistance. The complex as a whole includes a picturesque garden that has a stream, paths to walk on that are wheelchair accessible, and gazebos.
The newly converted unit re-opened on May 1. Not only will it help the elderly recover, but the facility will also increase revenue for the county by $1.1-million in the first year.