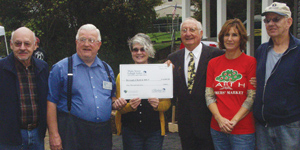 By BILL HALBFOERSTER
The weather was cloudy and cool, but the dedication of the Keystone Park gazebo warmed the crowd on Bath Community Day.
As Sharon Davis remarked, "The gazebo epitomizes everything the Bath Business & Community Partnership stands for."
She said materials for the building were obtained at cost, and Curtiss Markulics, who did most of the woodwork, was a master carpenter in her eyes.
She said that what the BBCP wanted to be in 10 years has been accomplished in so little time, including the farmers market and gazebo, which will be used for entertainment. $4,000 for the gazebo was obtained from the Main Street Lehigh Valley program, and no public money was needed.
Ms. Davis said a plaque will be placed in the gazebo noting all the people who worked on the gazebo. "This was the most gratifying project I ever worked on," she said as people came together and worked to get the project completed.
Mary Kositz thanked the key people who helped and the private donations that made it possible to build the gazebo in less than one year, from June to September. "It was appropriate that it came during Bath's 275th anniversary," she said.
A plaque was given to Bath Borough Councilman John Kearns, one of the chief people in the project, noting his dedication to the BBCP and to Keystone Park. It was presented by Mrs. Kositz and Alice Wanamaker.
Ms. Kositz thanked all the benefactors who saw the BBCP's vision and gave monetary contributions. Among the persons and businesses she singled out were Curtiss Markulics, John Kearns, A. J. Trunzo Fabricators workers, Ed Fogel of Fogel Electric, Paul Connolly for plumbing fixtures, John Manning, Jennifer and Allen George of the Daily Grind, and Darrin Heckman of Lehigh Engineering, who drew the plans for the gazebo. She also credited State Representative Marcia Hahn for her support of the revitalization efforts in Bath.
Successful Day
The seventh annual Bath Community Day overall was a success, drawing a large number of crafters and business vendors, who displayed their wares along the grounds of Keystone Park. While the weather was threatening, very little rain fell, and it did little to curb the enthusiasm of the visitors as they walked from one vendor to another, and stopped for food at the Bath Fire Fighters, Boy Scouts, and Christ U.C.C.  Church stands.
The youngsters had a great time in the hot air bounce, and on the see-saw and swings at the park. More playground equipment is being put together and could be seen behind an orange netting.
Musical entertainment was provided on the gazebo, first by Glenn Pritchard, and then by the country-western group "Banned from the Ranch."