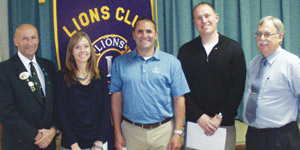 Wednesday, Oct. 16 was a good night for members of the Bath Lions Club. The District 14-K Governor made his visitation and installed three new members of the club, and they are moving forward with two new projects that will benefit the club as well as help returning wounded veterans of the armed forces and their families.
New Members
District Governor Linwood Gehris of Alburtis administered the oath of membership to Melissa Brown, Kyle Grube, and Zee Bartholomew. They were sponsored by Lion Daniel Spengler and welcomed by the club, which will celebrate its 85th year in 2013, dedicated to serving the community, district, state and internationally in Lionism.
Lions Help Needy
In making his visitation, one of many as he goes to all the Lions and Lioness clubs in District 14-K's Northampton and Lehigh counties, Lion Gehris told how Lions have helped the needy, and specially those who have lost their sight. He noted the goals of Lions International's president Wayne Madden of Indianapolis, which are dedication, preparation and teamwork, all toward carrying on the Lions motto of "We Serve."
Gehris has a theme, too, "Building Better Tomorrows", as he and the Lions work to make the lives of needy people better. He cited three instances where Lions have helped: a woman who needed special contact lenses after having a disease that called for them; a woman who had a condition where she would fall suddenly, but a Lions-purchased dog helps detect when the illness comes on and she can sit down; and a co-worker who was light-hearted before suddenly becoming blind, became depressed, and who now is feeling better since Gehris referred him to the Center for Vision Loss in Allentown.
"People appreciate what Lions do, and Lions feel better when helping people," he said.
  Service Chevrons
Gehris presented chevrons for their membership pins to four Lions who have been members for a total of 100 years: The Rev. Jay R. Wetzel, William Falstich, and James Spengler, all for 30 years; and Jack Metcalf, for 40 years.  He commended them for their dedication.
Coat Drive
It was announced that the Bath Lions Club will have a special winter coat drive, collecting used coats that are in good condition, so that they can be donated to the Purple Heart Foundation, which assists wounded veterans and their families.
The Lions are asking that people bring their used (or new) winter coats to St. John's Lutheran Church at 206 E. Main St., Bath, on Saturday, Nov. 17 between 9 a.m. and 1 p.m. They, in turn, will donate all of the winter coats to the foundation's benefactors, bringing them needed warmth this winter, a season that is rapidly approaching.
 Christmas Flowers
Another project that the Lions are having is selling coupons for the approaching Christmas holiday. The coupons will be good for colorful poinsettia plants and poinsettias in pots, wreaths, roping, cemetery logs, and cemetery blankets that will be coming from Filchner's Plants & Produce in Klecknersville.
While the coupons will be sold in the coming days, all items that they are good for will be picked up by the buyers at Filchner's the day after Thanksgiving and the days afterward that lead to Christmas, a fine gift of love and caring for families.
All profits from this fund-raising project will go to Lions charities.
Other News
• The Lions have provided Peace Poster kits to students at the Sacred Heart School and a Junior Girl Scout troop in Bath, as part of a Lions International contest based on "Imagine Peace."  The local contestants could be eligible to win prizes from District 14-K, Pa. Lions, or Lions International – or all three – with plaques and prize money that could amount to $800. A Sacred Heart winner from Bath in the past was an International honorable mention winner, and her portrait was shown around the world.
• At the Nov. 7 dinner meeting in the fellowship hall of St. John's Church, PDG April Kucsan of Lower Nazareth Township will speak on the new Reading Action Program that is intended to curb illiteracy.
• The Bath Lions will host a zone meeting on Wednesday, Nov. 21 at 6:30 p.m.
• Volunteers from the club will also have their final Adopt-A-Highway clean-up of litter along Rt. 512 this month.
• On Nov. 24 at 9 a.m. they will decorate the community Christmas tree at Monocacy Creek Park on W. Main St., in time for Bath Borough's tree lighting ceremony on Sunday, Dec. 2 at 5:30 p.m.
• Also at last week's meeting, a thank-you note was read from Timothy Vrabel of Bath, a student the club sponsored at the July 15-22 Northampton County Junior Conservation School.