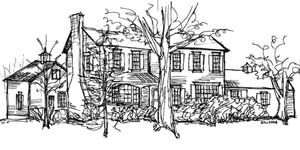 The first home on the 32nd Governor Wolf Historical Society's Christmas House Tour,   "Maple Hill" was built in 1892 and is located along Green Pond Road in Bethlehem Township. This Connecticut-style frame farmhouse is situated on 2 acres of manicured grounds, with formal gardens and 19th century maple trees along the front.  The property also has an outbuilding, a pergola-covered root cellar, and an attached circa 1840 guesthouse.  The guesthouse was originally located in an adjacent field and functioned as a summer kitchen.  It has been relocated and restored with hand-hewn beams and hard wood floors.
Mike Vasilik has owned the house for over 15 years, and has furnished it in period American country antiques.  The first floor will be open during the tour.
The Saturday, Dec. 1 tour runs from 10am to 4pm and advance ticket booklets are recommended.  In advance the tickets are $17 and the day of the tour they will be $20.  Tickets will be available Nov 16.  Call 610-837-9015 for more information.
Each week the Home News will feature one of the homes on the December 1 tour to whet your appetite.
5567 Roosevelt St. (Village of Drumholds), Whitehall, PA  18052
Purchased 15 years ago, and last on the GWHS 2002 tour, this limestone, center-hall farmhouse rests on a well-manicured
3 acre property with generous road setbacks, a spring-fed creek, old bridge and outbuildings set in a cozy village, at one time known as Drumholds.
The home was built C. 1790 by Adam Zerfas (local, typical spelling today is Serfass).  A deed appears in his name dated
November 18, 1773, for 136+ acres for 57 pounds and 11 shillings (surveyed as early as December 29, 1748).  He was born January 25, 1742, in Bucks County, son of Gottfried, a widower who arrived in America on September 9, 1738, on the ship
Glasgow.  Adam married Mary Elizabeth Shafer on March 8, 1768; they had 9 children.  He died on January 13, 1806, at the age of 64 years.
The home's original features include high ceilings on all 4 levels, numerous ceiling beams, 18" walls, baseboards, front door with transom, some flooring, stone thresholds, plaster walls, peg rail on the second floor, doors, chair rail throughout, pegged window frames, some original sills and master bedroom fireplace.  Attic rafters are pegged tree trunks and ceiling height is 10' 5".  There are 2 ceiling scarf joints, one in the basement and one in the second floor hall.  The basement has 3 candle niches in the stone walls, large supporting stone arch and a wide exterior door with tree branch lock.  One very unusual feature is the South-facing entrance door, which is flush with the stone facade and not recessed as is seen in most other early, local stone homes.
Most rooms have been lovingly restored by removing carpeting and tile floors, dry wall, wallpaper, popcorn ceilings and installing period-correct windows.  A working dumb waiter is in the living room.  Future restoration includes 2 ceilings, the office, fireplace in the master bedroom and outbuildings.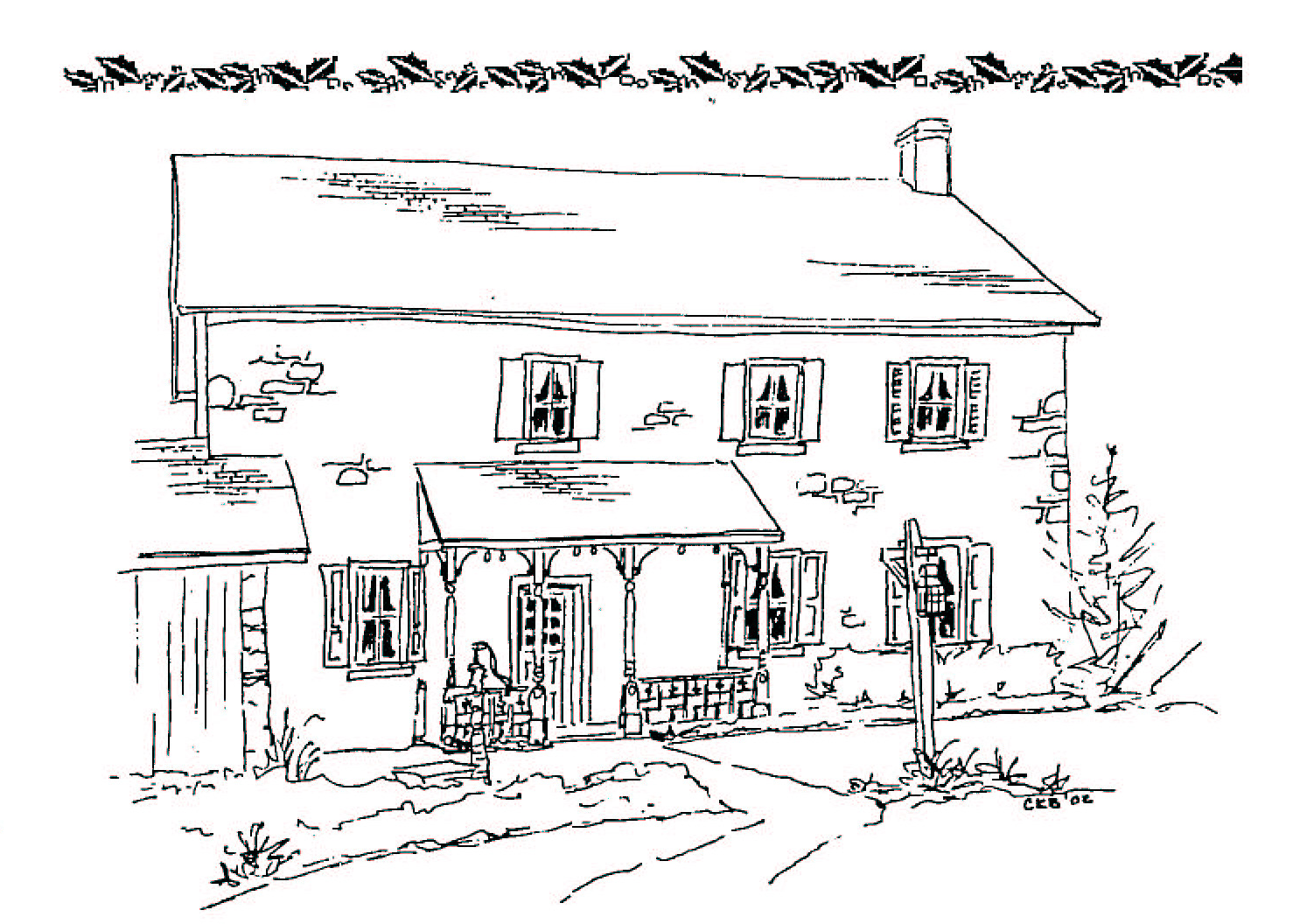 Circa 1837 Stucco
The third home on the 2012 Governor Wolf Historical Society Christmas House Tour is located in Lehigh Township.
Circa 1837 Stucco over Stone Farmhouse, Stone Barn, Spring House with Spring Fed Stocked Pond, Stream, Smokehouse, Two seated Outhouse and two additional buildings on a six plus acre lot in Lehigh Township.
The main house is completely refurbished in the last three years blending the old with the modern conveniences.  The farmhouse has many of the original features such as exposed stone walls, 20" windowsills and exposed beams. The summer kitchen has been completely restored into a beautiful sunroom with vaulted T&G ceiling and exposed beams that overlooks the pond and the woods.  The smoke house still has its original features which includes a large stone fireplace that provides us with a cozy getaway in the winter time. Our large stone barn on the property which is in its original state houses a beautiful holding well and will soon to be completed into a large craft and family room.  We believe that our farmhouse was once owned by a gentleman with the name of Jacob Wentz who was born on August 26, 1776 and died January 15, 1857 in Cherryville. In those days our farmhouse could have been known as the Jacob Wentz farm. He was a farmers as well as a cooper. In the three years that we have been living in this home we have enjoyed fishing in the summers and sledding and tubing in the winters, but most of all we have enjoyed watching our family enjoy a great sense of peacefulness in its natural setting. The areas in our home that will be opened for the tour will include the first and second floor as well as the smokehouse. The springhouse will also be available to tour as an added attraction.