A head-on crash on the Rt. 220 overpass at Rt. 6 in North Towanda Township, Bradford County, at 10:21 a.m. Tuesday, Nov. 20 claimed the lives of both drivers.
One of the deceased is 44-year-old Scott Halbfoerster, a resident of Forks Twsp., Sullivan County, formerly of Plainfield Township.
The crash occurred when a 2004 Saturn VUE AWD operated by Halbfoerster was headed south on Rt. 220 and ran head-on into the northbound 2004 Subaru Forester 25×7 operated by John E. Ambrosone, 65, of Hammondsport, N.Y. Ambrosone was also killed in the crash. State Police are continuing their investigation, but one of the vehicles is believed to have crossed the double centerline.
Halbfoerster's daughter, Audrey, 7, sustained head injuries and is in critical condition in the Geisinger Medical Center at Danville, where she was airlifted by medical helicopter. Late word is that the swelling has gone down in her brain, but she is still critical.
Bradford County Coroner Thomas M. Carman confirmed the names of both deceased men. They were pronounced dead at the scene by emergency medi- cal personnel. Both men died of blunt force trauma. Halbfoerster was not wearing a seat belt. Ambrosone's SUV caught fire briefly, while Halbfoerster's SUV came to rest hanging over the railing of the bridge.
A WNEP-TV 16 report quoted Benjamin Felton, whose back porch faces the overpass, who saw smoke coming from one of the vehicles. He said, "I've lived here my whole life and as far as accidents on this road, I've never seen anything as extreme as this."
Scott Halbfoerster had called his uncle, William Halbfoerster, Jr., of Bath at 9 a.m. Tuesday to tell him that Bill's brother, Bob, had died between 10:30 and 11 p.m. Monday night. Ironically, he himself died about 12 hours later as he was headed to the funeral home to make arrangements.
Scott's wife, Becky, is at the hospital with their daughter, while members of their church are taking care of their other children at home.
Robert C. Halbfoerster (March 28, 1932 – Nov. 19, 2012)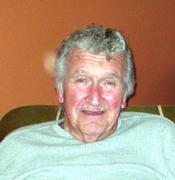 Robert Clifford Halbfoerster, 80, of Dushore, Pa., formerly of Plainfield Township and Bath, Northampton County, died Monday, Nov. 19 in Memorial Hospital, Towanda, Pa. He was the husband of the late Audrey Jean (Doyle) Halbfoerster, who died on Jan. 6, 2009.
A 1950 graduate of Northampton High School, where he played left tackle on the football team, in his early years he was part of The Home News family business, and became a linotype operator for various printing companies, including: Mack, Hughes, Sheridan and McAffe Printing. Bob served in the Army and was stationed in England and Germany.
He began working for the U.S. Postal Service and retired from the Nazareth Post Office in 1994 as a rural mail carrier.
Bob was born March 28, 1932 in East Orange, N.J., son of the late William John and Edna Matilda (Lufft) Halbfoerster.
He was a member of the Living Hope Church in Estella, Pa., and formerly was an active mem- ber and past president of the Bath Area Jaycees.
Surviving are sons Michael and Pamela Eisenreich of Northampton, Scott R. and Rebekah J. Halbfoerster of Dushore, Keith B., Sr. and Christine Halbfoerster of DePere, Wis.; a daughter, Debra Margretta, of Nazareth; a brother, William J. Halbfoerster, Jr., of Bath; 11 grandchildren – Pasquale Paolillo, Tiffany Eisenreich, Keith Halbfoerster, Jr., James Halbfoerster, Joseph Halbfoerster, Lawrence S. Halbfoerster, Manuel M. Halbfoerster, Brittany M. Halbfoerster, Heidi A. Halbfoerster, Audrey J. Halbfoerster, and Elizabeth C. Halbfoerster; a great-grandson, Steve Paolillo, and several nieces and nephews.
(The day after Bob passed away, his son, Scott, tragically died in an auto accident.)
Funeral services were held Monday afternoon, Nov. 26 in the P. Dean Hower Funeral Home, 206 Water St., Dushore, PA 18614 with Pastor Scott Magann officiating. Interment will be in Greenwood Cemetery, Nazareth.
The family will provide flowers and asks that donations be sent to the Educational Fund for the Halbfoerster Children, c/o Rebekah Halbfoerster, 1175 Taylor Hill Rd., Dushore, PA 18614.  To send condolences or sign e- guestbook, go to www.homerfuneralhome.com
Scott R. Halbfoerster (July 18, 1968 – Nov. 20, 2012)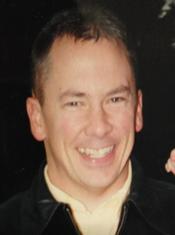 Scott Robert Halbfoerster, 44, of Forks Twsp. (Sullivan County), formerly of Nazareth, died on Tuesday, Nov. 20 as the result of an auto accident in Towanda, Bradford County, Pa., one day after his father, Robert C. Halbfoerster, died of natural causes. He was the husband of Rebekah Jane (Lyons) Halbfoerster.
He graduated from Pen Argyl High School in 1987, then graduated from East Stroudsburg University with an Interdisciplinary Bachelor of Science degree in special education. Scott served in the U.S. Navy Seabees and later as a Sgt. in the U.S. Army National Guard, being honorably discharged in 2007. Scott served 18 months of duty in Iraq before being discharged in the Army. He was currently employed by the Blast I.U. 17 and as a substitute teacher for surrounding school districts. He was a member of the A. J. Bird Memorial Post #384, New Albany, Pa.
Born July 18, 1968 in Allentown, he was a son of the late Robert C. and Audrey Jane (Doyle) Halbfoerster.
Scott was an active member of the Living Hope Church in Estella, Pa., where he was dedicated to connecting the residents of Sullivan County to Christ through community fellowship and outreach programs. Most recently, Scott hosted a July 4, 1776 Reenactment, which had a magnificent fireworks display that supported his passion for people to feel the heartbeat of the America that was founded with God as the foundation. (Hebrews 10:23-25)
Scott was a very humble man who wanted to give God the glory for all of his life accomplishments. His most important accomplishment was his family. Scott loved his family to the very core of his being. He believed that family started in the home and modeled this to his children. His wife was the love of his life and their six beautiful children were the blessed result of this love. He looked at each one of his children as a beautiful unrepeatable miracle.
Surviving besides his wife, at home, are two sons, Lawrence Scott, 5, and Manuel Marc Halb- foerster, 3; four daughters, Brittany Marie, 11, Heidi Ann, 9, Audrey Jane, 7, and Elizabeth Carrie Halbfoerster, 10 months; two brothers, Michael Eisenreich of Northampton and Keith Halbfoerster of De Pere, Wis.; a sister, Debra Mar- gretta, of Nazareth; brother-in-law, David Lyons of Albany, N.Y.; sisters-in-law, Ruth Lyons and Rachel Waage, of Cobleskill, N.Y.; father- in-law, George Lyons, of Schoharie, N.Y.; an uncle, William J. Halbfoerster, Jr. of Bath, and several nieces, nephews and cousins.
Funeral services were held on Wednesday, Nov. 28 at 12 Noon, in the Living Hope Fellowship, Estella, Pa., with Pastor Scot Magann officiating. Interment was in the Warburton Hill Cemetery. Funeral arrangements were by the P. Dean Homer Funeral Home, Dushore,
Pa.To send condolences or sign e- guestbook, go to www.homerfuneralhome.com