IT'S GIRL SCOUT COOKIE SEASON IN EASTERN PENNSYLVANIA!
Girl Scouts of Eastern Pennsylvania's 2013 Cookie Season Kicks Off with Regional Community Events; Cookie Season Runs from January 17-March 3 and Introduces a New Flavor: Mango Crème
PHILADELPHIA (JANUARY X, 2013) — The Girl Scouts of Eastern Pennsylvania (GSEP) will celebrate the official start of the highly anticipated 2013 Girl Scout Cookies® season with a diverse lineup of activities and opportunities for girls and fans of the organization. The cookie program will run from January 17, 2013 through March 3, 2013. This year's program is themed "What Can a Girl Do?" and continues its tradition of providing girls with an avenue to develop financial literacy and important leadership skills while earning proceeds for troop and council activities for the remainder of the year.
For the first time since 1999, Girl Scouts cookie boxes will feature brand new designs in order to showcase the significance of the program on girls' lives. The iconic Girl Scout Cookie packages will showcase the five skills that the Girl Scout Cookie Program teaches girls: goal setting, decision making, money management, people skills, and business ethics.
This year the Girl Scouts of the USA is also debuting a brand new cookie flavor, Mango Crèmes, vanilla and coconut cookies filled with a tangy mango-flavored crème enhanced with nutrients derived from fruits.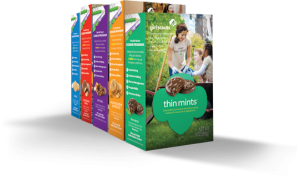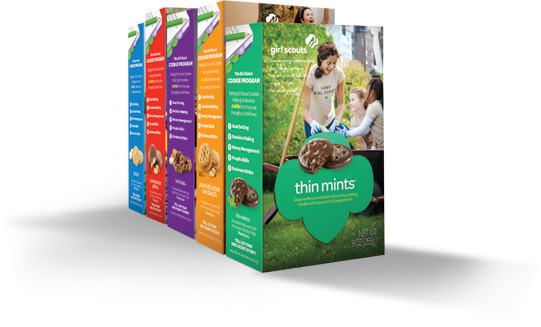 2013 Cookie Program activities include:
• Lehigh Valley, PA 2013 Cookie Program Kick Off Event – January 13, 2013
• Time: 12:00 p.m. – 4:30 p.m.
Independence Family Fun Center, 4345 Independence Drive, Schnecksville, PA 18078
Activities include rock climbing, cookie box sculpture building, roller-skating, and more. The event is free and no pre-registration is required, requiring an incremental fee for roller-skating only. Girls who participate in at least two activities will receive a Cookie Rally patch.
• Philadelphia 2013 Cookie Program Kick Off Event – January 17, 2013
• Time: 9:00 a.m. – 2:00 p.m.
One Liberty Place, Philadelphia, PA 19103
Girl Scouts will celebrate the official commencement of Girl Scout Cookie program with a kickoff event outside the popular Shops at Liberty Place at 16th & Walnut Streets in center city Philadelphia. The Phillie Phanatic will be making a guest appearance between noon and 1:00pm.
• Reading, PA 2013 Cookie Program Kick Off Event – January 19, 2013
• Time: 1:00 p.m. – 4:00 p.m.
Reading Public Museum, 500 Museum Road, Reading, PA 19611
All GSEP troops are invited to this special kickoff event. Regular museum admission applies for adults; free admission for all Girl Scouts who arrive in uniform. Girls will enjoy museum performances, participate in cookie box art activities and take a special tour of the various Reading Public Museum exhibits.
• National Girl Scout Cookie Day – February 8, 2013
• Wawa Days – February 9-10, 2013
• Time: 10:00 a.m. – 2:00 p.m.
Various store locations across GSEP's nine-county domain. For complete list of participating stores, visit gsep.org/cookies/cookie-booths.php.
Girl Scouts and troop leaders will be stationed with cookies at various participating Wawa stores across the eastern Pennsylvania region.
• Troop Cookie Swap – February 16, 2013
• Time: 9:00 a.m. – 2:00 p.m.
All GSEP Service Centers with the exception of Jane Seltzer. For a list of Service Center locations, visit http://www.gsep.org/about/service-center-locations.php.
Girl Scouts and troop leaders exchange boxes of cookies to meet demand in their respective areas.
• Operation Cookies From Home Collections – January 17-March 3, 2013
• Cookies From Home (CFH) is a partnership between GSEP and the USO to provide Girl Scout Cookies to men and women of the Armed Forces serving abroad. Girl Scout troops will collect monetary donations designated toward gathering packages of cookies to be sent to U.S. Military abroad at the conclusion of the program.
• Operation Cookies From Home Drop-Offs – March 10 & 17, 2013
• Time: 9:00 a.m. – 2:00 p.m.
Cookies are dropped off at GSEP service centers across GSEP's nine-county domain. These cookies will then be shipped to U.S. Military abroad.
• Bling Your Booth Contest for Girl Scouts – Voting April 5 – May 5, 2013
• Girl Scouts will spend the first portion of the cookie program decorating their sales booth according to one of four different categories in hopes of becoming an overall winner and receiving a prize. GSEP will select two finalists from each category, and fans and friends of GSEP are subsequently invited to cast their votes on the GSEP Facebook page for the winner in each classification.
• 5=52 Contest for Cookie Lovers – January 17-March 3, 2013
• The 5=52 Contest is a chance for customers to win Girl Scout Cookies for one year. For every five packages of cookies purchased per customer, he or she has a chance to enter into a drawing for 52 free packages of cookies. Five winners will be chosen randomly at the conclusion of the Cookie Program.
• 2013 Mystery Tour
• Each Girl Scout who sells more than 1,000 packages of cookies will receive an invitation to a special 2013 Mystery Tour. The Mystery Tour will be held on July 10th, 2013.
• 500 Club Picnic
• Each Girl Scout reaching a goal of 500 or more packages of cookies qualifies for the 500 Club Picnic, celebrating the girl's achievement. Qualified girls will receive a special patch and certificate at the event.
Participation in the Girl Scouts Cookie Program allows young girls the opportunity to develop five key life skills: goal setting, money management, business ethics, people skills and decision-making. With eight varieties of cookies available, girls can enjoy the programming offered and develop their leadership skills. For detailed information on the cookie program and events, a local Cookie Locator application, or to learn more about the Girl Scouts of Eastern Pennsylvania, visit www.GSEP.org.
About Girl Scouts of Eastern Pennsylvania
Girl Scouts of Eastern Pennsylvania (GSEP) is the largest girl-serving organization in Pennsylvania and builds girls of courage, confidence, and character, who make the world a better place. GSEP serves 41,000 girls in partnership with 15,000 volunteers in Berks, Bucks, Carbon, Chester, Delaware, Lehigh, Montgomery, Northampton and Philadelphia counties. Today, 80 percent of women in leadership and executive roles in the U.S. were Girl Scouts. Girl Scout alumnae comprise 70 percent of women in the U.S. Congress. For further information about Girl Scouting, how to join, volunteer, reconnect, or donate, call 215-564-4657 or visit www.GSEP.org.

Follow us on Twitter @GirlScoutsEPenn and like "Girl Scouts of Eastern Pennsylvania" on Facebook!