Andy's Corner
Say  Goodbye to Winter and Hello Spring ~ Blue Eagle's Style
By: Andy Weaver
The 2012-2013 Nazareth Blue Eagles winter sports season ended on Tuesday March 12th at the Geigle Complex in Reading where the Dover Eagles beat the Nazareth Eagles 42-38. We end the season with a 24-5 record, with the first loss since February 1st. The Blue Eagles definitely had an exciting season. I enjoyed every minute watching the games and all sports.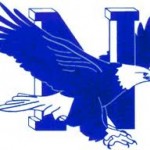 This Past Sunday in the Dapper Dan Wrestling Classic in Pittsburgh, Aaron Bradley Nazareth had a 3-1 decision win over Brooks Black of NJ in overtime.  Aaron also got a pin back on March 9 in Hershey At the PIAA State Championship.  Best Wishes to Aaron as he moves on to College!
Back on March 9th at Parkland it was the District XI Swimming Finals where Madeline Blair, sophomore at the high school, is the district champion in the 200 freestyle and this past weekend was at the state championship at Bucknell University where she finished in 8th place in the whole State. She also came in 3rd at districts and qualified in the 100 free style.
The Nazareth Cheerleaders who were in a Cheerleading Competition in Washington DC had a great performance and came in 2nd place. This was the last Competition of the year.
Spring Sports are starting up.  Weather permitting, baseball and softball will be at Pocono Mountain East this Friday at 4 p.m. and at home next Monday at 4 p.m. vs. East Stroudsburg South. They will also take on Parkland on March 28.
Next week I will preview all of the spring sports so have a great week and check back next week as we talk about spring sports and warm weather.