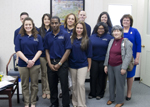 By State Rep. Marcia Hahn
138th Legislative District
I voted to support House Bill 403, legislation which would increase penalties for anyone who commits willful fraud in attempting to obtain unemployment compensation benefits. The bill now sits with the state Senate, following unanimous passage by the House Tuesday, April 9.
The legislation is directed at those in prison, as it imposes an additional 52-week penalty for claimants who illegally apply for benefits while incarcerated. It also increases penalties for all employers and public employees who violate the Unemployment Compensation Law.
Congratulations….to these municipalities in the 138th District that have received funding through the Automated Red Light Enforcement program.
Borough of Bath – $7,392 for LED traffic signal upgrades.
Borough of Pen Argyl – $8,074 for LED traffic signal upgrades.
Borough of Wind Gap – $85,238 for traffic signal timing upgrades.
The money is generated by fines from infractions at 21 intersections in Philadelphia.