The 2013 elections are focused locally on local elections, school boards, County government and judges. Candidates for Judge within the Commonwealth will also be held during the Primaries.
The last day to register to vote in the Primary election is April 22. It is possible to register to vote by appearing in person by 4:00 p.m. at voter registration office , 670 Wolf Ave in Easton.
The last day to request an absentee ballot application is May 14. Completed ballots must be received at voter registration by May 17th. The one exception to this deadline is May 28 for County Board of Elections to receive voted military and overseas absentee ballots (must be postmarked no later than May 20).
Primary Election Day is May 21, 2013. Polls open at 7 p.m. and close at 8 p.m.. Registered Republicans and Democrats will be able to vote, however independents and other party members, may not vote in Pennsylvania primaries.
Voters will be asked, but not required, to show an acceptable photo ID on Election Day. All photo IDs must contain an expiration date that is current, unless noted otherwise. Voter's names on their photo IDs do not need to exactly match their voter registration, but the names must substantially conform. Acceptable IDs include:
– Photo IDs issued by the U.S. Federal Government or the Commonwealth of Pennsylvania
– PA Driver's License or Non-driver's License photo ID
– Valid U.S. passport
– U.S. military ID- active duty and retired military. Military dependents' ID must contain an expiration date
– Employee photo ID issued by Federal, PA, PA County or PA Municipal government
– Photo ID from an accredited PA public or private institution of higher learning, including colleges, universities, seminaries, community colleges and other two-year colleges
– Photo ID issued by a PA care facility, including long-term care facilities, assisted living residences or personal care homes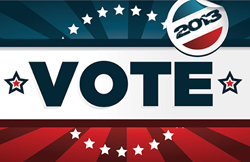 If you do not have one of these IDs, and require one for voting purposes, you may be entitled to get one FREE OF CHARGE at a PennDOT Driver License Center. To find the Driver License Center nearest you,. and learn what supporting documentation you will need to get a photo ID visit PennDOT's Voter ID Website or call the Department of State's Voter ID Hotline at 1-877-VotesPA (868-3772). Norhampton County Voter Registration office can be reached at 610-559-3055.
If you plan on voting by Absentee Ballot, you will need to provide proof of identification