Historic Bath Hotel Reborn as Red Wolf Bar & Grille
By Alice Wanamaker
The historic Bath Hotel will reopen next Friday,  under new ownership, new management, and with a new name, The Red Wolf Bar & Grille. Owners Joe and Angelo Caizzo, along with General Manager Yuri Laubach, plan on opening on Friday May 10, pending final inspection from the Pennsylvania Liquor Control Board.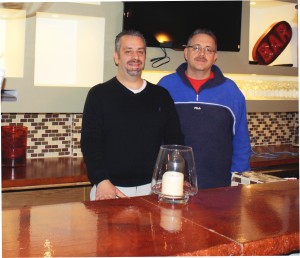 The Bath Hotel, a 186 year old building that was damaged in a 2005 fire, has been completed renovated over the past couple years by the Caizzo brothers. The renovation included several on site apartments. "It's the era of corner bars and friendly atmospheres," Joe said. "People want local watering holes and that is what we're offering."
Joe and Angelo Caizzo are well versed in the restaurant business, their family own and operate both Campus Pizza in Bethlehem and Anna Bellas on Rt. 512. Joe recalls working for their 'Pop' in the restaurants, which also helped to inspire the name of their new venture in Bath. "We wanted to honor Governor Wolf," Joe explains while telling the story of the name's origins. "We used to use the code word 'Red Wolf' when my dad would come around [the restaurants] as kids, that would get us scrubbing the counters and working hard."
When The Red Wolf Bar & Grille opens, patrons will have menu options ranging from hot wings and fries to the a signature 'Drunken' Chicken Parm Sandwich.' Lunch and dinner options will range from $5 – $15. The kitchen will use fresh local ingredients when available, according to the manager. The bar area features custom built shelving for liquor and glasses, inspired by the historic building's stained glass windows, as well as an acid-washed concrete bar top. There will be booths for date-night dining and a billiard table.
The Bar & Grille will be open six days a week for lunch and dinner as well as for carry out food and beer purchases. Hours will be 11 a.m. – 12 a.m. on Monday and Wednesday, 11 a.m. – 1:30 a.m. on Thursday, Friday and Saturday nights and 11 a.m. – 11 p.m. on Sunday. They offer convenient parking in front as well as the large borough lot located on Northampton Street.