By: Andy Weaver
As we enter the 4th of July Weekend, it's time for a update on the Nazareth SR Legion Baseball Team as they are having a good season.  The Regular Season will end on Saturday July 6 and the Playoffs Starts on Monday July 8th!
On Wednesday June 26th the Legion Team traveled to East Stroudsburg University where they lost 14-2.  On Thursday June 27 the team hosted Northampton when they only played 3 innings due to Rain.  On Sunday June 30th the Legion Team welcomed back Northampton where Northampton won 3-2.  On Sunday night Birches came to Nazareth where they beat our Blue Eagles 6-4.  Nazareth played at Jeffs Tuesday and at Bath Wednesday.  On Friday July 5 the Eagles return to Bath for a 6pm game and then Saturday at 5:30pm they host Big Pocono in the last Regular Season Game.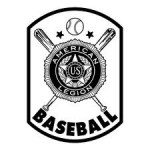 In other news, Rusty Amato resigned last week as Nazareth Athletic Director to become Assistant Principal of Nazareth High School.  Also this past Monday Carl Styre the Mayor of Nazareth stepped down as PA Announcer for Nazareth Basketball, he will still be the PA Announcer for the Football Games!!