Nosey in Nazareth
Dear Nazareth,
What a hot summer were having, but I love the warmth! Air conditioning is comfortable, but I keep the thermostat at 76 so the house stays comfortable and my power bill will not be a shock next reading! Last time we talked I told you about a cruise I was to go on. I have never cruised before and had no idea what seasoned "cruisers" were all
excited about. Now I know and I loved it! Before I left, I had a spray tan applied at Shear Envy (108 S. Main St.). It lasted the whole cruise time and looked so natural! No need to
feel like I had to bake in the sun and so much safer for my skin. I also wanted to add some accessory pieces to my outfits and stopped in at Abundant Style (1822 6th St., Bethlehem). This is an upscale consignment shop new and "gently used" fashions. I love the atmosphere of this store and the staff was so helpful. So many handbags available, I had to purchase a red leather Carlos Falchi handbag, it was calling  my name, and I found a beautiful silk scarf that was perfect to add to my wardrobe for the trip! One more item to pack!
AAA Northampton County (3914 Hecktown Rd., Easton) was wonderful in fine tuning all my travel concerns. The port I departed Efrom was Baltimore, MD. My traveling buddy was my cousin Patricia from Virginia who met me there. It was so convenient to park our cars on location and board Royal Caribbean's "Grandeur of the Seas." What a beautiful ship, it was like a floating hotel! We shared a beautiful balcony stateroom and had  breakfast on our balcony every morning! On the upper deck we watched the sunrise as
we enjoyed our morning walk, and later found a lounger in the solarium and relaxed with a good book. Lovely dining room with reserved seating for dinner, and Broadway-style evening entertainment. So many activities available on ship and fun excursions at each port! We stopped at St. Thomas, St. Kitts, Labadee (Royal Caribbean's private island), and my favorite was visiting Old San Juan. Lovely and so picturesque, and shopping was great! Patricia and I found a Coach Store outlet! That's vacationing!
Thank you to AAA and my travel agent, Mary. It was so relaxing not to have to worry about the details of my vacation, we were able to relax and not stress!
Arriving home, I was greated by visitors I wasn't expecting. Some kind of beetle that were on my walls, curtains, and drawers. I made the mistake of trying to step on one and the smell that came from the bug was disgusting! The dreaded Stink Bug! My neighbor had the same problem and told me to call an exterminator. She used a local business called Rid-Et Pest Control (42 S. Main St.) who have been in business 40 years. Thankfully the company was still open even though it was late in the day and had an opening in their schedule to come the next morning. Rid-Et assured me that the pesty stink bug will not bother me during the night but I still slept with the hall light on!
The serviceman came on time and walked around the outside of my house spraying a chemical repellent that would not harm my garden, but would deter these smelly things from wanting to come into my house! By the time Rid-Et was finished inside my house, there were no sign of my visitors, and no mess to clean up! So happy! Don't forget to mark your calendar for the 2013 "Martin on Main" festival (martinonmain.org)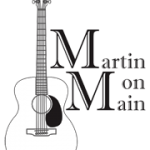 coming up Saturday, August 3! This event, sponsored by the Nazareth-Bath Chamber of Commerce, focuses on music performed on Martin Guitar instruments from noon to 7 p.m. in the Center Square. In addition, the event will feature more than 60 artisans and food vendors! Bring a chair and relax at Center Square listening to the music and meeting new people! I went by myself last year, and met someone that has become a very special friend!
I'll see you there!
"Nosey"
Please contact me through Tina Smith at the
Nazareth-Bath Area Chamber of Commerce,
Attn: Nosey in Nazareth, tina@nazarethchamber.com.
P. S. Tina Smith is not "Nosey")