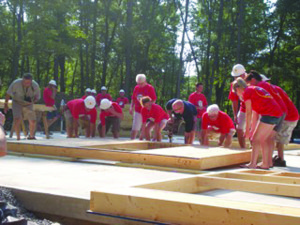 Volunteers help build Robert Kislow's Home in 2011.
Submitted by friends of Robert Kislow:
Friends of the late Robert Kislow have organized a benefit for his family. Robert Kislow served our country and received a purple heart for his sacrifice. He was a father, son, brother, grandson and to so many, a friend. Sgt. Kislow recently lost his battle with PTSD and made devastating choices. Unless we have walked in combat boots, we are not to judge Rob, but to honor him for the man he was. For his children and their mother, friends have organized a benefit so the family can start their new journey.
The event is scheduled for October 5 from 12 to 7 p.m. at the Tri-Boro Sportsmen Club in Northampton. There are currently three bands: The Don Hoffman Band, Social Call and About Time. DJ Hammer will be spinning tunes so the music will never stop. Tickets go on sale next week, $15 in advance and $20 at the door. If you would like to help or know anyone that would like to donate a basket or gift certificate, please do so. Every bit helps to make this a huge success. There will be games, as well as great food and drink. Allen John Saldi will have decals available as well. If anyone has any questions or can help in any way, please don't hesitate to call 484-661-6785.