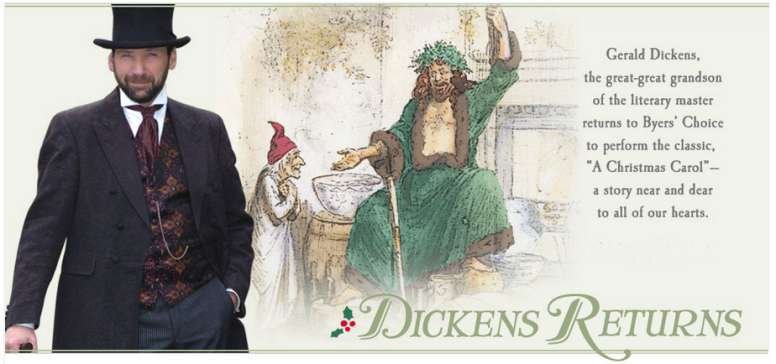 By DANIELLE TEPPER, Special to the Home News
"Marley was dead, to begin with."
The infamous first line of Charles Dickens' "A Christmas Carol" has been seared into many a memory. The timeless holiday classic about Ebenezer Scrooge and the three spirits first awakened everyone to the magic of Christmas back in 1843 and has since been immortalized by countless renditions and has become a holiday tradition over its indefinite shelf life.
Dickens' great-great-grandson, Gerald, is an actor who has been bringing his ancestor's masterpiece to life in a one-man stage adaptation for two decades, nearly two centuries since the author was born. Using his vocal and physical talents, more than 30 characters are resurrected during the performance.
The Home News snagged an exclusive interview with Gerald Dickens before his appearance at Bethlehem's Moravian Book Shop on Thursday, Dec. 5 at 7 p.m.
1. This is your 20th year performing your great-great grandfather's literary classic. What has been the most rewarding part of that experience?
"That is a very difficult question, because over these 20 years there have been so many wonderful venues, wonderful personalities and wonderful moments that to single out one is almost impossible.  Of course, meeting the Queen at Buckingham Palace last year rates highly on the list!  However, I would say it is a moment when I know that a single line or movement on stage has worked perfectly.  When the audience are so captured in the moment that in their minds they are actually in the Cratchit's home, or Scrooge's old school.  It is at those moments, when the  novel and the performance come together so perfectly, that I am absolutely at my happiest."
2. In your opinion, what is it about "A Christmas Carol" that really resonates with people during the holiday season?
"Firstly, it is a darn good story. Great characters, great range of emotions and a fantastic plot.  But it is more than that.  A Christmas Carol touches something in all of us.  It is a story that reminds us that we all have opposites of character within us.  We have all some aspects of Scrooge and we all have aspects of Bob Cratchit.  And, in the middle of the busiest, most commercial, frantic season of the year it is good to be reminded that however bad things may seem, there is a way through it and those opposites of character can find common ground.  I think that people love to take Scrooge's journey alongside him and learn or re-learn their own lessons."
3. What is your favorite scene/chapter/excerpt from the story to perform and why?
"Again, an impossible question!  My favourite scene is the one that begins: 'Marley was dead, to begin with' and ends with 'God Bless Us, Every One!'   i.e. the entire story.  Dickens wrote the book so  brilliantly that each scene has its own specific role. Of course, the joys of the Fezziwig party are wonderful and so is the sheer gentle love at the Cratchit's Christmas lunch.  Ebenezer's first encounter with the ghosts in the shape of Jacob Marley is an amazing scene too.  Imagine what it must have been like to read that chapter for the very first time in 1843, when you had no idea what was going to happen in the rest of the book!"
Tickets ($22) are now on sale. Call 610-866-5481 or visit 428 Main St. in Bethlehem.