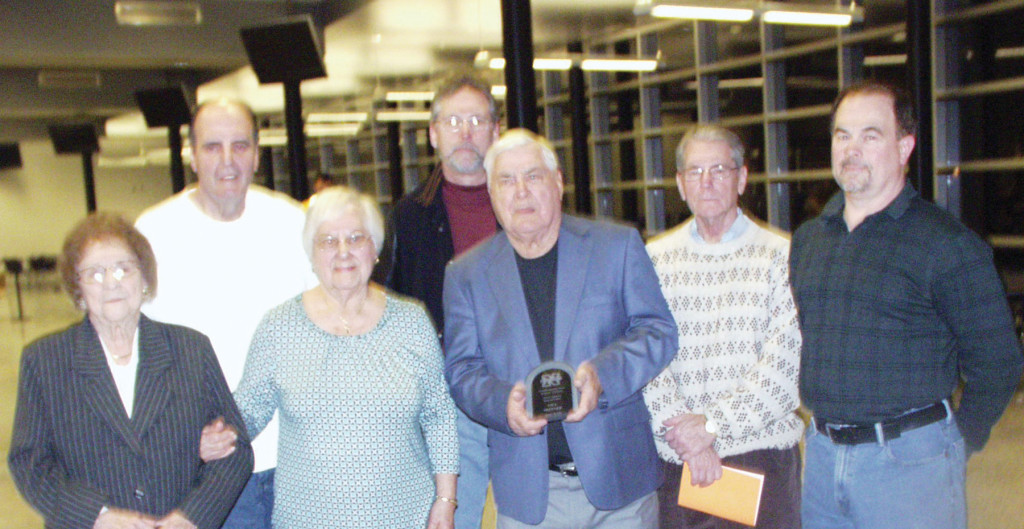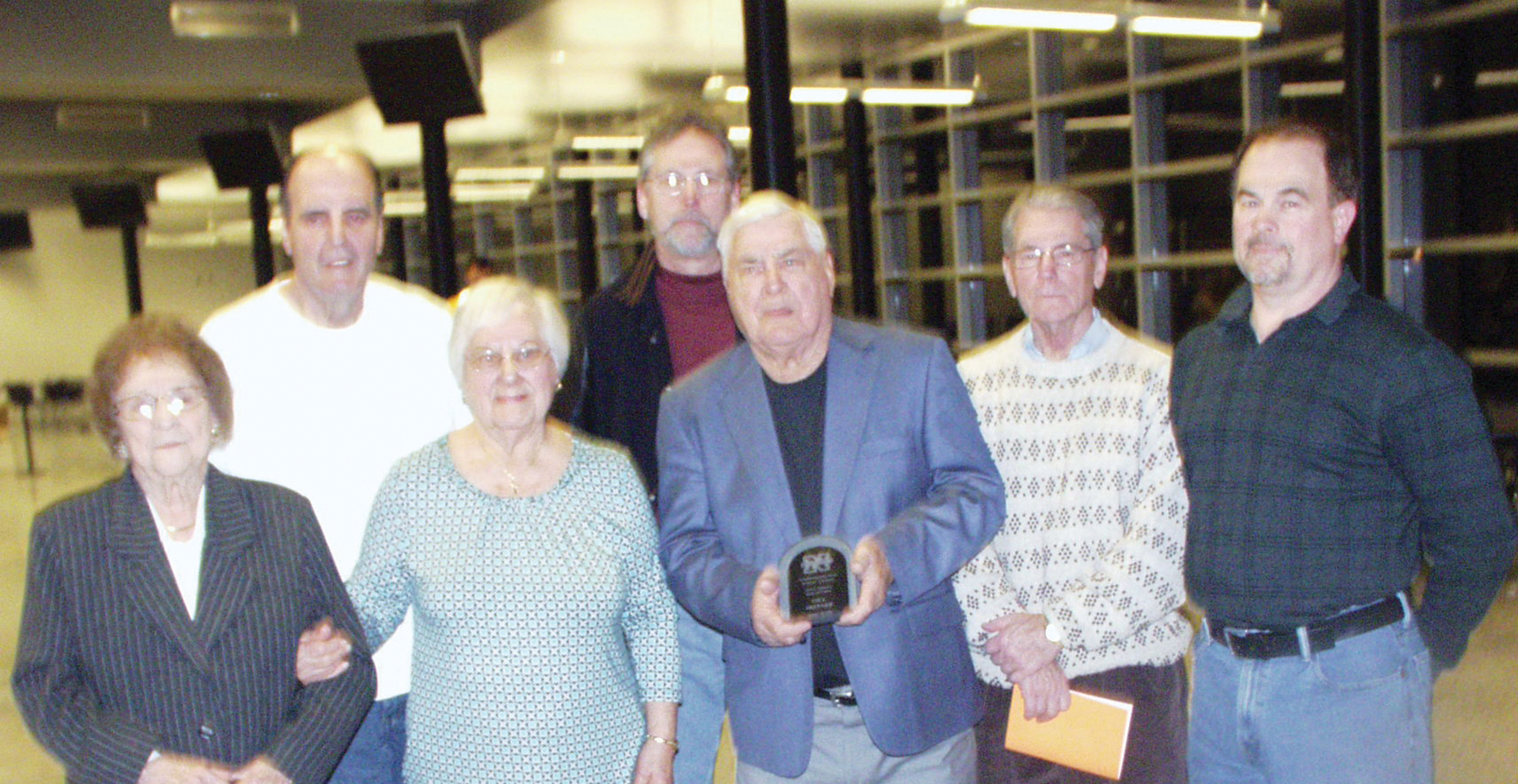 Relatives of the "Wonder Team" were present to accept the recognition that was given in Friday's ceremony.
By BILL HALBFOERSTER
The Home News
Five Northampton High School students of past years were given special recognition for their outstanding abilities as the ninth annual Athletic Hall of Fame ceremony was held on Friday night in the high school gymnasium. Also given special recognition was the famed "Wonder Team" of 1937-1938.
The five were Gregg Meyer, from the Class of 1995; Charles Shimer, Class of 1957; Christine Hunsicker, Class of 1995; Paul Heffner, Class of 1947; and Carole Weil, Class of 1981.
Shimer was unable to be present, and Ms. Weil is deceased, having died of leukemia a year after her graduation. Her plaque was accepted by her mother, Mrs. Carol Gilly.
The program was held between JV and varsity basketball games of the Northampton Konkrete Kids and the Central Catholic Vikings.
Supt. Joseph Kovalchik, who was a former basketball coach at Northampton, noted that the hall of fame honors contributors, coaches, athletes and teams. He said, "Academics is our number one priority, and athletics is an extension of it."
                                              Gregg Meyer
Kovalchik introduced Meyer, who he said was one of his students. Meyer told of his experiences in golf and how he got into the sport, thanking his parents for all of their support. Among his many honors in golf: East Penn championship; runner-up in District XI; most outstanding golfer in EPC; Express-Times Scholastic Golfer of the Year; set course record of 66 at Southmoore Golf Course in Moore Twsp.; club champion there and at Green Pond and Whitetail; winner in American Legion championship and Rutgers Open. He was also a participant on professional tour in such events as Price Cutter Charity Championship, Hooters Tour, Steamboat Classic and National Club Professional Championship. Presently, he is the head golf professional at Woodstone Country Club in Danielsville.
                                          Charles Shimer
Shimer lettered three years in football, basketball and baseball. As a senior he earned 1st Team All Lehigh Valley League and won L.V. League point title with 20 touchdowns, a record that stood until 1961. His record 38 career TD's in a nine-game season still stands. He led his football team to an undefeated season in 1956. He played semi-pro football in the U.S. Army, and against military players from West Point, and played professionally in the European Championship.
                                    Christine Hunsicker
Debbie Anthony of the selection committee introduced Christine Hunsicker, noting that she always set the banner high.  Christine then paid tribute to the coaches throughout her career, noting that they taught her that whatever she was doing she could do it better. She, too, thanked her parents for their guidance.
In field hockey, her team was second in District XI, first to qualify for state playoffs. As a junior, she earned 1st Team EPC; as a senior 1st Team Mountain Valley Conference, Express-Times Player of Year, 1st Team All-State, and won Presidential Academic Fitness Award and Soccer Scholar Athlete in 1995. In basketball, as a senior, her team won MVC championship and District XI 4-A title. That year she was MVP in all three sports and won a trophy for 12 career letters.
At Princeton University, she was a 4-letter varsity winner in field hockey; 2nd team All-Ivy League in 1997, 1st team All-Ivy and 3rd team All-American in 1998. She helped lead Princeton to NCAA final four in 1996, 1997, 1998, and played in national championship game for NCAA title.
After graduating with a degree in English literature, she was president and chief operating officer of Right Media (bought by Yahoo); COO for Drop.io (Facebook); chairperson of U.S. Field Hockey Foundation for 5 years, and is now CEO of Gwynnie Bee, a technology apparel company in New York City.
                                           Paul Heffner
Paul Kovach of the selection committee introduced Heffner, who thanked all the people who got him here, especially the late Al Erdosy and Mike Lisetski, who he said were the best coaches he ever had. Heffner lettered three years in football and baseball and two in basketball in which he was a 2nd Team All-Lehigh League in 1947. In baseball, as an infielder he batted over .340 each year. He played on the 1945 and 1946 Coplay Legion state championship teams, two years with the Nazareth Barons in the North Atlantic League; and on the Mack Trucks Fastpitch state championship team in 1957.  In football, he was a starting running back and led L.V. League in scoring in 1946. Heffner played semi-pro football for the Bethlehem Hurricanes, the undefeated Nesquehoning Hurricanes, and the Northampton Konkrete Busters. He also played on the U.S. Army football team in Europe in 1951 and 1952.
                                 Carole Weil
Carole earned nine varsity letters in field hockey, basketball and softball, was captain of all three sports as a senior. In field hockey, she earned 1st Team EPC in 1979 and 1980, and her career goals record stood until 2007. In basketball, she scored more than 200 points in all three years. In 1981, she earned EPC Division 1 All-Star. In softball, she was a two-time EPC Div. 1 All-Star, 1st Team All-EPC in 1981, and a member of the AAA District XI championship team in 1979. She earned a full Div. I scholarship to Temple U. and led the team in hitting in 1982. She helped lead the Patriot Queens softball team to finish 2nd in state, 3rd nationally, and they were Central Atlantic Regional Champions. She also helped lead the L.V. Panthers softball team to finish 2nd in state and region.
In her memory, the NHS athletic scholarship "Carole Weil Courage Award" and District XI softball players "Carole Weil Scholarship Fund" were established. She was a member of the inaugural class inducted into the L.V. Softball Hall of Fame. Her biography on Friday was read by Stephen Seier of the selections committee.
                                         Wonder Team
The school year 1937-38 was the greatest year for sports in Northampton High School history with teams capturing championships in all three major sports. They were the highest scoring football team in the nation in 1937.
As seniors under coach J. Elwood "Woody" Ludwig, this team went undefeated (9-0) while scoring 518 points with 77 touchdowns, and giving up just 25 – averaging almost a point a minute. The team defeated Catasauqua H.S. on Thanksgiving Day 85-0. A few weeks earlier they beat Slatington H.S. 86-0, setting the largest ever football score at NHS. This team was the most talented, dominant, publicized, and respected football team in Northampton history.
From a stellar roster, three players went on to professional football after college: Walt Zirinsky with the Bethlehem Bulldogs and Cleveland Rams; Steve Pritko with the Giants, Rams, Boston Yanks, N.Y. Bulldogs and Packers; and Peter Schneider with the Bethlehem Bulldogs and Hazleton.
They also had a spectacular basketball record. During the 1936-37 season, Coach Ludwig steered the team to a 17-6 record, and the Konkrete Kids were both L.V. League and District 11 champions. In 1937-38, they again captured the L.V. title with a 19-3 record.
The same core group of athletes filled out the NHS baseball roster with predictable results. Mike Lisetski , starting what would be an over three-decades coaching career, saw the baseball team go 13-0 and become District 11 champions.  Lisetski later was an official in the very first football Super Bowl.
Family members of the "Wonder Team" were at Friday's ceremony as their athletic ancestors were honored. They included Mike Lisetski, Jr., Mike Schneider, former athletic director at NASHS, and Mary Laubach Zirinsky.