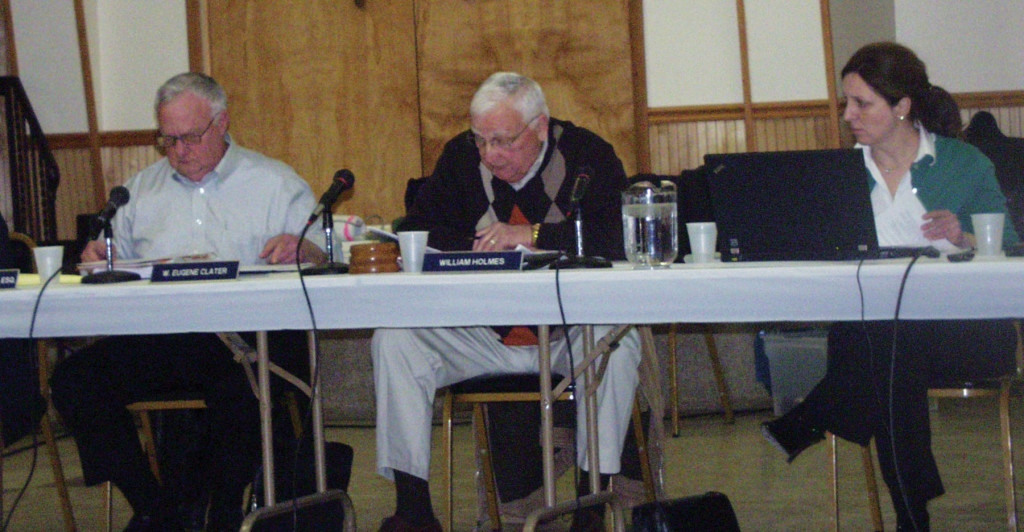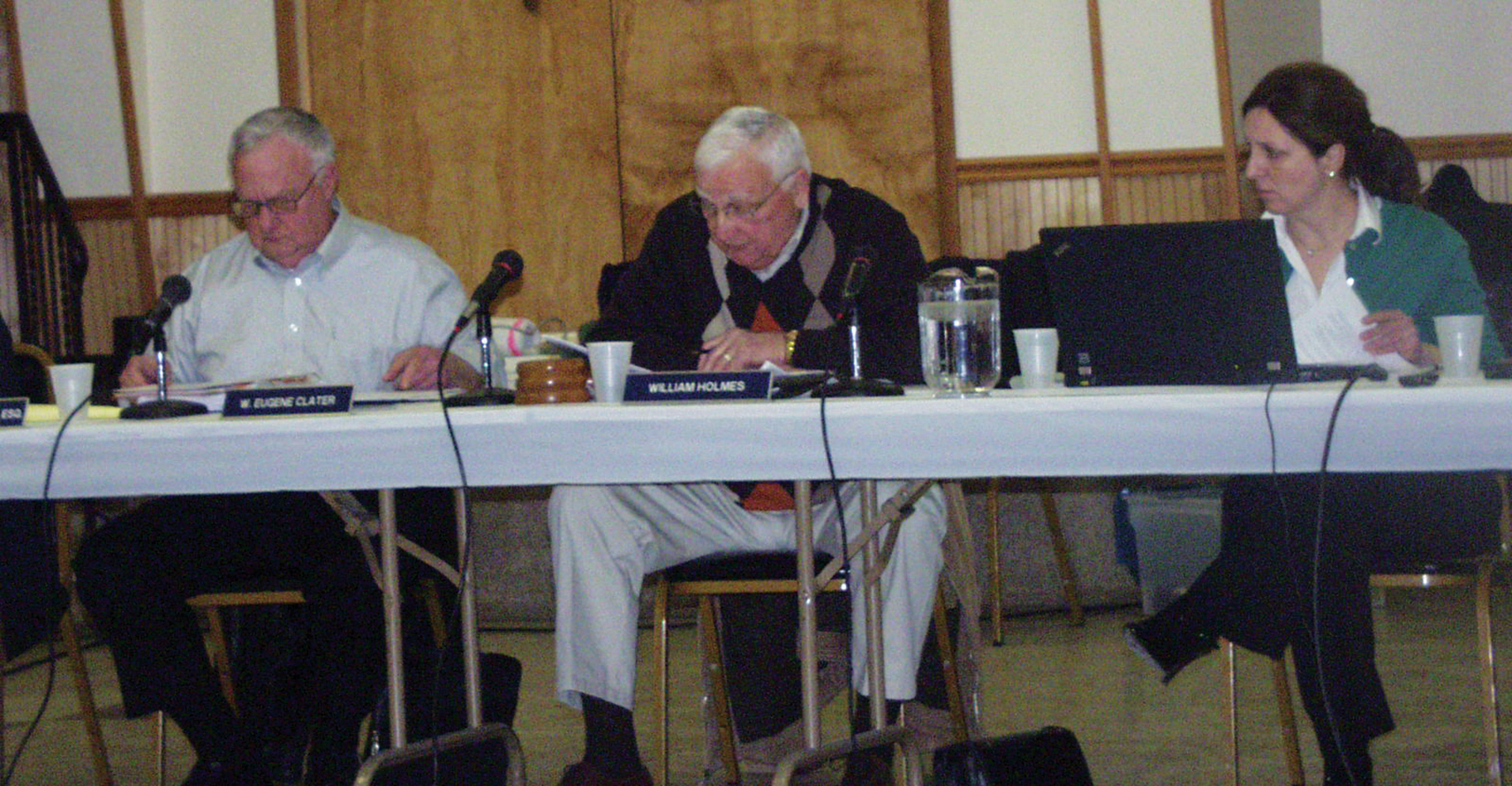 By BILL HALBFOERSTER
The Home News


Nearly 150 residents attended a meeting of the Allen Township Planning Commission on Monday when they heard more detailed plans by FedEx and the Rockefeller Group for a mega distribution center in Allen Township that will replace three other smaller centers in the Lehigh Valley. (Read our previous story here.)
ATPC Chairman Williams Holmes had a list of 15 people in the audience who had asked to comment. They did so following presentations by the Rockefeller Group and an executive of FedEx. It was an orderly meeting and Holmes said they have had two rounds of comments from engineers, the last in January.
Kevin Coken, Vice President of Eastern Operations, said FedEx oversees transportation companies for overnight products. FedEx Freight is for freight trucks; FedEx Services is in sales; and FedEx Ground provides a meaningful impact in the community and a relationship with charitable organizations.
They will invest $335 million that includes an 815,000 sq. ft. building at first and later a 1.1 million sq. ft. facility when finished. It consolidates three distribution centers into one on a 260-acre site north of Lehigh Valley International Airport that has land along Willowbrook Rd. and Race St. and at the border of Lehigh County. There will be 300 jobs to start, working up to 3,000 employees.
Both an entrance on the south side and on the east will be signalized. Water run-off will be done in accord with township ordinances. All trucks will go south on Willowbrook Rd. At least 1,800 trees and also shrubs will be planted for buffer.
Coken noted distances of the center from other points: .8 mile away from the entrance to Catasauqua High School; .7 mile away from the south side tunnel of Nor-Bath Trail and Bullshead Rd.; .75 mile from Wayne Grube Park, and Country Rd. He said people won't be able to see more than 10 feet of the top of the building.
Civil engineer Ron Gawlick talked about the road improvements that FedEx will be doing, now estimated at $35 to $40 million, that includes Airport Rd., Race St. and Willowbrook Rd. They did a scope of study and it was reviewed by PennDOT. Trip generation info was collected and analyzed, with the busiest time the three weeks before Christmas. Findings of the improvements were approved by five governing bodies.
Improvements include: Airport Rd. – Adding a southbound lane, right hand turning lane, another left hand turning lane, and another approaching Race St. and Schoenersville Rd.  Race St. – From two lanes it will get another lane in two directions.  Willowbrook Rd. – A four-lane section, with two in both directions, and turning lanes.  W. Bullshead Rd. – Additional lane with one right and one left turn. Signal will allow pedestrian crossing.  On Rt. 329 where there is an existing bridge, this will be replaced in phase one. Turns at Savage Rd. and Howertown Rd. will be made in phase two.
An estimated total of 14, 602 vehicles (tractor-trailers, small box delivery trucks and employee cars) will be going out of the mega hub when finished.
30,000 packages an hour, and later 75,000, will be processed.
Gawlick said most truck traffic will be between and after the a.m. and p.m. peak traffic hour on Rt. 22, with trucks moving 16 hours a day and night.
Planner Comments
Eugene Clater of the Planning Commission had several questions and observations, the first about truck times and what occurs in each of the two-phases of construction. He wants a preliminary plan and a delineation of the phases, and feels this will make the job easier for township engineer Brien Kocher.
Clater was also told that Willowbrook Rd. drawings have been revised. Sewer lines, however, will be in the middle of the roadway, 15 ft. down.
He also wants a clarification on the species and sizes of the trees to be planted in the industrial zone near a trail, a public park and residential area. Clater said he has been pleased with how the developers are providing information electronically.
In another matter, unrelated, Kocher said Act 537 will be brought back as it affects Catasauqua.
Resident Remarks
Mickey Philpot asked where the $35 to $40 million for road improvements is coming. Answer: They are pursuing different sources, but Philpot doesn't want it from the taxpayers. He also asked what would be done if there is an accident. They will do electronic messaging for alternate routes. On noise abatement – ordinances will be followed.
Rita Philpot asked what percentage of vehicles will be heading north on Willowbrook Rd. Answer in number – 180 cars and vans in a.m. and 145 trips in p.m. Another woman was told 12,000 cars after everything is developed.
Steve Pignato saw on a photo shown by slides that trees are added near the airport radar tower. He also is worried about trucks going out at 3 a.m.
Eric Snyder read a letter he had written about the airport property. . .He wanted a more detailed traffic study and no heavy trucks on Willowbrook and Weaversville roads, and voiced concern about the Airport Rd. and Rt. 22 intersection.
Sandra Blaukovitch said 1,800 tractor-trailer trucks a day or 75 an hour troubles her. Also wondered about the noise affecting Sheckler Elementary School students.
Troy Casick said with no police force, will State Police "beef up" their patrols?
Mike Ditty asked that the township deny variances when needed.
Kim Nappa – "Why are you moving heaven and earth to build at this spot when there are areas near Rt. 78?" Answer: These grounds were developable more than others, and there is a strong work force here.
Robert Nappa, who lives a half mile away, also wondered about the location, asked if they had a financial reward for choosing here, and said there are six more traffic light intersections. Maxwell in the developers' panel said they looked at other sites, and none are perfect. Size of land most important. "We understand there are issues with Rt. 22, but overall we think this is the best site." When Nappa asked what the next step is, Holmes replied the planners will review the engineers' reports. They have 90 days for action.
Closing Comments
Clater said he appreciated the comments and welcomes inter-municipal  cooperation. "We're not sitting here doing nothing. Let's step back and look at developments and see how they interact with each other. We're not going to stop this development. It is zoned industrial. We're doing what we can."
Charles Ebert, executive director of the Lehigh Valley Airport Authority, said they are cooperating.
The next ATPC meeting will be Monday, April 21 at 7 p.m. It may again be held at the Allen Township Fire Co. hall, as this was.