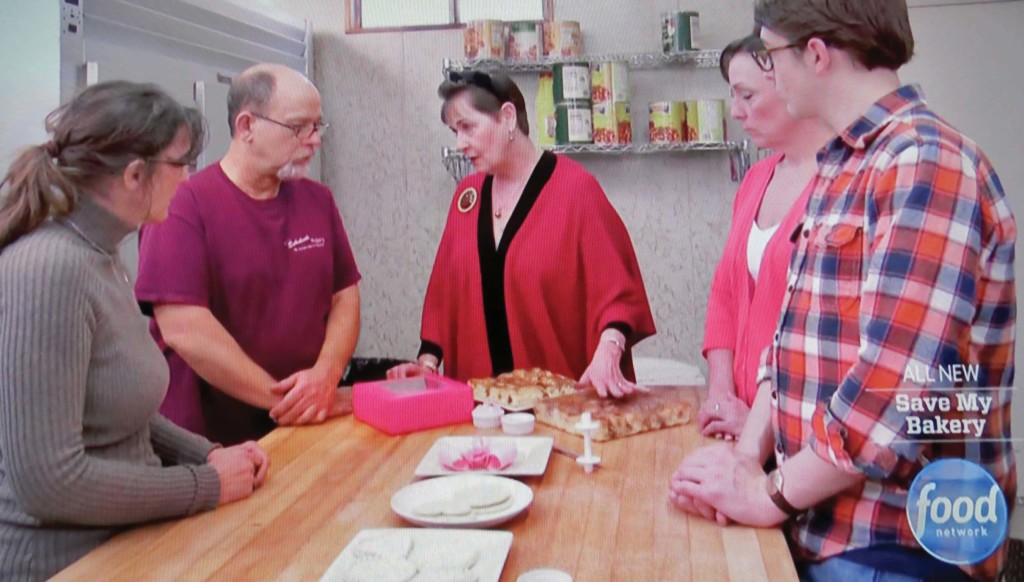 Sugar master Kerry Vincent gives the Schubert's staff a lesson in cake decorating, from fondant and sugar pearls to sprucing up the shop's signature Moravian Sugar Cake.
By DANIELLE S. TEPPER
Special to The Home News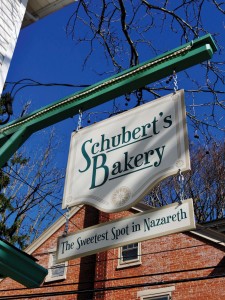 As the story tells it, the quaint borough of Nazareth, Pa. was founded in 1740 by Moravian settlers for the price of a single rose. Kerry Vincent perhaps focused on this little chunk of history when she suggested adding crystalized sugar roses to Schubert's Bakery's famous Moravian Sugar Cake; a decision that has had Steve Riccelli's loyal customers in an uproar since Wednesday, April 2, when Schubert's was featured on an episode of Food Network's "Save My Bakery" entitled, "Battered Dreams."
"We didn't need to be saved," Riccelli will tell you. Riccelli had dabbled in kitchens a bit before working in the computer business for 16 years. When he was ready for something new, he and his wife A.J. took the floundering bakery off Ernest Schubert's hands in 2008.
"No disrespect to Mr. Schubert, this was his passion for many years, but he was getting old, his health was going, and he was burned out," explained Riccelli. "I think I came in at the right time."
Riccelli had looked at the business as more of an investment opportunity, he said, and found himself trying to rebuild the customer base that had once been regulars but had perhaps lost faith in the little shop.
"Part of our goal was to reach out as far as we could to get back old business," said Riccelli. "It took us a while to get that core customer base back because they walked away. Our forte is the Moravian Sugar Cake, but it wasn't getting the attention it deserved."
Enter Kerry Vincent, world-renowned sugar artist and Food Network Challenge judge, not exactly known for her soft touch.

"She's somewhat of an eccentric, for sure," Riccelli said. "She really likes to hear herself talk."
Vincent is the host of "Save My Bakery," Food Network's latest venture that aims to transform downtrodden small town bakeries and gives them a face-lift, from construction to recipes (with a little team-building thrown in) in just 48 hours.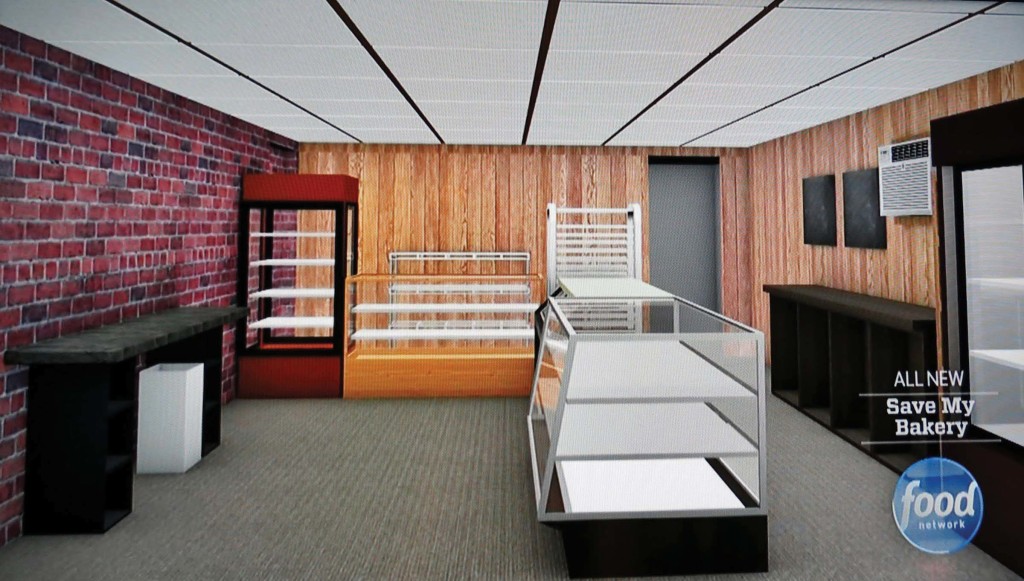 Food Network's digital rendering of Schubert's Bakery before the remodel began.
Riccelli didn't ask to be saved, but when Food Network approached him, he didn't refuse.
"We were a little hesitant," Riccelli said, but as he expressed at the end of the episode, he thought the "whole experience is an absolute wonderful opportunity."
"We had to make a decision," he explained. "They're offering a makeover, but we also have to expose ourselves."
Expose themselves to Vincent's wrath, that is.
"Who in their right mind would spend money here?" was Vincent's initial assessment. "Dingy," she said of the interior. "Incompetent," of Riccelli's cake decorating skills. "Gritty," of their buttercream icing.
"Every word that comes out of her mouth is negative, on and off camera," Riccelli said.
And of their signature Moravian Sugar Cake? Vincent said it was too heavy for her, with "enough sugar to sink a battleship."
Riccelli, a self-proclaimed creature of habit, didn't take kindly to having his niche product criticized. "It didn't even cross my mind for a millisecond that they were going to make any changes to it," he said. "We had put so much work into bringing it back to life and making it lighter and fluffier, not by changing the recipe, but the process of making it."
"Without a doubt, the cakes that Kerry creates are beautiful," Riccelli said in the episode, but he added later, "We're not in the cake business. We make birthday cakes, special occasion cakes, small wedding cakes, but it's not our livelihood, it's not what we do."
Vincent, as a sugar artist, is all about presentation. "People don't buy unless it's pleasing to the eye," she said during the episode. She showed the Schubert's staff how to use fondant (or "big girls' play dough," as she called it) and sugar pearls to dress up Riccelli's standard sugar cookie in order to hike the price up to $4 a pop.
"A sugar cookie is not going to make or break this bakery," Riccelli countered. (The special of the day on April 3? Schubert's standard 40 cent sugar cookies.)
"I don't think she associated that she was in small town America," said Riccelli.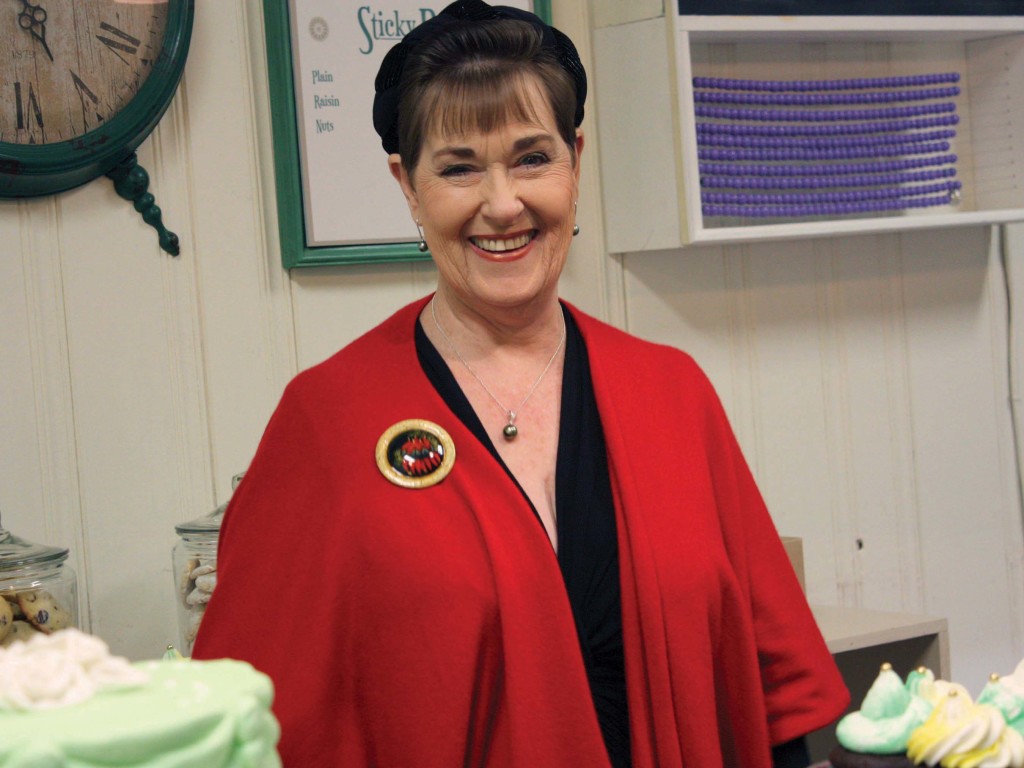 Kerry Vincent, host of "Save My Bakery" and a Food Network Challenge judge, descended on Schubert's (pictured in the background) in the third episode, which aired Wednesday, April 2 at 8 p.m.
Vincent's three main critiques of the menu were the decorating skills, the sugar-laden sugar cake, and the sugar cookies. Before too many customers start to worry, Riccelli says they haven't taken a single suggestion into consideration and intends to keep it that way.
"We have a product that is untouchable and we're not going to change it and she knew that," Riccelli explained. "We knew before they came that we needed to work on decorating. Are we going to do a lot with fondant? No. Are we working on the possibility? Yeah. The icing that she tasted may not have been mixed the way it should've been because we were banging stuff out so fast."
He continued, "She had to find things to pick on. It's her nature; it's the way the show's designed. I don't mind getting picked on a little bit, but none of this has changed."
While Riccelli resisted change to his baked goods, he has all good things to say about the final renovation, which includes bright white walls, photos of old town Nazareth, and a small bar seating area.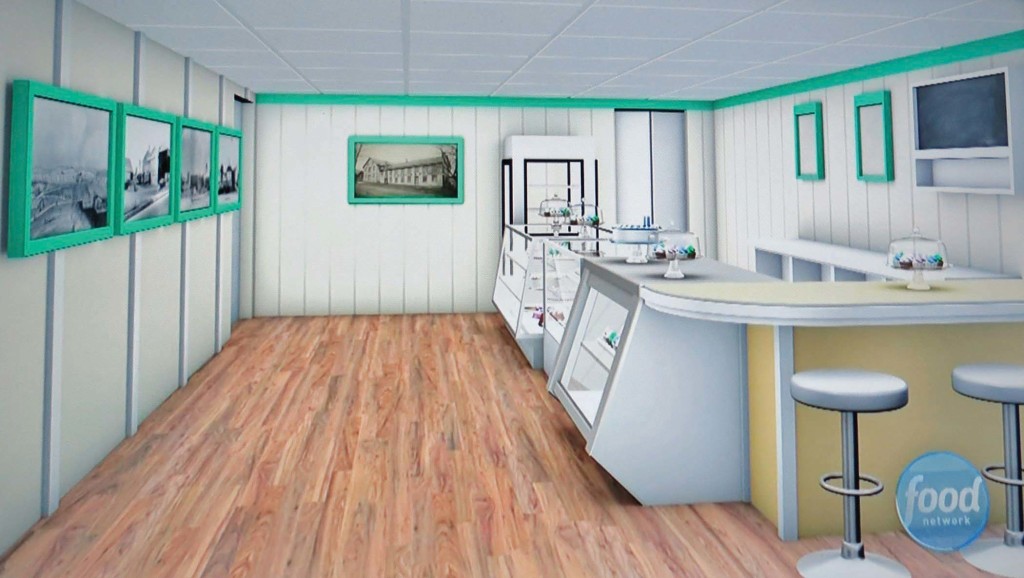 Food Network's digital rendering of Schubert's Bakery after the remodel was complete.
"We had no clue what they were doing out here beyond, every now and then, a construction worker would come through and the curtain would shift and we would see a color," Riccelli said. A designer paid them a visit prior to production to find out what they'd like, so they had a slight say in the matter, Riccelli said, but not really.
"The last thing that I expressed was, 'I want to step back in time.' I would like to see something with a motif that takes people back to an old-fashioned time period," explained Riccelli. "That was it, we walked away from it and this is what we ended up with. We made a pact not to cheat and peek, so when they unveiled it in the show, that was truly the first time we were seeing it. It was a good surprise."
Perhaps the best surprise of the entire ordeal is hearing the positive feedback from customers old and new. Riccelli says he has heard from people all over the country who grew up in Nazareth or have family in town, reaffirming their love for Schubert's products.
On the sunny Thursday morning of April 3, smiling faces came through the door one right after the other, crying, "We saw you on TV last night!" An older couple from Stroudsburg stopped in shortly after 10 a.m. simply because they figured they'd take the drive to check it out.
Riccelli's future plans are to "just keep plugging away," he says. "I'm slow for change and I think consistency is important. We take a lot of pride in our work; before the makeover, after the makeover, six years ago, six years from now. Everything we do. We enjoy the customers and the friendships and little chats. It's not so much about money; we're doing fine. It's more about making people happy."
Riccelli added, "To be critiqued on a national level is an attention builder, but we are what we are and I wouldn't change it for the world."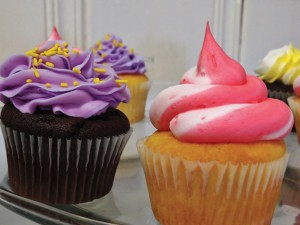 Schubert's Bakery is:
Stephen Riccelli, Owner
Lisa Herman, Manager
Lori "Sparky" Moyer, Customer Service
Greg Earle, Shop Assistant

Established 1973
49 N. Broad St.
Nazareth, PA 18064
610-759-2932
www.schubertsbakery.net