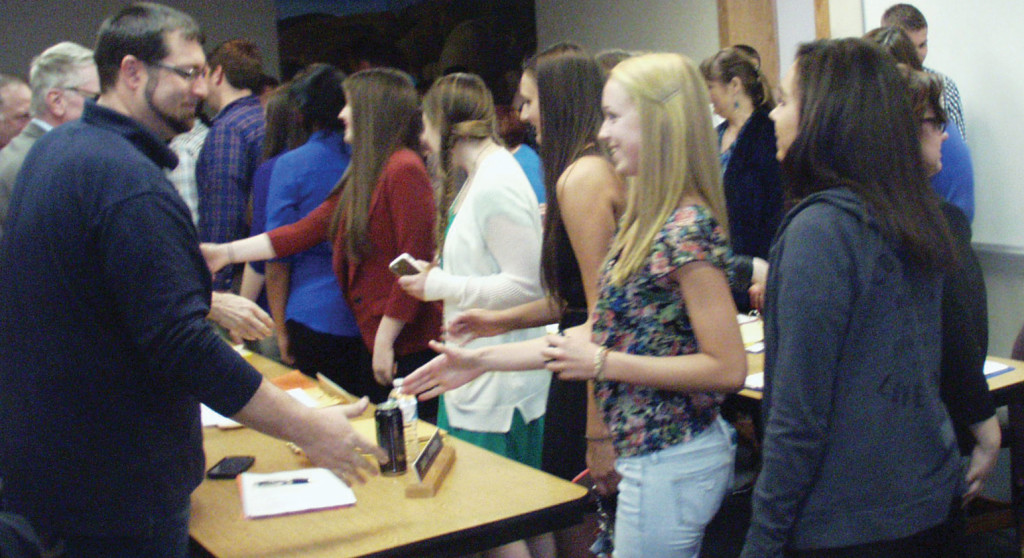 By BILL HALBFOERSTER
The students who participated in State DECA competition came to the meeting of the Northampton Area School Board on Monday. They literally filled the meeting room and winners of the state competition were shown on slides and then had remarks about their projects that made them winners. Among the many projects: Creative Marketing, Merchandising Operations, Finance Operation Research, Advertising Campaign, Entrepreneur Innovation, and Modeling.
DECA (Distributive Education Clubs of America) is directed in Northampton by Ms. Tara Mrazik and she accompanied them to the meeting. Before each of the students shook hands with the school directors, Supt. Joseph Kovalchik commended Ms. Mrazik for putting in 24/7 of her time to the program and the students. He remarked that they raised $30,000 for their trip to the national DECA competition in Atlanta, Georgia this Friday.
DECA students came from sophomore, junior, and senior classes.
In another presentation on Monday, Ms. Patricia Jones and Ms. Erin Miller talked about Crossing the Curriculum with English and Art.
Other Matters
Under personnel, the board took these actions:
Janel Strohl, unpaid FMLA childbearing/childrearing leave beginning June 18 to about Sept. 20, 2014; resignation of Ian Clebove as assistant wrestling coach; Mrs. Carol Cunningham, acting principal of Lehigh Elementary on or before Feb. 26, 2014 through April 29,2014; Dr. Kathy Ott, Ms. Melissa Monteith, and Ms. Deidre Vachier to attend Pa. Literacy Conference in State College, Pa., June 17-19; Amanda Rogers, TPE art teacher at borough elementary schools effective Aug. 18, 2014; Pamela Hayford, LTS special education teacher at the high school, effective Aug. 18, 2014 for the 2014-15 school year; Cullen Mentzell, TPE mathematics teacher at Washington's Crossing, effective Aug. 18, 2014; Craig Mogel for the basketball program at Siegfried Elementary.
Facilities
The board awarded the bids of $74,230 for a used 2011 Crawler 60 to CSI Material Handling of Bethlehem, including delivery, training and one year warranty.
Finances
Also approved: An agreement with Capital Area Intermediate Unit 15 to provide off-site backup and disaster recovery services at $3,600 a year for three years; and a three-year service agreement with Physio-Control, Mid-Atlantic District, to provide inspections, reports and replacement batteries and electrodes as needed for NASD's 18 defibrillators at an annual cost of $6,141.