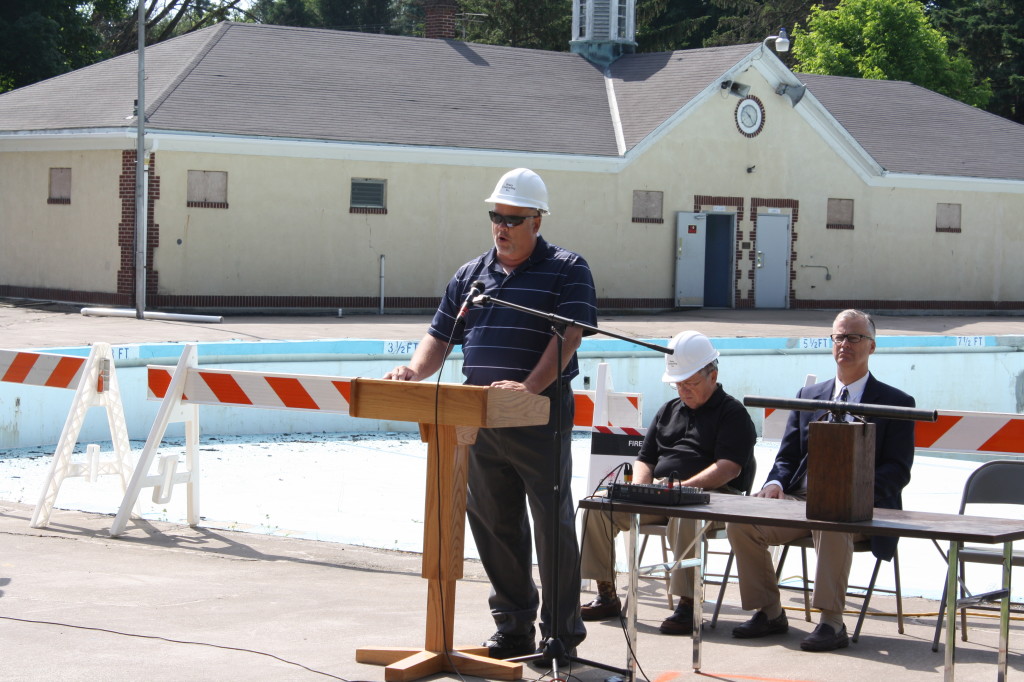 Above, Mayor Strye addresses the crowd. Below, fireworks were detonated to mark the start of construction. Photos by Joe Korba.
The Nazareth pool groundbreaking ceremony went off without a hitch on the sunny morning of June 2. Council President Daniel Chiavaroli welcomed gathered members of the community and media before an invocation by Reverend William M. Matz.
Nazareth Mayor Carl R. Strye Jr. then made a few remarks about the pool's 76-year history, noting that it's like "saying goodbye to an old friend." Strye praised council for making the right decision regarding the pool and even bringing it in, tentatively, under budget. He said the new pool, scheduled to open in May 2015, would be a place to "make new memories for us all." The project is expected to cost $5.5 million.
Daniel Harrigan, of Spillman Farmer, spoke briefly about the project his firm will be in charge of completing. "It's going to include zero entry areas (beach entry), water sprayers, the "duck" [slide], built-in benches, a large slide, a deep end for a diving board and areas for lap swimming," he said.
Afterwards, Mayor Strye, President Chiavaroli, and Public Property Chair Frank Maureek stood around the detonator and, after a ten count, set off a series of fireworks on the far end of the pool to mark the beginning of construction.
"Sure beats a shovel," Chiavaroli joked.