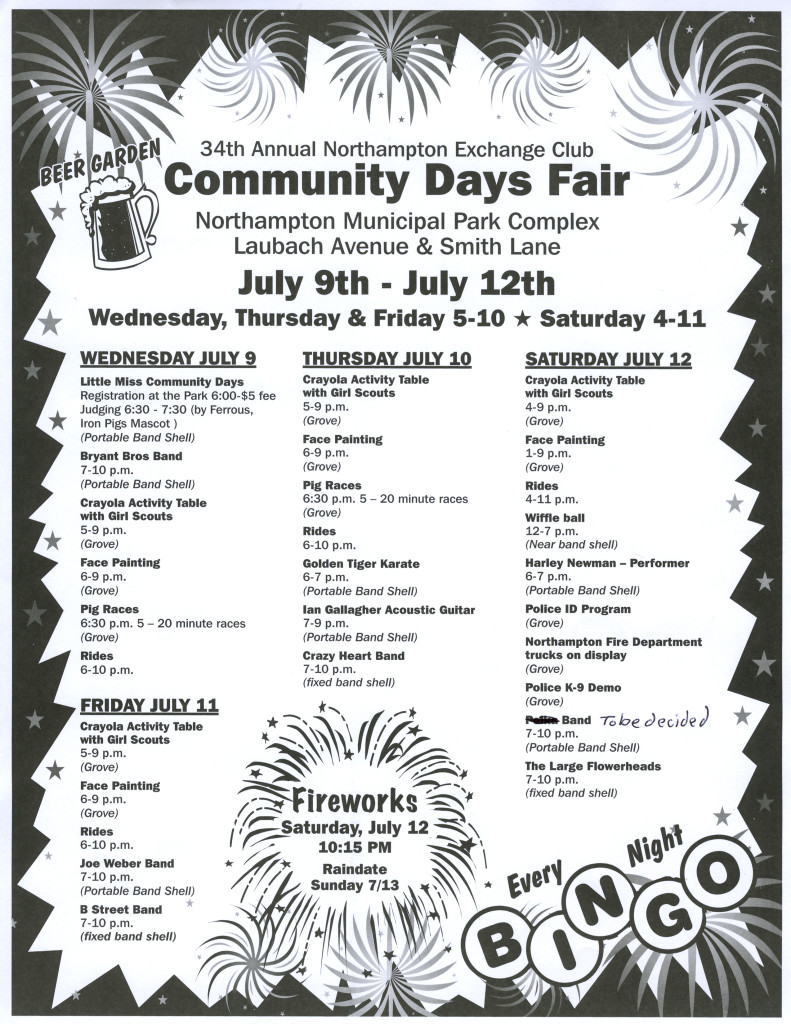 By ALICE WANAMAKER
The 34th Annual Northampton Community Days Fair, sponsored by the Exchange Club of Northampton, is being held July 9 through July 12 at the Northampton Borough Park. The fair benefits the Borough of Northampton and surrounding areas.
The fair features a wide assortment of rides, foods, games, live music, and events for the entire family. One day ride specials will be offered for $18 and include a ride all night wristband from 6 to 10 p.m. Bingo will also be held nightly by the Bath Lions Club from 7 to 10 p.m. Free live music includes; The Bryant Brothers on Wednesday from 7 to 10 p.m., Ian Gallagher and Crazy Hearts on Thursday from 7 to 10 p.m., Joe Weber Band and The B Street Band on Friday from 7 to 10 p.m., The Harley Newman Show from 6 to 7 p.m. on Saturday. Also on Saturday is Social Call and The Large Flowerheads from 7 to 10 p.m. There will also be face painting, coloring tents for the kids, pig races, and karate demonstrations by Golden Tiger Karate.
Extended hours on Saturday will be from 4 until 11 p.m. with fireworks schedule for 10:15 p.m. A Wiffle ball tournament for the Brandon M. Sommer Memorial Fund will begin at noon near the band shell with the final game starting at 7 p.m. Canine demonstrations will be presented by the Northampton Borough Police Department in the grove as well as a presentation by the Northampton Fire Department. For more information on any of the events or the Northampton Exchange Club, contact Rose Correll at 610-502-1903 or visit their website.