Around 11 a.m. this morning, Jeff Venable of Denton Texas stopped by our office on his way to New York City. Jeff has been running (yes, running) since May 31, 2014. He started the charity cross-country run in Coos Bay, Oregon with a goal of reaching New York City for the 9/11 Memorial on Thursday. Jeff is on track to arrive in New York by Wednesday night so he can attend the 9/11 ceremonies on Thursday morning.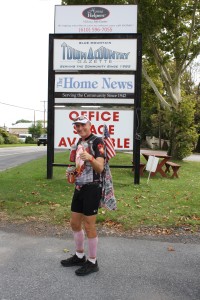 Jeff and his wife Linda Venable started a non-profit charity called Support for Firefighters to support firefighters and their families. Jeff and Linda have chosen Fallen Firefighters, The Thin Red Line and The Sons of the Flag as a few of the beneficiaries of their fundraising efforts. Support for Firefighters also raises funds for safety equipment for volunteer organizations and research for burn victims. Linda Venable served as a firefighter in Dallas Texas for 33 years before retiring last year.
According to Jeff, this cross-country trek, nearly 4,000 miles on foot at an average of 37 miles per day, has been the hardest run of his life. Jeff has had great weather for most of his journey but the biting flies in Colorado and mosquitos have been a bit difficult at times. "Running has been fairly easy," he said on a brief stop by our office.
Jeff hopes to continue to raise money on the last leg of his journey. He has just about 100 miles to go from our area to New York City by Wednesday night. He has raised over $2,000 since he started in May and has high hopes that others will pitch in and help out. If you would like to support Jeff and his wife in their mission to answer the call for firefighters across the country, visit their website at www.supportforfirefighters.com or find them on Facebook at "Support for Firefighters." You can also track his journey and see his photos from the road over the past few months.