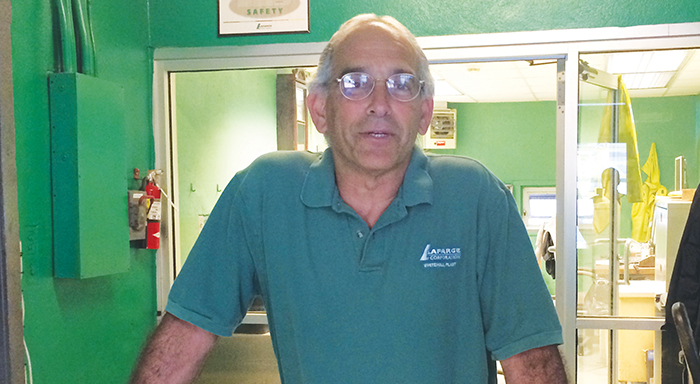 Submitted by ED PANY
Mr. James Ruzicka was born in Palmerton where his father owned Palmerton Beverage moving to Northampton when he was a 7th grade student.  At Northampton, Sam played Konkrete football for Coach Lou Wolf.  A class officer, he was also a member of the track team.
A 1976 graduate of Northampton High School, he was an excellent student of this writer.  Sam earned a Business Administration degree from Moravian College and was employed in the finance industry.  At age 25, he was hired by Whitehall Cement, now LaFarge Corp.
He recalls, "I was hired to replace a highly respected Northampton gentleman, Mr. Lester Reimer, who became my mentor.  In 1979, the Whitehall manager was Dick Foster, a visionary who modernized the plant." "In 1985, I was promoted to storeroom/purchasing department.  With Jack Delabar, we transformed the inventory system from cards to computerization.  The plant inventory is stocked with millions of dollars of parts which are readily available to keep the plant operating safely and efficiently." Today, he is assisted by Ron Koch and works closely with a fine maintenance team; with Scott Meckes, Dave Tomasic, Mike Gerencser and supervisor Gary Delauniere.  The Department is extremely busy during the winter when the plant is shut down to check and make necessary repairs to the plant can operate efficiently during the busy summer months. Mr. Ruzicka said, "One of my fondest memories is when my twin sons worked at the plant during their college years.  They were taught the value of hard work and responsibility."
Among Sam's duties are helping with annual hearing tests, health checks, blood drives and meeting with MSHA inspectors, who periodically inspect the plant for safety standards.  The employees stress safety on a daily basis.  Presently son Michael is in the plant control room and John has a unique position with marketing for the World Wrestling Entertainment W.W.E.
Sam's spare time will find him bowling, playing softball and reading non-fiction books.  He has been married to the former Ms. Rita Young for 31 years.  The friendly family resides in Allen Township. A personable, dedicated cement worker, Sam will retire this year.  He will be missed at the century old Cementon Plant.  We wish him a healthy and enjoyable retirement.  It was a pleasure to interview a fine gentleman and I hope to return to LaFarge next year to honor our neighbors, "The Cement Worker."