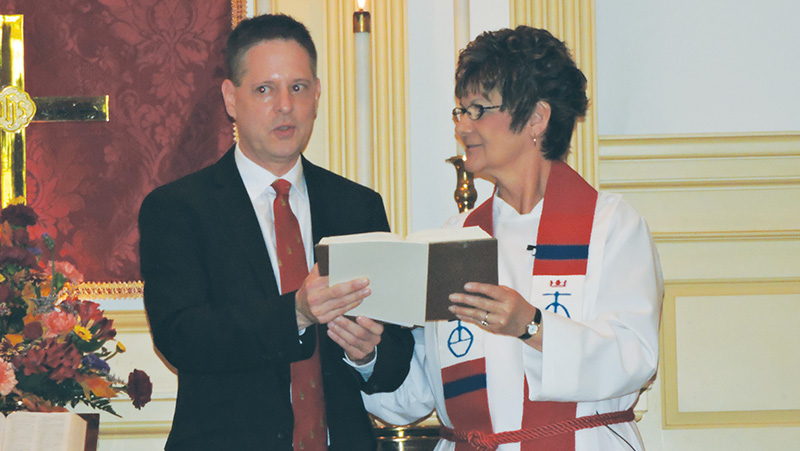 The Revs. Michael Eckroth and Nancy Azar share a hymnal following his installation as pastor and teacher of Christ United Church of Christ in Bath Sunday morning. Photo by Bill Halbfoerster.
The Rev. Michael L. Eckroth was officially installed as pastor and teacher of  Christ U.C.C. Church of Bath on Sunday morning. The Rev. Nancy Azar, Associate Conference Minister for Christian Education and Youth Empowerment in the Penn Northeast Conference, officiated.
Before the installation, she preached a sermon on "Spiritual Information or In Formation," emphasizing spiritual information found in Sunday School, Biblical studies, and confirmation.  She has a background of teaching in public and private schools.
Pastor Azar said, "Installation is the action of a Conference acting as an association, in cooperation with a local church. Installation confirms the covenantal relationship among a local church, its pastor and teacher, and the United Church of Christ."
Assisting in the service were Mrs. Jessica Varju,  James Angst,  Mrs. Starr Notaro, and Mrs. Karen Milkovits. Rev. Azar was introduced by Mrs.  Linda  Hahn, president of Consistory. As part of the installation, past and current members of Consistory, along with his mother, put hands on Pastor Eckroth in affirmation of his installation.
A covered dish luncheon followed the service.