Zack Stortini has embraced his role and is enjoying a career year with the Phantoms this season.
He began to take off his equipment after Saturday night's 5-4 overtime loss and not soon after did blood begin to drip off of him nonchalantly onto the locker room floor, perhaps from a blocked shot during the game – either intentionally by laying his body out in the defensive zone or as a result of creating a screen in front of the opposition's goaltender in the offensive zone.
Either way, it seemed like just another night for Lehigh Valley Phantoms forward Zack Stortini – almost as if it was routine.
"I thought the boys played really hard," Stortini said after Saturday's loss to Hartford. "It was a hard team-fought battle. We have to continue to do that."
Now in his 10th year at the pro level, spending the better part of five seasons in the NHL with the Edmonton Oilers from 2006-2011, it's no secret what Stortini's skill set is.
"He's a big body who pays the price in front of the net," line mate Nick Cousins said of Stortini. "He manages to get his stick in front and he's a good power play guy, screens the goalie and takes a beating. Credit to him, he likes to do that job and he's been rewarded so far."
Not known for offensive production, Stortini is having a career season with the Phantoms with 13 goals so far this season in 53 games, more than he has scored in any season of his pro career.
"He's getting rewarded because he has no fear of the shot that's coming," head coach Terry Murray said. "He just holds his ground, pucks hit him and they go in."
A leader in the locker room, as well as one of Lehigh Valley's alternate captains this season, Stortini wouldn't talk about his own successes – instead humbly talking about how several of his teammates are making his job easy.
"Great shots by the [defensemen] getting pucks through," Stortini said modestly when asked about his recent goal scoring surge, going on to credit several other teammates instead of himself.
"Another great shot by Cousins and Akeson, they're throwing pucks to the net and they're great guys to play with. Jesper [Pettersson] with a great point shot, and Manning too," Stortini added."It's a pleasure standing in front of the net when guys are shooting the puck like that."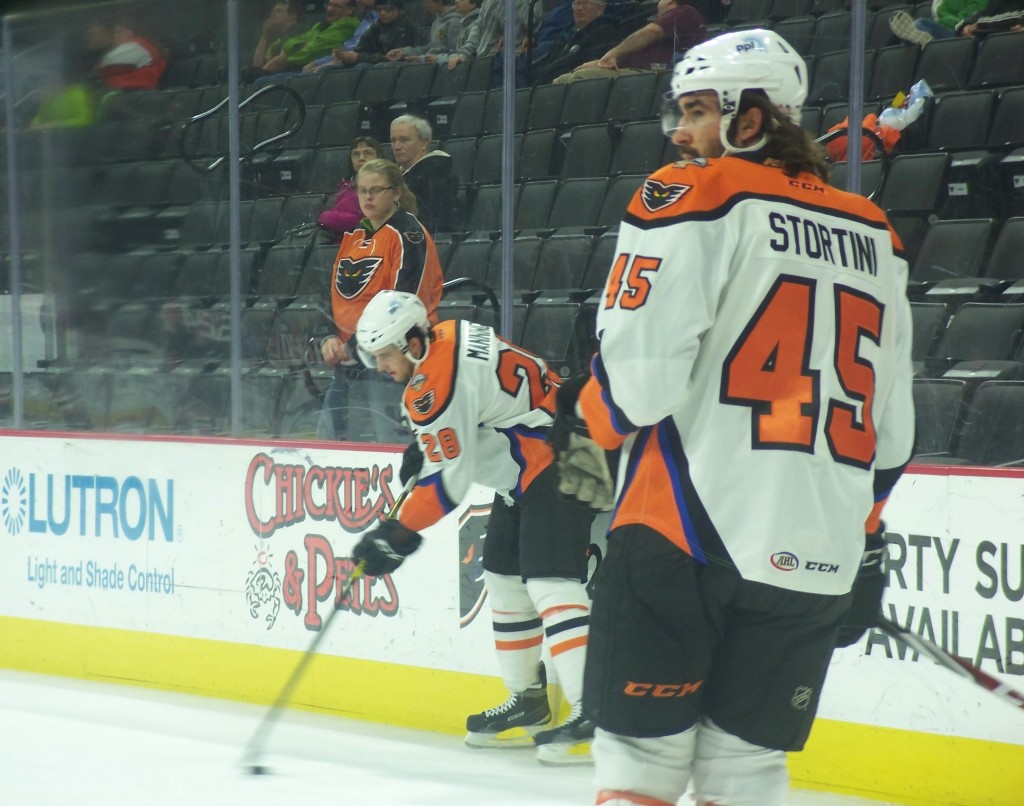 Phantoms head coach Terry Murray had no problem talking about Stortini's play this season and how important he is to the team.
"That's the way he has to do it, Murray said, adding, "Those are the players you look for when you don't know players. When you go into training camp and you're standing back and observing and trying to picture what you're going to have, that's one of the first things I look for. You have to get in the pits, in the hard areas. If you're going to have a good power play, that's the guy you have to have – that person in front of the net who pays the price. You have to have that hard area covered."
"He's working constantly," Murray said, referring to Stortini's net front presence and noting he's not just planting himself in front of the net. "He's doing the job the right way."
The Phantoms' loss Saturday night at PPL Center was their seventh straight loss on home ice (0-5-2-0) and with 23 games left on the regular season schedule and the team in the midst of a six out of seven game home stand, it's going to take a now or never mentality for Lehigh Valley to make a serious playoff push – currently seven points out of a playoff spot.
"There's quite a few games left coming down the stretch," Stortini said when asked about the team's current situation and the obvious goal of making the playoffs.  "We're going to need efforts like [last Saturday vs. Hartford] each and every night. We might not we win every game coming down the stretch, but we're sure as heck going to try."