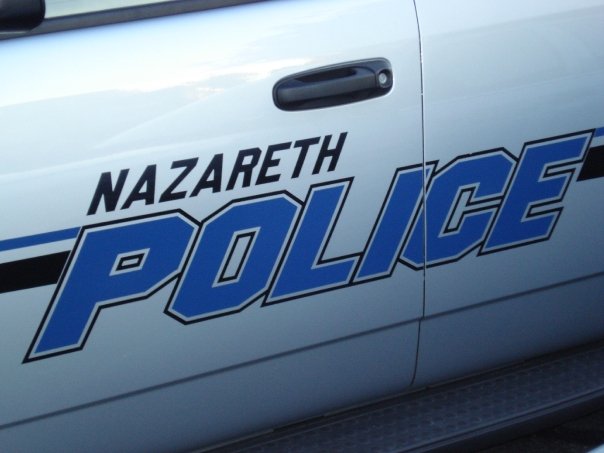 Submitted by DAVE SICA
At the borough council meeting on February 26, Mayor Carl Styre stopped the regularly scheduled agenda and had a resident address a situation that could have proved fatal, were it not for the actions of some heroic first responders.
On February 13, Jeff Fogel came close to dying. Fogel, who has a heart condition, collapsed on the second floor of his home. Though he was unconscious from that point on, Fogel explained that if wasn't for the Nazareth first responders, he would not be alive to attend the meeting. According to Fogel, it was Officer Stephen Schleig's forethought to grab a defibrillator and run into the home that made all of the difference.  "I'm very appreciative of their service," Fogel said as he thanked the entire team that came to his aid. "A lot of people say that 'it's their job', but I think they went above and beyond," Fogel continued.  He called on the borough to be "very proud" of the people they have working to protect them. After Fogel was done speaking, Styre brought the entire first responder team to the floor and recognized them for their service. The Mayor alluded to some kind of accommodation for them, but stopped short of details.
Vanessa Sabatine, owner and operator of Herbs to Your Success, located at 64 South Main Street in the borough, was the next resident to speak at the meeting. Sabatine expressed frustration at the recent road construction by UGI near her business, which she said impacted her adversely. She also took issue with parking meters, relating a time when a massage student was issued a $30 ticket. The ticket was not for lack of payment, but for "not being in the lines." The student abandoned the products she was purchasing, causing Sabatine to lose a sale. She also said the two-hour parking limit is hurting businesses downtown. Because of the nature of her business, people seeking similar services are going to places with more convenient parking like the mall. She said, "it's not about the money," it's about massage clients having to rush out and plug the meters. She feels that it's an issue with all downtown businesses. Council agreed to have the police committee discuss the issue.
Stephanie Varone, Nazareth Borough Coordinator, brought some updates on the businesses that have been attracted to the downtown. The gallery coming to Nazareth will be open the second Saturday in March. The long-awaited café looks to open the first week in April. She also said that the banner program is going very well, with 20 businesses on Main Street looking to purchase one.
Styre also announced that Nazareth Pool Brick Program is coming to a close, but you can still purchase one up until the middle of March.