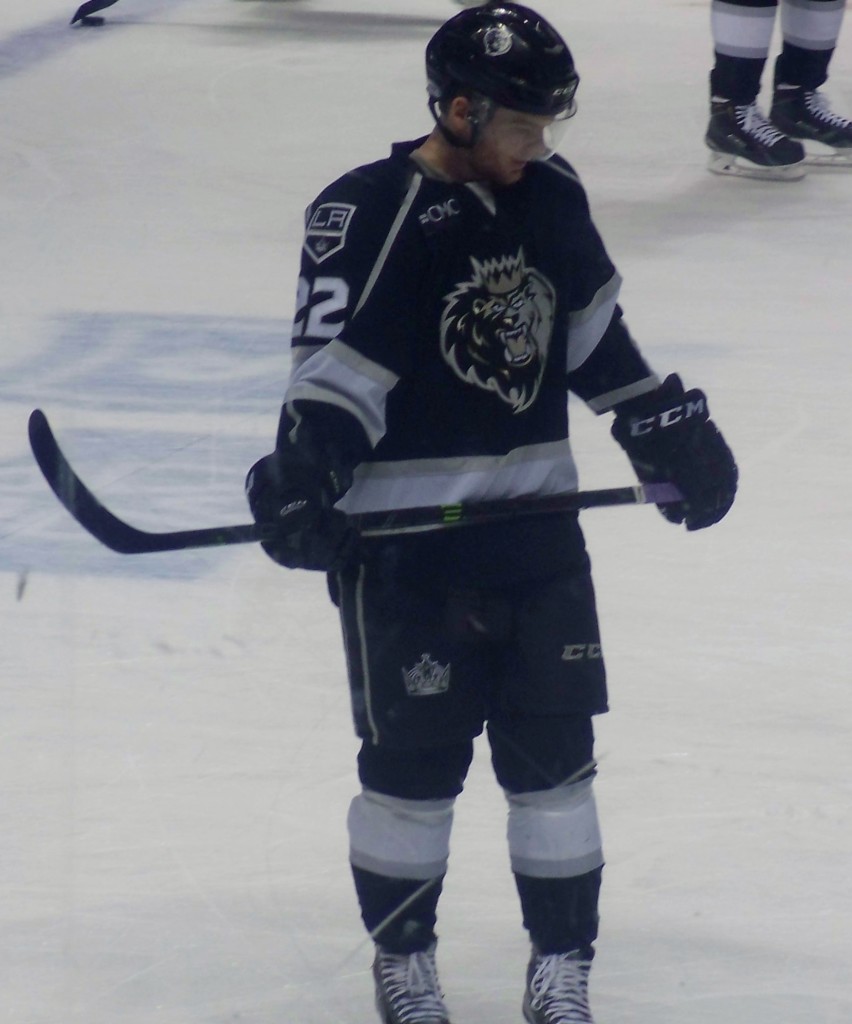 2015 AHL MVP Brian O'Neill has Manchester Monarchs in Conference Finals.
Growing up in Yardley, Pa. along the Delaware River, Brian O'Neill played his youth hockey in the Philadelphia area. Despite usually being the smallest player on the ice, O'Neill has come a long way from his glory days in high school at Germantown Academy and at the collegiate level at Yale University.
Now in his third season of professional hockey in the Los Angeles Kings organization, O'Neill is having a breakout season with the Kings' top minor league affiliate Manchester Monarchs – leading the American Hockey League (AHL) in scoring during the regular season and recently being named as the league's regular season MVP.
"We have a lot of really good players and when you're on a good team like that it helps take some of the load off for me and you can just free wheel and do your own thing," a humble O'Neill responded when asked about his MVP-caliber season. "I think if the team keeps having success and we win, people will take notice of some of the guys who get overlooked."
Despite enjoying success in the AHL this season, O'Neill had no problems taking a trip down memory lane and talking about his time playing youth hockey in the Philadelphia area.
"You never forget where you came from," O'Neill said. "I like to see what's going on there. It's always nice to see what is going on in your hometown."
O'Neill started to put both himself and his hometown on the hockey map back in 2005 as he led his high school hockey team at Germantown Academy to back-to-back Flyers Cup Finals – including in 2005 where he was the tournament's leading scorer and named Flyers Cup MVP. Ten years later, he still keeps tabs on the area where it all began.
"I think you're seeing more guys come out of that area and advance into junior hockey and go into the college ranks and do pretty well, O'Neill said, adding, "Some of the guys are going pro now. It's great to get some scouts down there, finally seeing some guys have success at the pro level. Hopefully that'll continue to grow."
After high school, O'Neill played one season with the Chicago Steel of the USHL before attending Yale University for four years and further developing his game playing big time college hockey in the ECAC. A four-year player for the Yale Bulldogs, O'Neill registered back-to-back 20-goal seasons in his final two years at Yale – building up a program that went on to win the national championship the year after O'Neill had graduated in the spring of 2012.
"You are seeing a lot guys – Andrew Miller out in Oklahoma City, Sean Backman here (in Manchester) – having success from that stretch run we've had for 6-7 years now. They won a national championship. It was a great learning experience for me, [going] there for four years."
O'Neill's size, listed at 5-8, likely kept him from ever being drafted by an NHL team but he was able to sign with the Los Angeles Kings organization as a free agent following the completion of his collegiate career – a move that he's never looked back on given his current success within the organization.
Now into mid-May and the heat of the 2015 Calder Cup Playoffs, O'Neill has helped his team to the Eastern Conference Finals where the Monarchs will face the Hartford WolfPack with the winner of that best-of-seven series advancing to play for the Calder Cup Championship in the finals.
Despite having success at the AHL level this season, every professional hockey player's end goal is to suit up for an NHL game – something the 26-year-old Yardley Pa. native has yet to achieve. While he's currently focused on the task at hand in the AHL playoffs and winning a championship, O'Neill didn't shy away from his end goal and what he thinks he needs to do in order to make his dream become reality.
"You just have to get better every day. You're always learning. The more you learn, little things, the easier that your game will just naturally flow. If you keep excelling at the little things, the skill will overtake and you'll have some success. For me personally as a smaller guy, you just have to get as strong as possible in the off-season and make sure you give your best chance as possible to hold up against those bigger guys."