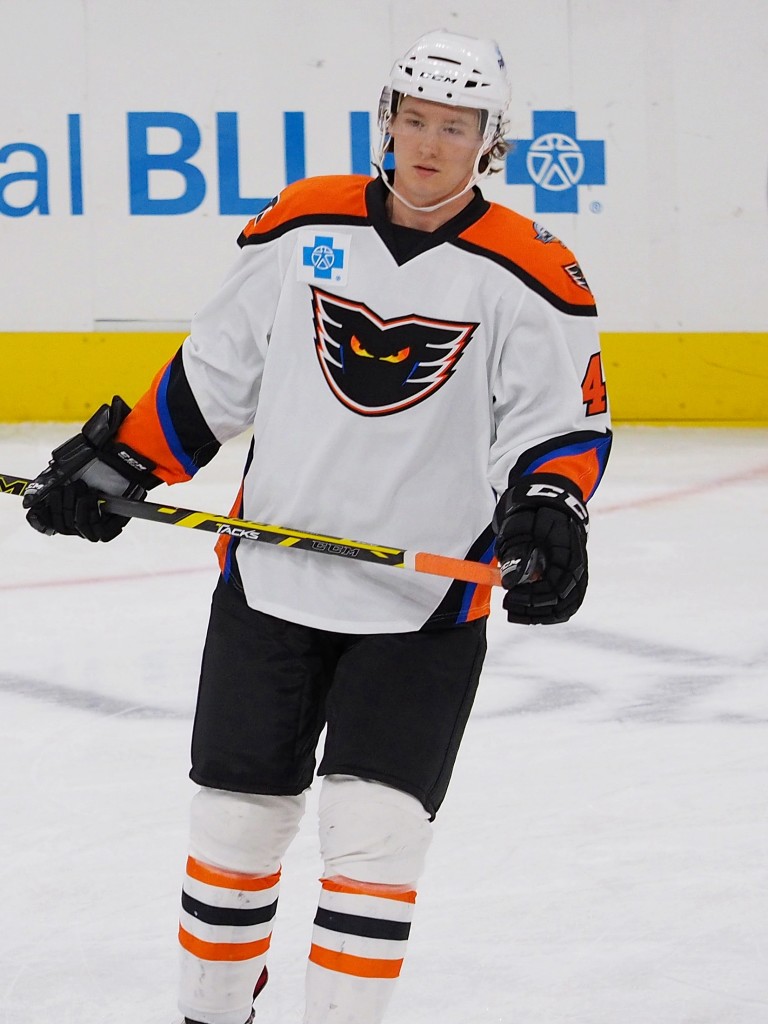 West Chester, Pa. native Nick Luukko is looking forward to his rookie season of professional hockey with his hometown team, the Lehigh Valley Phantoms. -Photo by NINA WEISS
Growing up in the Philadelphia area, Nick Luukko grew up a Flyers fan. His father worked for the Flyers organization for some 25 years before resigning from his post as president of Comcast-Spectacor in December of 2013. Before heading off to college at the University of Vermont, the Flyers drafted Luukko in the 6th round of the 2010 NHL Entry Draft.
After getting his first taste of pro hockey last spring, following his senior season of collegiate hockey, Luukko is looking forward to his first full season at the pro level.
Not long after the conclusion of the Lehigh Valley Phantoms inaugural season, he signed his first professional contract – one that will have him on an American Hockey League (AHL) deal with his hometown team for the 2015-16 season.
"It's exciting," Luukko said in an exclusive phone interview with The Home News. "Just to get something done right after the season and not have to worry about it all summer – finding a place to play. I'm just able to focus on training and I'm able to stay close to home which makes it even better."
Luukko made his pro debut on March 28th at the PPL Center in downtown Allentown against the Wilkes-Barre/Scranton Penguins – not too far down the road from his native West Chester, Pa. He appeared in six games in total, going pointless with a minus two rating.
"It was pretty cool to be able to get the opportunity to play in Lehigh Valley," Luukko said, adding, "I had a blast playing [there]. They are selling out most nights. They have a great fan base, great crowd and an awesome brand new arena and facilities so it's pretty exciting."
While Luukko took some time off from hockey in April and May after the 2014-15 season had ended, he's already dialing things back up in preparation for the Flyers' annual summer development camp and the 2015-16 season.
"I've been training for about four weeks now, just getting back into everything," Luukko said. "Just getting that going and get ready for development camp in a couple of weeks."
"It's pretty much back to the grind, getting ready for next season and getting ready to start off my first pro season. I'm really looking forward to next season and playing a full year in Lehigh [Valley]."
Follow Tony on Twitter -> @TonyAndrock_TCG for all the latest breaking news, insights and information on the Lehigh Valley Phantoms all summer long!