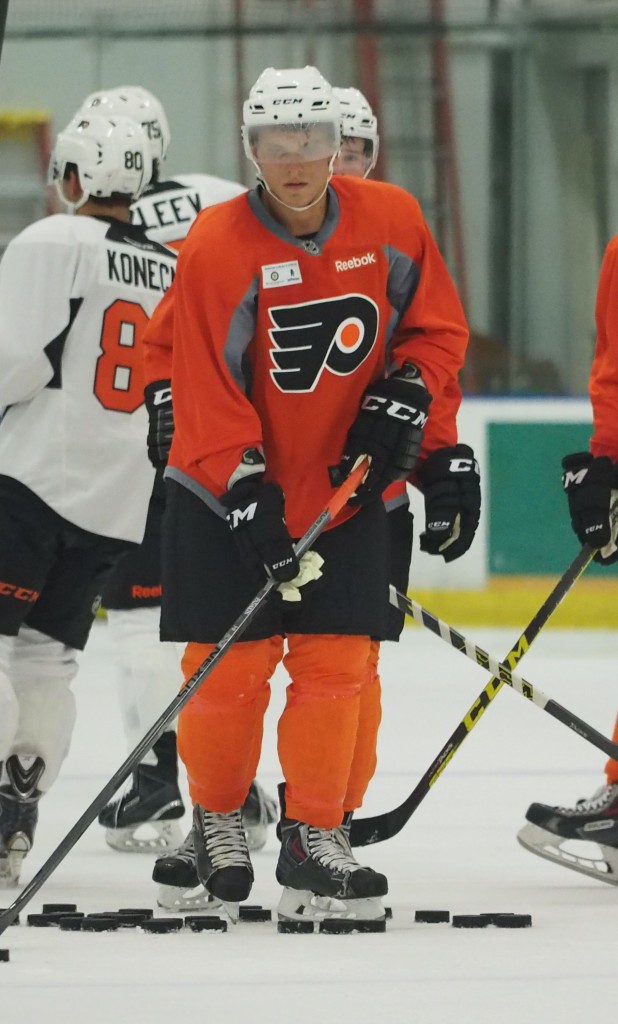 Pavel Padakin (center) is focused to make an impact with the Phantoms this fall. Photo credit: Nina Weiss
While the Philadelphia Flyers signed several free agents to contracts in the first week of July, the Lehigh Valley Phantoms have added to their depth for the upcoming season as well with the addition of defenseman Nick Luukko and most recently forward Pavel Padakin.
"It was a good surprise for me during the summer to get a contract and I'm pretty happy to be in this organization," Padakin said at Philadelphia Flyers Development Camp last week in Vorhees, New Jersey.
After back-to-back 20-plus goal seasons with the Calgary Hitmen of the Western Hockey League (WHL), Padakin reached the 20-goal plateau for a third straight season last year with the WHL's Regina Pats – coached by former Flyers assistant general manager and head coach of the Phantoms (2008-09) John Paddock.
"He was a great coach, he helped me to come to this level and I'm really thankful for him," Padakin said of Paddock, adding that he had heard from his former WHL coach about the Phantoms and Flyers organization.
Padakin finished his junior hockey career with 147 points (76 goals, 71 assists) in 205 WHL games prior to turning pro, but told The Home News that he's a two-way player that plays a defense-first style of play.
"Mostly, I'm more defensively and pretty good on the penalty kill," Padakin said when asked about what he brings to the rink. "On the other hand, I can score goals."
While Padakin is on an AHL-only contract for the 2015-16 season, he was invited to the Flyers' development camp and is eager to make a good first impression with the NHL staff on hand.
"It's always nice to be in an NHL development camp," Padakin said, adding, "Of course the AHL is really good too and I'm excited to play there, but your goal and everyone's goal is to make the NHL. That's why I'm here. I'm trying to learn more stuff, more skills and come next camp and show that I can make the big team."
Still, Padakin's focus remains with the task at hand – developing his game at the AHL level with the Phantoms and starting his professional hockey career this fall. He seems more than ready to get things going, and also determined to be a team player.
"I just need to work hard, bring the energy to the team, score a couple goals and be good in the defensive zone and I think our team will be successful."