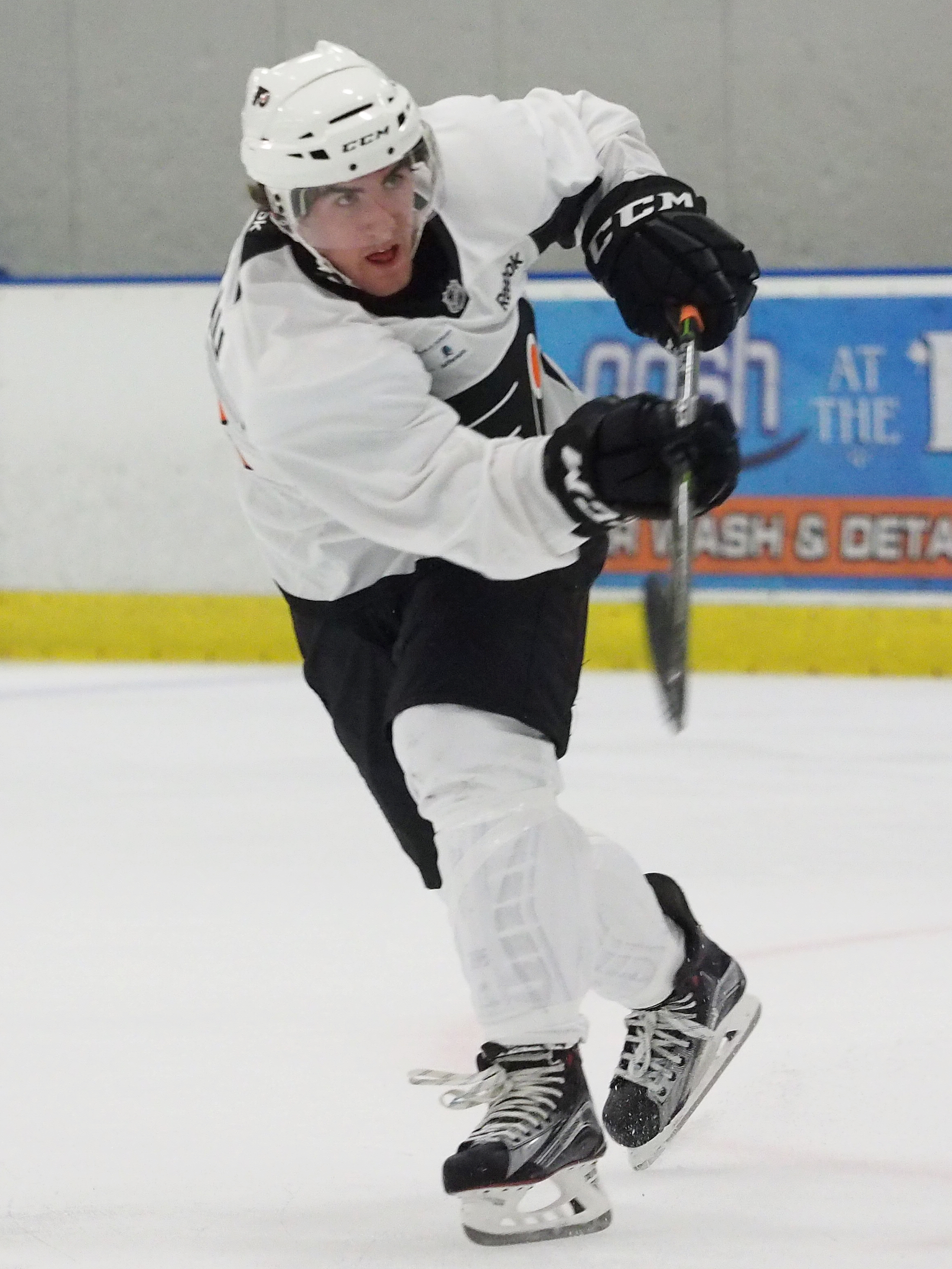 Cole Bardreau is looking for a larger role with the Phantoms in 2015-16. Photos courtesy Nina Weiss.
From his senior year at Cornell University and the tail end of the Lehigh Valley Phantoms inaugural season to this summer at Philadelphia Flyers Development camp, incoming rookie Cole Bardreau knows what to expect entering the 2015-16 season – his first full season of professional hockey. He came to The Skate Zone in Vorhees, New Jersey with a sense of confidence and familiarity having played alongside some of the participants of the camp with the Phantoms in March and April.
"The biggest thing is it's nice to be at a development camp where you are already part of the organization," Bardreau said, noting he attended development camps with the Boston Bruins and Detroit Red Wings on a tryout basis last year.
"It was kind of almost like I was trying to earn my spot there [in a development camp]. Here I come in with a little more confidence, already knowing some of the guys. It makes it that much easier," he added.
Bardreau signed a two-year entry level contract with the Philadelphia Flyers back on March 12, 2015 following the completion of his senior season at Cornell University, where he led the team in scoring with 22 points (five goals, 17 assists) in 30 games. The 5-10, 185 pound center from Fairport, New York made his pro debut with the Phantoms eight days later against the Hartford Wolfpack in Connecticut at the XL Center – a game in which he tallied his first pro goal as well.
"It's a different style of play. It's more controlled, more skill," Bardreau said of his 15-game AHL stint with the Phantoms last spring. "Just to get those games under my belt and be fresh coming in, coming into these camps already knowing some guys and staff, upper management is huge. You don't have to worry about that, you can just come and play hockey and have fun."
At the professional level, Bardreau was molded into a bottom-six, two-way forward – learning how to play away from the puck and in the defensive zone under former Phantoms head coach Terry Murray last season. While the former Cornell standout is less than six feet tall, he has come into camp stronger and appears much bigger than he did last season with the Phantoms. He came into development camp earlier this month ready to learn.
"It's not as much of you getting observed or judged early in July, they're just trying to help their guys develop," Bardreau said of the Flyers annual development camp. "I love getting better every day, so it's a great fit."
Playing a physical, gritty two-way game on a consistent basis was something Bardreau's former Phantoms coach was looking to instill in him. Having played in some AHL games last season and knowing he'll be preparing for his first full season of professional hockey gives Bardreau extra time to work out and get ready for his rookie season.
"Going to college, we had to get in there in mid-August," Bardreau recalled. "It's nice to have that extra month there to prepare and get that much stronger and build up that much more muscle so that you can last through the season."
While Bardreau is thankful for the experience he gained in Lehigh Valley last spring, the taste of pro hockey has him wanting more in 2015-16.
"I came in at the end of the season and a lot of guys were already pegged in spots. I was getting I guess not as much ice time as I would have liked," Bardreau said of joining the Phantoms on an amateur tryout contract back in March.
"I think next year I can come in with the confidence that I know I can play [in Lehigh Valley], know I can be a big factor and hopefully gain more ice time too."
Follow Tony Androckitis on Twitter:(@TonyAndrock_TCG)