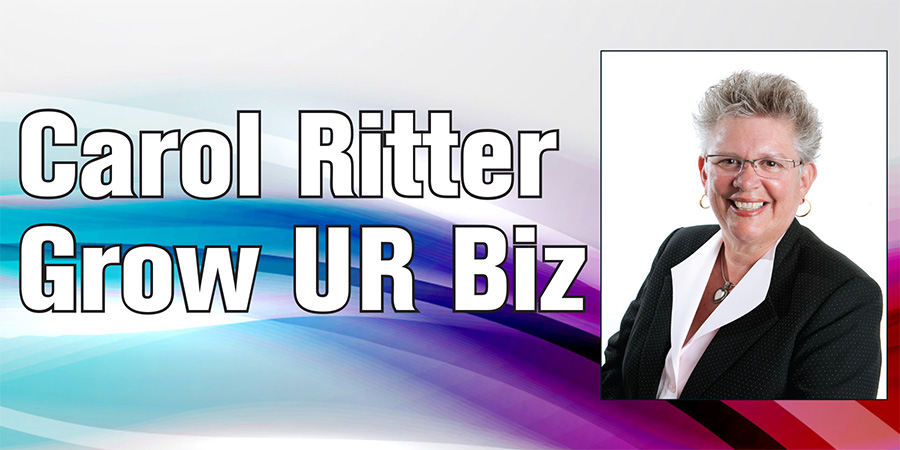 by Carol Ritter
I met a self-proclaimed entrepreneur this week. When I asked him what he does, he replied "online stuff." I'm not quite sure what "online stuff" means exactly, but it seems to imply that he is either not successful or isn't willing to share with me what he does for a living.
If he is into online stuff, wouldn't I be a potential buyer? Then the conversation turned to how he doesn't like to work with people, preferring the online market. Can we be successful without other people? My guess is that it's possible, but not probable.
Over the weekend, my granddaughter told me that she was on a team at school. When she arrived for the first meeting, she realized that all the other members were close friends, and she wasn't a friend with any of them yet. At this young age, she realized she needed to find her fit on the team. That's pretty intuitive for a school kid. She shot them ideas and they began working together. The results speak for themselves; they all got straight As.
Here are seven ways to become part of the team:
-Lose the ego and the "me."
-Turn up your listening skills.
-Envision the results and how everyone can contribute to achieve them.
-Zero in on each member's individual strengths.
-Offer to go the extra mile.
-Value each member.
-Identify the leader.
People are often critical when a business succeeds. This week in Bath, I was eating at a local restaurant and was greeted warmly by the owner, the same thing happened at a bank in the community. I shopped at the Bath Farmers Market and enjoyed how friendly all of the vendors were and even won a prize in the famous duck race. People matter, your customers matter and when you work on a team you increase your value and reputation.
Carol S. Ritter, past President of the National Speakers Association in Philadelphia, is an accomplished professional speaker, coach and educational consultant specializing in innovative leadership, outrageous fundraising, million-dollar marketing and building organizational alliances throughout the country. FMI on Carol's creative leadership with bulletproof ideas for recruiting more members, more money and better leaders: www.caroltalks.com, 610-442-4545, tellkids@aol.com, "Like" Carol on facebook at Caroltalks and CarolCoaches.