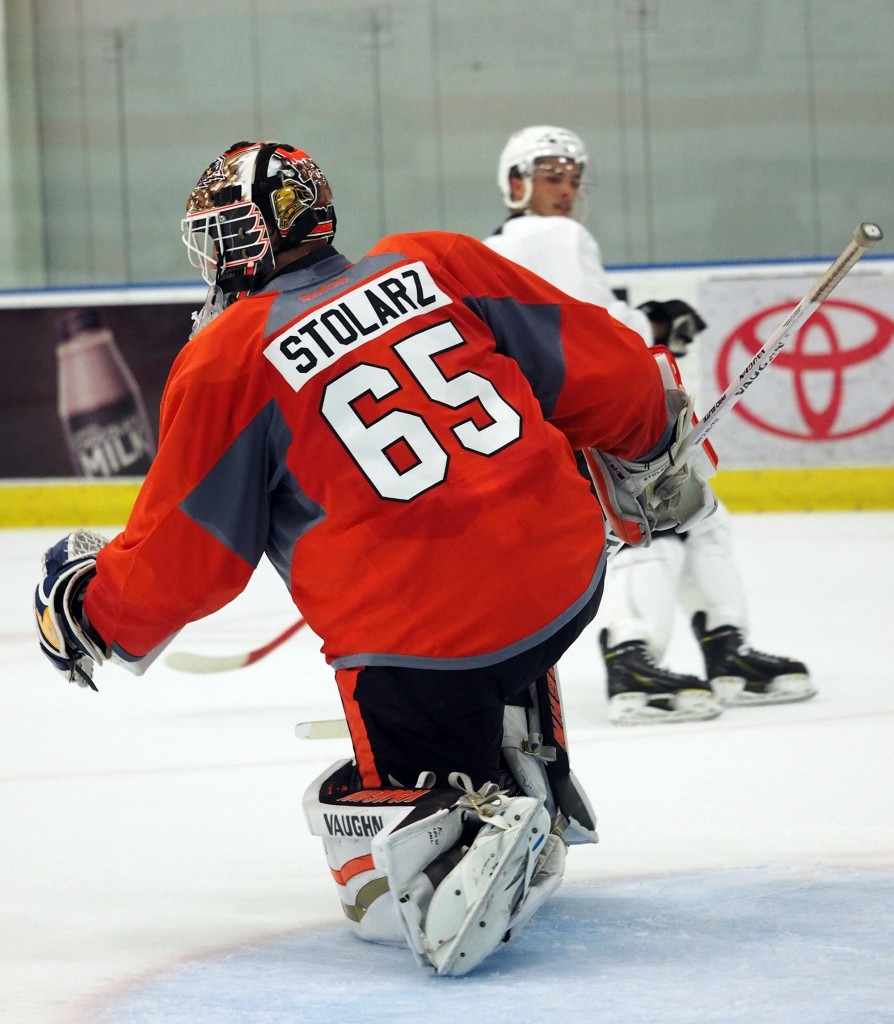 Anthony Stolarz is hoping for more success in 2015-16 and has been training at the Flyers Skate Zone in Vorhees, NJ, all summer to work on his game. -Photos courtesy of Nina Weiss
Anthony Stolarz saw many ups and downs in his first season of professional hockey last season with the Lehigh Valley Phantoms. It's something that is almost expected for most young goaltenders in the early stages of their respective pro careers.
"It's a learning experience," Stolarz said of his rookie season with Lehigh Valley last year, adding, "Juniors to pro is a huge jump, especially for goalies. You look around – being 21 – and everyone knows that it takes a little longer for them develop."
It was a tale of two seasons for the Philadelphia Flyers' 2012-second round pick (45th overall) who turned pro with the organization's top minor league affiliate in Allentown last fall.
"I started off a little slow the first couple games, then I kind of picked it up and played well," Stolarz recalled about the start of his rookie season. "Right after Christmas I kind of fell off a little bit and never really got back up to par with where I was in the middle of the season – in November and December."
Stolarz credits much of what he knows about being a goaltender at the pro level to Rob Zepp, whom Stolarz backed up in net for the Phantoms in 2014-15.
"[I] just want to take everything I can from last season," Stolarz said of learning from his first year. "It was nice having [Zepp] there to mentor me, just see how he conducts himself in the gym and on the ice. He was a real role model for me. I'm going to take a lot of what he did and what he taught me and kind of incorporate that into my game and build off that for years to come."
The New Jersey native has been working all summer in Vorhees with Philadelphia Flyers' strength conditioning coach Ryan Podell – gearing up for the upcoming season.
"I've been here in Vorhees all summer. I'm only 45 minutes away," Stolarz said, noting he has been working extensively with Podell. "Just coming in, working out and preparing myself for next year," Stolarz added.
This season with the Phantoms, Stolarz will be looking to learn from another veteran goaltender the Flyers have brought in in Jason LaBarbera, who finished last season in the AHL with the Norfolk Admirals.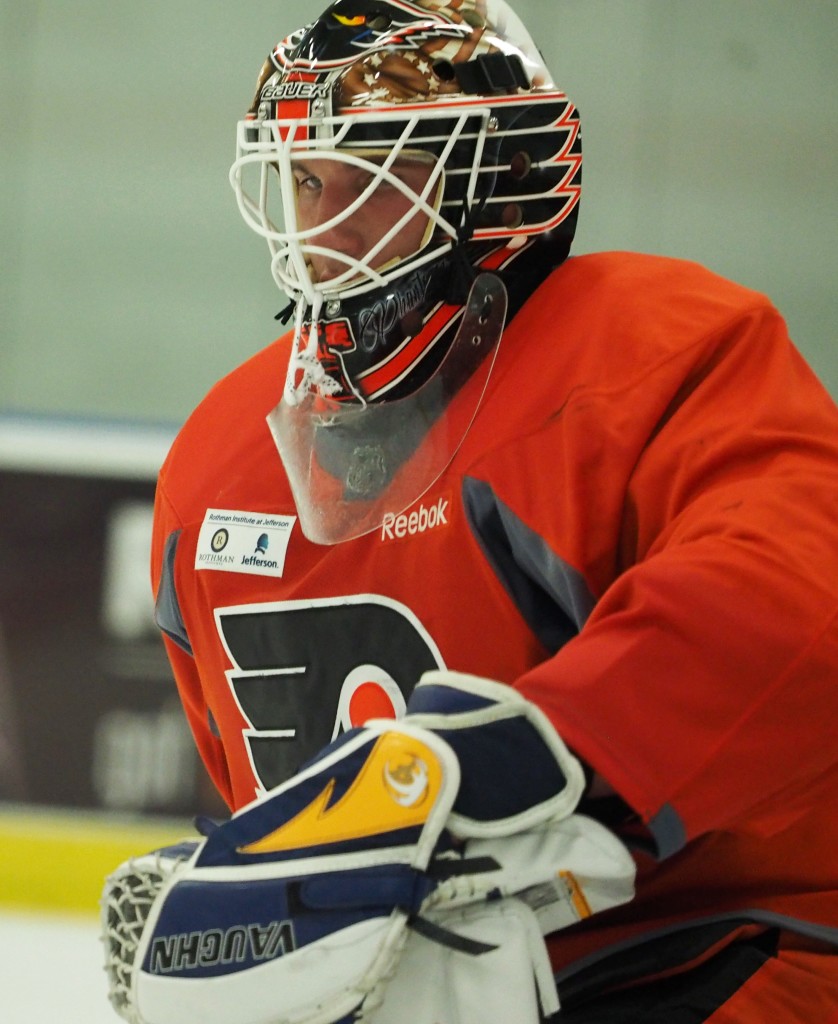 "He's a big goalie," Stolarz said of LaBarbera, noting, "I know a couple times last year we talked on the red line, just talking about odds and ends. I probably talked to him more than any other goalie. It will be nice to get to know him and compete with him this year."
In addition to working with a new head coach in Lehigh Valley this season, Stolarz has also been working with the Flyers' new goaltending coach Kim Dillabaugh.
"I'm just going to go out with the new goalie coach and learn his style, what he wants us to do on the ice and how he wants us to play," Stolarz explained of his plan at the Flyers' annual development camp. "So far, we are kind of learning about each other – we're seeing what he wants and he's seeing us for the first time."
"From here it's going to be a slow process, but after this [Development Camp] it will be about working on what he wants us to do, getting ready for the season and ready for training camp."
At just 21-years-old, Stolarz is looking to build off of last season and continue to get pro playing experience with the Phantoms, where he went 9-13-4 with a 3.28 goals-against average and .905 save percentage.
"We wanted to make the playoffs, being the first season there would have been nice," Stolarz said. "It's just more motivation for everyone to go out and work hard in the summer and get geared up for next year."
As for what Stolarz is looking out of the 2015-16 season, it's rather simple as far as he's concerned.
"For me, consistency is probably the biggest thing," Stolarz said on what specific aspects of his game he's working on in the offseason. "I'm just going to want to go and play that same game the entire year, not falter and just give myself the best chance to go out there and play games."
For all of the latest Lehigh Valley Phantoms breaking news and online coverage this upcoming season, stay tuned to both www.homenewspa.com and Tony's daily American Hockey League blog Highland Park Hockey -> www.highlandparkhockey.blogspot.com.