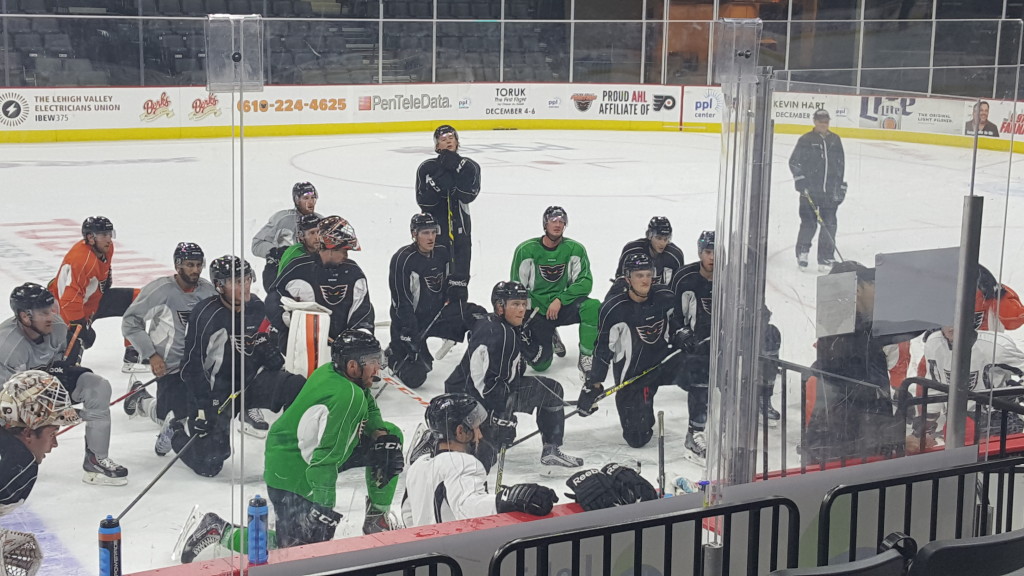 The Lehigh Valley Phantoms are learning new head coach Scott Gordon's style of play during Monday's training camp practice at the PPL Center.
The Lehigh Valley Phantoms began training camp under new head coach Scott Gordon on Monday morning, learning a new style of play and hoping the changes to both the roster and the coaching staff will lead to success in the Phantoms' second American Hockey League (AHL) season as a franchise in the Lehigh Valley.
"We have two weeks to put everything together," Gordon said after Monday's practice. "I don't expect perfection. There should be some uncertainty – that's what training camp is for."
Under Gordon's command, the Phantoms spent most of Monday's practice learning the new coach's philosophies and how expects his team to play.
"As a group, they seem to grasp things pretty quickly," Gordon explained. "It's certainly not easy for a young team. A new coach comes in and there are a lot of changes for both the player and the coach. There's going to be some growing pains, but that's to be expected."
The new head coach provides a clean slate for both newly acquired players to the organization as well as returning members of the 2014-15 season. Everyone is aiming to make a good first impression and leave their mark, beginning with Wednesday's preseason opener on the road against the Wilkes-Barre/Scranton Penguins.
"Moving beyond Wednesday and into Saturday and Sunday we want to try to get things in place so that when we open up on the 10th that we hit the ground running," Gordon said, continuing," and make sure as much as we can to take out all of the gray areas in our style of play and give our players a comfort level that they know what to do and when to do it."
Veteran forward Aaron Palushaj is eager for the season with his new team to begin, one year after splitting time between two teams overseas.
"I'm excited to incorporate his systems with our speed and skills," Palushaj said of head coach Scott Gordon's coaching style after Monday's practice at the PPL Center. "I think it's going to be a recipe for success here early on."
While optimistic, the eighth year pro understands with a new team and new coaching staff that it won't be a seamless, overnight transition.
"I think it's a process throughout the season. We are not going to know everything game one," Palushaj said, adding, "I think [Gordon] will make it clear that it's X's and O's, but it's also the effort. If we go out there, execute, make our passes and play hard – everything else will come."
Palushaj has spent time both in NHL training camp with the Philadelphia and in Allentown at AHL camp alongside center Nick Cousins, a duo Palushaj doesn't mind forming this fall.
"I think we are definitely getting there," Palushaj said of his newfound chemistry with Cousins. "We made some nice plays today. He's a good player, smart. I think we'd [make] a good line."
Cousins is coming off of a successful second season of pro hockey in 2014-15, leading last year's Phantoms team in scoring with 56 points (22 goals, 34 assists) in 64 games. While he was one of the team's best offensive weapons last season, he's in the same boat as everyone else at camp when it comes to understanding the new way of playing from the new head coach.
"It was a lot of learning," returning forward Nick Cousins said of training camp practices, adding, "We are learning new systems and what [coach Gordon] likes. It's just a matter of getting used to that and putting it into a game."
"It's a fresh start for everyone. New coach, new systems, stuff like that," Cousins said. "It's going to be a fun year. I think most guys are looking forward to it. It's an exciting time, the best time of the year."
Phantoms 2015 Preseason Schedule
Wednesday, Sept. 30 @ Wilkes-Barre/Scranton
Mohegan Sun Arena at Casey Plaza
7:05 p.m. ET
Saturday, Oct. 3 vs. Hartford Wolf Pack
PPL Center
5:05 p.m. ET
Sunday, Oct. 4 vs. Wilkes-Barre/Scranton
PPL Center
5:05 p.m. ET
You can follow live updates of all three Phantoms preseason contests and every regular season games all season long online by following Tony on Twitter -> @TonyAndrock_TCG.