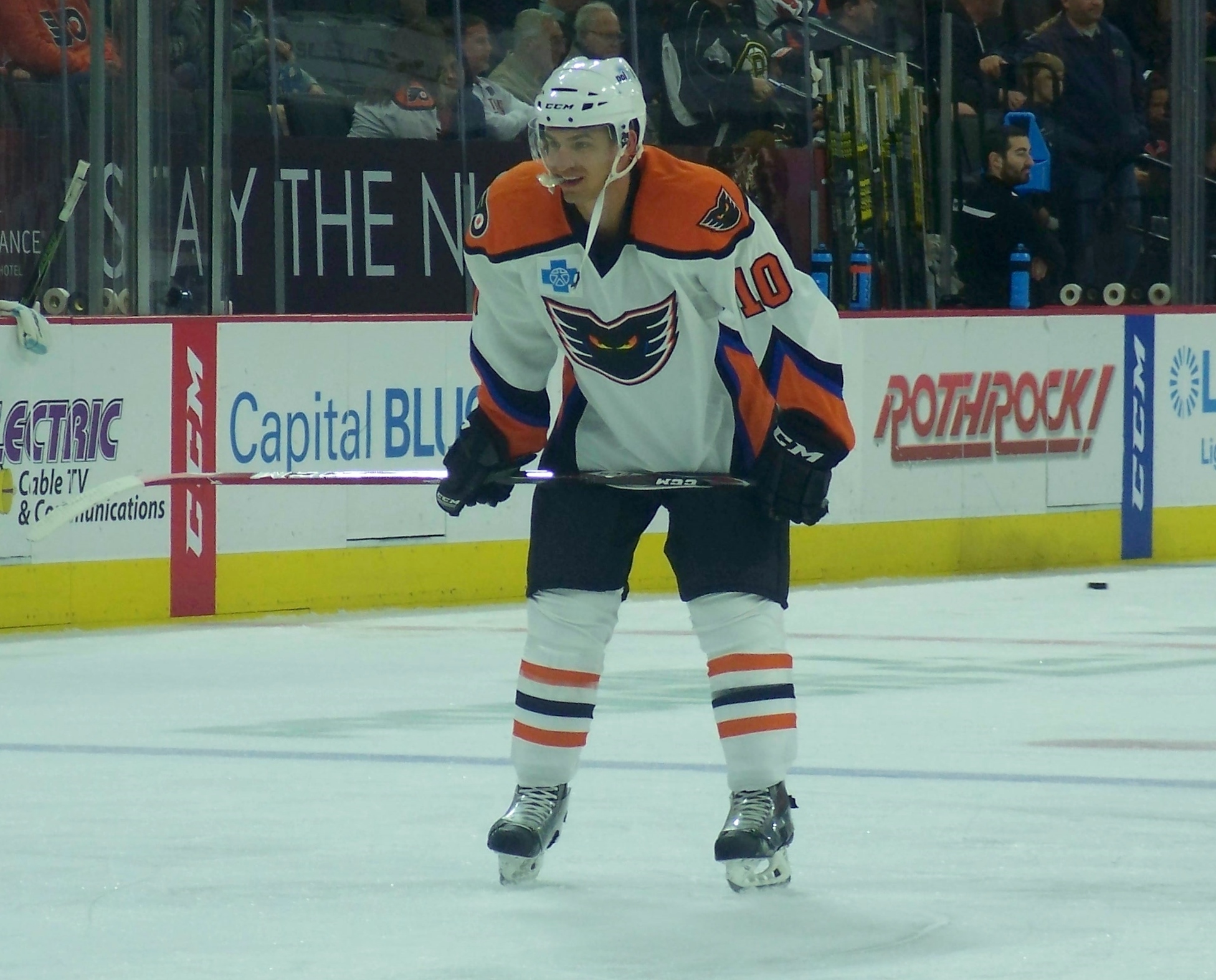 Evan Rankin aims to prove he belongs in the AHL on his current tryout with the Phantoms.  
Injuries have taken their toll on the Lehigh Valley Phantoms and opened the door for others to step in and get an opportunity to play. This is the case for the newest member of the team – forward Evan Rankin – who joined the team over the weekend on a professional tryout contract (PTO) from the Toledo Walleye (ECHL).
With forwards Cole Bardreau, Danick Martel, Colin McDonald and Michael Parks all out of action for the next few weeks, Rankin looks to have an extended stay to make an impression.
"Obviously it's a good opportunity here, but you never want guys to be injured and hurt," Rankin said after the Phantoms' 3-1 loss to Toronto on Sunday.
Rankin, who made his Lehigh Valley debut on Saturday, joins the Phantoms with plenty of AHL experience, a total of 191 games including three seasons with the Rochester Americans where he tallied 15 points (eight goals, seven assists) in 32 games last year. He's certainly accustomed to the style of play.
"I've been in the AHL for the last four years," Rankin said of his time in the league. "I know how this league works. It is a new system and I'm picking up little pieces here and there, but you want to bring everything you can and try to help make a difference."
The 29-year-old forward went the college route before turning pro, playing big-time college hockey at the University of Notre Dame from 2004-2008, tallying 20 goals and 21 assists in those four years across 143 games.
"I like to be a feisty little forward, and win puck battles in the corner," Rankin said when asked what kind of skill set he brings to the table. "I have found a lot of success in my career battling in front of the net. I'm just looking for the opportunity to get there and at the same time make sure I'm covering my responsibilities defensively."
As a team, the Phantoms left some points on the table over the weekend losing both Friday in Providence and Sunday at home against Toronto, although they were able to pick up their first win at home on the season Saturday in a rematch against the Providence Bruins. Lehigh Valley finishes their four-game home stand this week with a pair of games against the St. John's IceCaps on Wednesday and Friday before their first matchup with rival Hershey Bears on Sunday in Hershey's Giant Center.
"It was a weird off-season with kind of a waiting game. I kind of waited almost a little too long I think on pulling the trigger," Rankin explained of his situation this past summer. "It's good to be back in the AHL and I want to do as much as I can to help this team win and do what I do best to try to make this team successful."