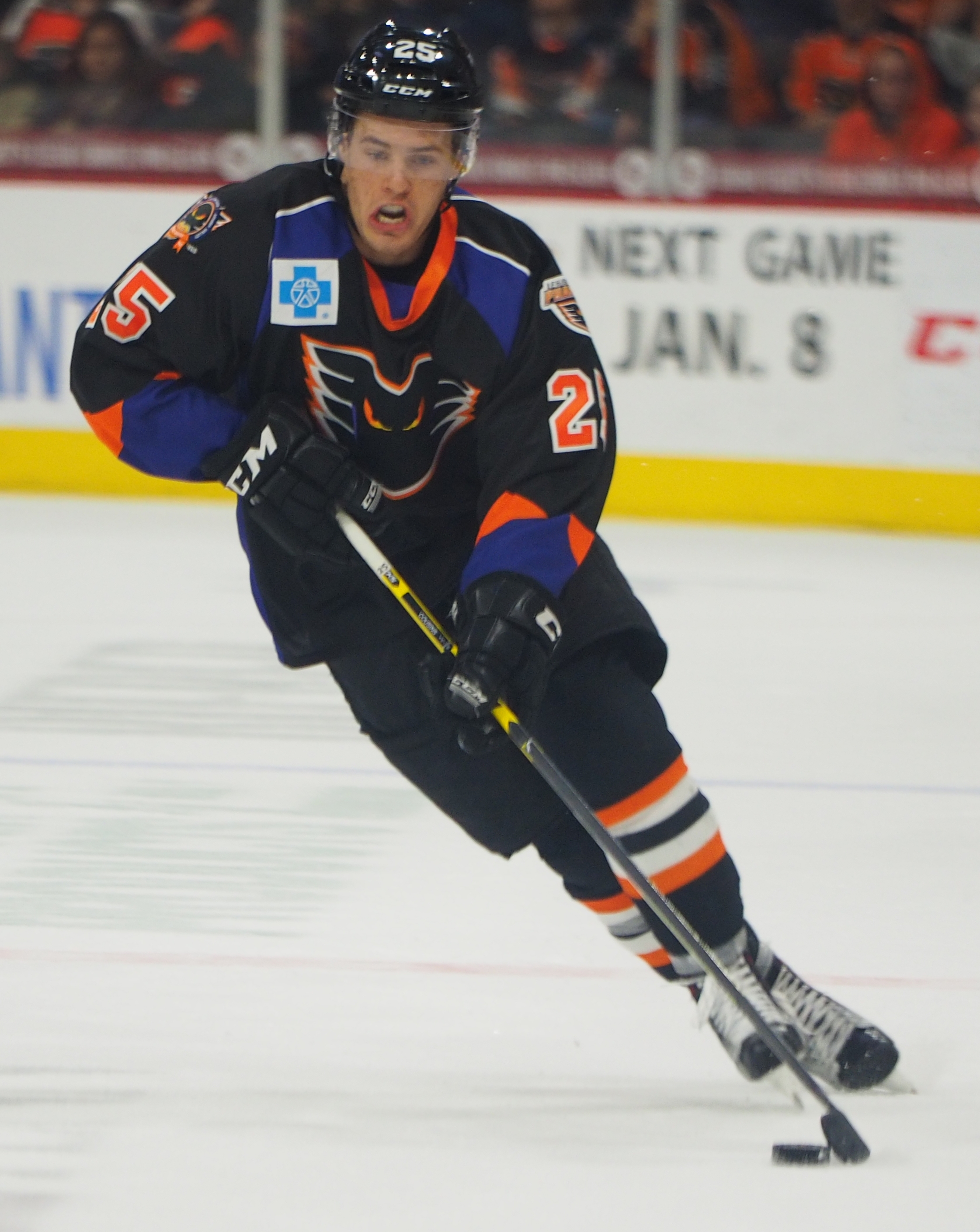 Nick Cousins is back in the NHL with the Philadelphia Flyers. -Photo by Nina Weiss
After leading the Lehigh Valley Phantoms in scoring with 38 points (12 goals, 26 assists) in 38 games and representing his team at the 2016 AHL All-Star Classic, Nick Cousins took the Phantoms' morning skate Friday in Bridgeport preparing for the team's first game after the break that night. Instead, he was called up to the Philadelphia Flyers due to an injury to Flyers forward Sean Couturier.
It wasn't the first time he got the call, as he made his NHL debut last March – appearing in 11 games and going pointless while playing a fourth line role. It wasn't even his first NHL recall this season – he played four games with the Flyers back in late November, early December.
This time around, Cousins is getting a prime opportunity on the Flyers' 2nd line between Sam Gagner and Brayden Schenn. He tallied his first career NHL point, an assist, Sunday against the Washington Capitals. With Couturier expected to miss four weeks, it's Cousins' best chance to prove he belongs in the NHL.
No one is more proud of Cousins' achievements than his parents. His father, Brian, made the trip to Syracuse, New York – a three hour drive from their home in Belleville, Ontario – to watch his son participate in the AHL All-Star Challenge.
Brian recalled Nick's childhood when he first began playing hockey during a Belleville winter.
"He learned how to play hockey in our in-ground pool," Brian said of his son Nick. "In the winter it would freeze and he and his brother would come home from school, put on their skates and play hockey on the 16×32 in-ground pool. They'd come in and eat and they wouldn't take their skates off so they could go back out there. I had to put flood lights and everything out there. That would be every day."
Brian also reminisced of watching Nick and his older brother Mike playing hockey on the frozen harbor near their house.
"I remember I use to drive him and his brother down. It would be at night. I'd give them one puck and say I'm going to get the hot chocolate," Brian recalled. "I'd go get the hot chocolate and sit in the car and watch them play for hours, just the two of them."
Every hockey player has a journey. For Nick Cousins, it's been four years in the OHL and another two and a half in the AHL with the Phantoms before his first real chance on an NHL roster. The goal of every AHL player is to get that chance in the NHL. Once that chance is earned, it's up to the player to do everything in his control to stay there.
"We are really proud of him," Brian said of Nick. "He's worked his rear end off to get there and all the issues – good and bad – hopefully all the good is coming."
Phantoms' Postseason Clock Ticking
After a five-game win streak heading into the break brought the Phantoms back into the playoff conversation, back-to-back losses last weekend has the team back into the hole they had just began climbing out of heading into the All-Star break.
"This is clutch hockey now. You have to show up every night, there's not going to be any easy games – any easy shifts," forward Aaron Palushaj said after last Saturday's loss in Hershey. "It really differentiates the players who want to play at this time of the year and into playoffs and players who don't. Going into these last 28 games, we have to take it one game at a time but really come out and give it all we have every single night."
Up Next
The Phantoms begin a lengthy home stand which sees them play their next five games, and seven of their next eight, on home ice at the PPL Center starting Wednesday night when they host the Binghamton Senators. They take on the Portland Pirates Friday night before battling the Utica Comets on Saturday. All three games begin at 7:05 p.m. ET.
"We just have to take advantage of being at home," Palushaj said. "Win three, four, five out of five and it will get us right back into the picture. We have to start with Wednesday night, just take care of business."
You can follow all the latest Lehigh Valley Phantoms breaking news, in-game updates and much more by following Tony on Twitter -> @TonyAndrock and by visiting his daily online coverage at Highland Park Hockey.