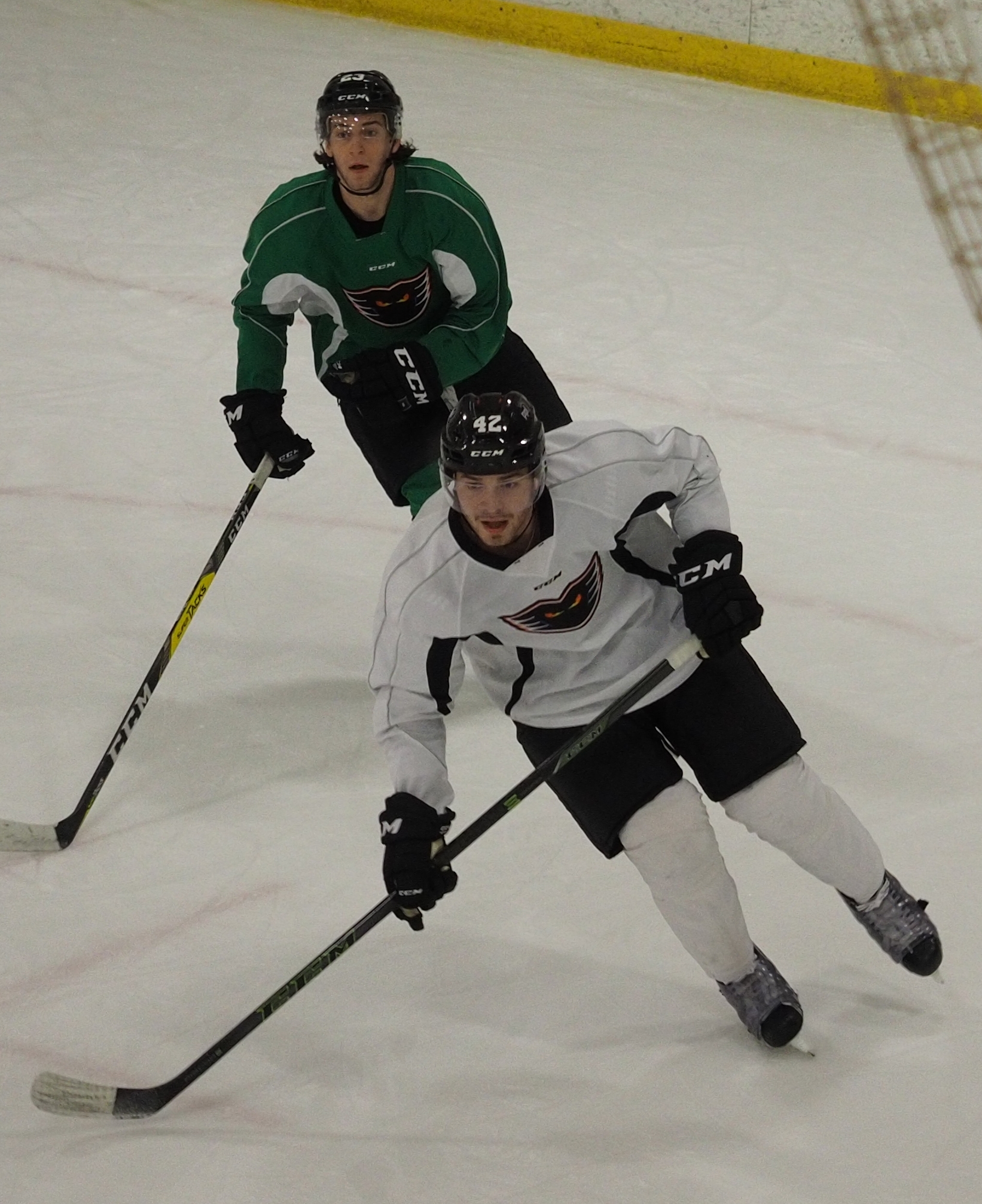 Steven Swavely (white jersey) is playing pro hockey on his hometown team. (photo by Nina Weiss/The Home News)
Following the completion of his senior season at the University of Maine, competing in the Hockey East Conference, forward and team captain Steven Swavely – a Reading, Pa. native – was given a chance to continue playing hockey this season with the Philadelphia Flyers organization.
The Flyers signed Swavely to an amateur tryout contract (ATO) earlier this month, making his pro debut with the Lehigh Valley Phantoms over the weekend centering the AHL club's fourth line.
"Division 1 is an unbelievable league, but to coming to play pro in the AHL the nerves were high," Swavely explained after his AHL debut Saturday night in Hartford against the Wolf Pack. "I tried to keep the nerves to a minimum and just play my game the way I know how to."
The 24-year-old Swavely nearly scored on his first career AHL shot, taking a pass from Taylor Leier while Ushorthanded late in the third period and firing a shot on net from the slot. He didn't look out of place in his first taste of the pro style game – getting some regular time on the penalty kill and winning a majority of his face-offs.
First period, the draws were a little shaky," he said post-game Saturday. "Once I settled in, I started winning more [face-offs]. [My game in the] defensive zone, there's always ways to make improvement. I don't think it was terrible, so we'll go from there."
The 6-1, 190 pound forward bills himself as a two-way forward who plays with a defense first approach – a guy who can win face-offs and play on the penalty kill, but at the same time chip in offensively in a supporting role. Swavely finished his four-year career with the Black Bears with 81 points (33 goals, 48 assists) in 146 games, including 19 points (nine goals, 10 assists) in 38 games this fall playing in all situations at the collegiate level.
"I couldn't have asked for anything more. This is an unbelievable experience and opportunity for me," Swavely said of getting acclimated to the pro game before next year. "To grow up watching the Flyers, to get a chance to play in the organization is surreal for me."
With 14 games left on the Phantoms' regular season schedule, it's a chance for Swavely to get in some games and make a first impression in a new league. He knows he isn't a high-end offensively minded talent, but he has nonetheless come to Allentown ready to work hard, be competitive and most of all learn and adapt to the hockey at the next level.
"I know coming to higher ranks, I have to focus more on what I know I'm good at," he said, starting to understand the path he will need to take to be successful in the future.
Up Next
The Phantoms (27-29-3-3) finish their current five-game road trip with games Wednesday night in Rochester and Friday night in Toronto before returning home and finishing's this week's scheduled games in what could be an important matchup against the Portland Pirates Sunday evening.
Entering the week, the Pirates are on a six-game win-less skid (0-4-1-1) that has seen them drop from third place in the Atlantic Division to fifth, holding onto what is currently the final playoff spot in the Eastern Conference – seven points ahead of Lehigh Valley with two games in hand on the Phantoms.
You can follow all the latest Lehigh Valley Phantoms breaking news, in-game updates and much more by following Tony on Twitter -> @TonyAndrock and by visiting his daily online coverage at Highland Park Hockey.