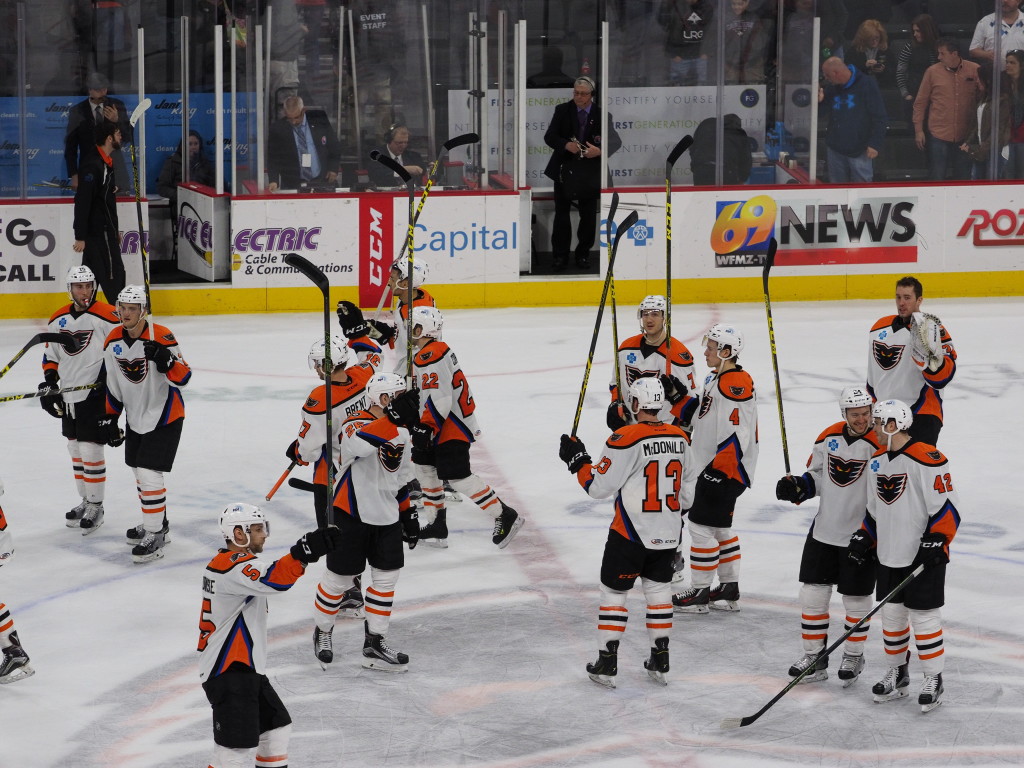 The Phantoms ended their winless skid with back-to-back wins at PPL Center to conclude a four-game homestand. Photo: Nina Weiss/The Home News
After a season-high eight game winless streak was eclipsed by an 8-0 blowout loss to the Hershey Bears last Wednesday – the Phantoms' worst home loss in franchise history – it was time for the players to take a long look in the mirror and decide how they wanted the final month of the season to play out.
All but mathematically eliminated from postseason contention, the Lehigh Valley Phantoms needed to turn things around in a hurry if they wanted to finish the regular season with any sort of pride or confidence in their game.
"We really just wanted, just for ourselves, to get that good feeling back in the [locker] room," team captain Colin McDonald said. "There's nothing worse than losing and going on that streak, blowing two goal leads – it just felt like nothing was going right. It's just a tough atmosphere."
Not only did the Phantoms end the skid over the weekend, they won back-to-back home games at the PPL Center and started a different streak – a two-game win streak.
"We found a way to get out of it, not only [Friday] night but putting forth the same effort [Saturday] too. From the net out, everyone did their job. That's one thing we talked about," McDonald said, adding, "If you're a fighter, you have to fight. If you're a physical guy, you have to play physical. If you're a scorer, you need to score. Just really getting back to what makes each individual player successful and then as a result the team is going to play well."
Late Season Newcomers Looking For AHL Experience
The final three weeks of the season give younger players finishing their respective Canadian junior league and American collegiate seasons a chance to join pro teams and get their first taste of pro hockey.
The Philadelphia Flyers have made some moves to bring in some of their own drafted prospects in addition to signing Reading, Pa, native Steven Swavely to an amateur tryout contract (ATO) out of the University of Maine earlier this month.
Defenseman Reece Willcox, the Flyers' 5th round draft pick in 2012, recently finished his senior season at the University of Cornell and signed his entry-level NHL contract last week before joining the Phantoms on an ATO for the remainder of the regular season. His two-year deal begins next season.
"It's been pretty exciting so far," Willcox said after his first on-ice practice last Tuesday. "It's been kind of a whirlwind as far as getting school sorted out and getting out here but a lot of texts from family and friends sending congratulations, so I'm really excited to get going here."
Over the weekend, the Phantoms added 19-year-old Oskar Lindblom – the Flyers' 5th round draft pick in 2014 – to an ATO for the final eight games of the season after the Swedish born forward completed his season in Sweden's pro league with his hometown team of Brynas IF Gavle.
"It's going to be real fun to play here," Lindblom said after his first practice with his new teammates, adding, "I played a few times in the smaller rink, so it's going to be fun. [I'm] just waiting for it to be Friday."
While Willcox and Lindblom await their AHL debuts, Swavely has already appeared in seven games entering the final three weeks of games. The experience gained by incoming rookies a year early before their first full season is simply a head start, giving young players an early benchmark to know what to expect at the pro level.
Up Next
The Phantoms travel to Newfoundland, Canada on Wednesday in advance of a pair of road contests against the St. John's IceCaps Friday and Saturday nights at the Mile One Centre. Both games are scheduled to begin at 7:30 p.m. NDT*, which is 6:00 p.m. ET – an hour earlier than their normally scheduled weekend start times.
*Newfoundland has its own time zone, which is 90 minutes ahead of Eastern Time.
You can follow all the latest Lehigh Valley Phantoms breaking news, in-game updates and much more by following Tony on Twitter -> @TonyAndrock and by visiting his daily online coverage at Highland Park Hockey.