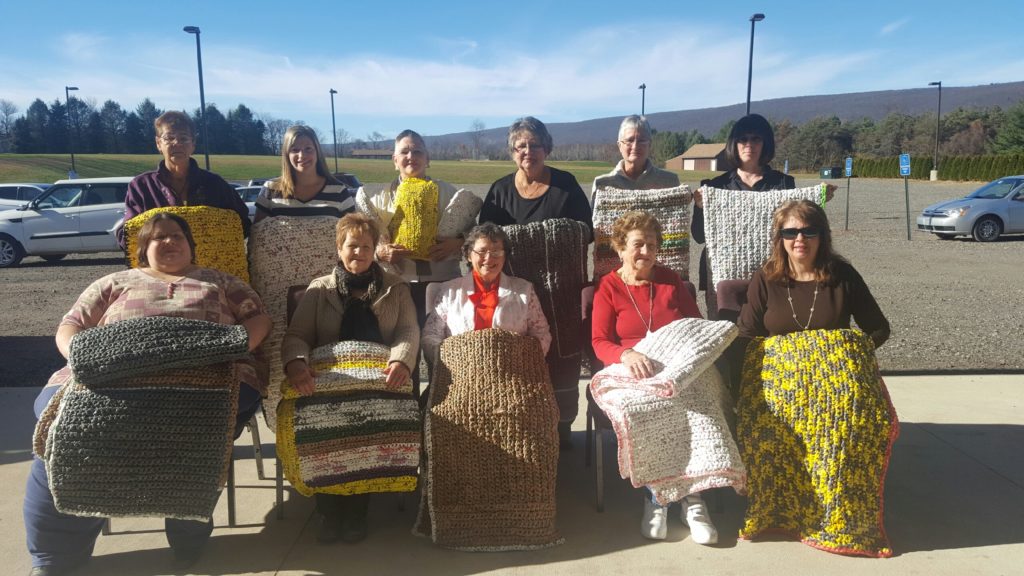 by Gloria Koch
Earlier this year, several women from their crochet club discussed making mats for the homeless out of plastic bags. Little did they know it would lead into a ministry of its own. Today they have a group that gets together every Tuesday morning from 10 a.m. until 2 p.m. at the church to prepare the plastic bags for another group of crocheter's, many who are a part of their crochet club that meets the fourth Tuesday of every month.
The process started with collecting bags, as each mat takes approximately 600 bags to complete. Next they started to prepare the bags- flatten, trim, cut, open, tie and roll into balls. When they soon realized the project was really in preparing the plarn (plastic yarn) and decided that we could involve others from the church in the project. So in July, they began meeting at the church every Tuesday morning to make the plarn. The ladies really enjoyed the time of fellowship and have now prepared enough plarn to complete ten mats (over 6,000 bags).
During the process we made contact with a few organizations that work with homeless people that we could donate the mats to. We quickly realized the need and for now, have no plans to stop making them.
It is with great honor that the first ten mats will be going to Franklin Homme, Commander of Disabled Veterans Lehigh Valley Chapter Seven (pictured below). Homme works for the Department of Veteran Affairs, helping vets get back on their feet.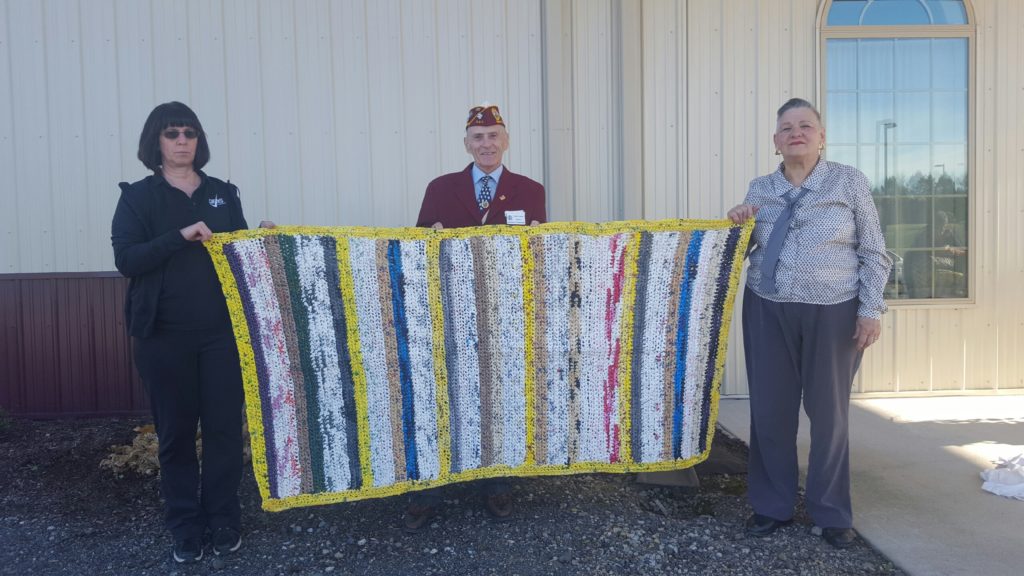 This project has gotten so many people involved, both inside and outside the church. They have several places that collect the bags for them. Lattemann's Corner Store and Deli has a collection box as well with one of the mats on display. The Hair Hut in Walnutport has a young lady collecting bags for them as her service project. Several local stores allow them to collect from the recycled bag collection boxes as well.
Making the plarn has several steps and takes long to make, so recently another church, Bender's Mennonite in Pen Argyl as gotten a group together to help make the plarn and plan to meet every other Monday from 12 until 3 p.m. at their church.
This project has branched out and become a blessing to so many and they haven't even reached their intended destination yet. Perhaps the only thing better is they haven't incurred any cost for this project. However, if the group continues to grow they may need to find a couple heavy-duty paper cutters.
As long as there is a need and the help is provided, the mats will continue to be made.
If anyone would like to help by collecting bags, prepping or crocheting a mat, call MVW Church at 610-759-7553 and leave a message for Gloria Koch.