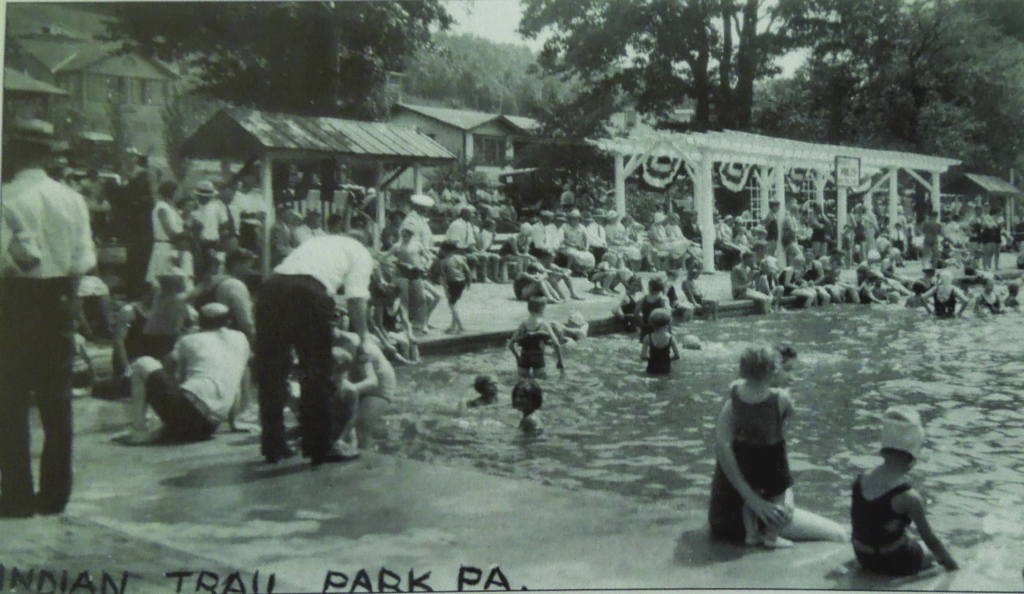 by Ed Pany
Recently some of my loyal readers requested I recall Indian Trail Park in Pennsville. As a youngster it was a treat to visit the park. My parents would visit the park on many Sunday afternoons. There was always plenty of activity. I wonder how many of my readers have been at the park?
My friends at the Lehigh Township Historical Society wrote a great book, "Lehigh Township," giving us an accurate history of the park far superior to my youthful memories.
Their book takes us back to the park on those summer days long ago. I thank my friends at Lehigh for using some of their material.
Pennsville Park, or Indian Trail Park, was named after Indian Creek, which flows through the park. Twenty acres in size, it was purchased by two Allentown men, the Solliday's. They wanted their own park and organized the Indian Trail Park Co. A great location, it started as a picnic area. The park's slogan was "Cool Retreat from the Summer Heat." The park was surrounded by 20 summer bungalows overlooking the park. If interested, one could purchase a lot for $275-$400. Wonder what the lot your home is situated on costs? Maybe a bit more today! The homes are still there, a living reminder of the park's past.
I spent a number of days swimming in the pool long before there was a Municipal Pool in Northampton. The pool was concrete, there was a lifeguard and the depth reached nine feet. The pool was shaded by beautiful trees and was adjacent to the Indian Creek. Swimmers had access to a dressing room with lockers. It was small compared to the pools today, but back then size didn't even cross our minds.
There was no admission price to enter the grounds. Campsites were close to swings, seesaws and slides for the youngsters.
If you wanted something to eat, you could go to the Trading Post, a large structure that had a restaurant and yes, even a soda fountain. Thankfully the building has been preserved by the Lehigh Township Historical Society and is home to an interesting exhibit of Township history, which you should visit.
Everybody loves watermelon. They placed them in the cool flowing waters of the Indian Creek, environmental natural watermelons. Other concession stands doted the grounds, serving everything from popcorn to hotdogs.
We parked in a meadow next to the park and parking was free. You had to arrive early, for soon all the spots would be taken, especially when there were company picnics. I do recall when the International Ladies Garment workers had picnics there, my mother was a machine operator when the garment industry employed thousands. Unfortunately the plants and unions are all gone. I end on that sad note, but we will return to the park in two weeks to visit the Arcade- come along and bring a penny!