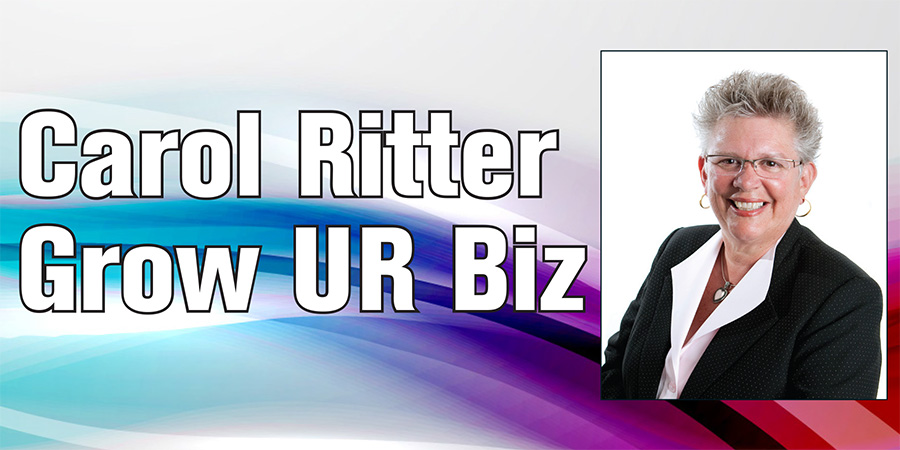 by Carol Ritter
What is the status of your business in 2017?  Do you have a plan, are you implementing new ideas, are you taking a "jump off the cliff" risk, and what tactics do you plan to use to boost your business?
I recently met someone whose business is not doing well. She asked for advice.  I needed to know more about her business in order to give advice, so I began to learn what was going on.
1. She did not put the customer first.
2. She was missing from the business all the time.
3. She blamed everyone imaginable for her lack of success.  
I'm glad I met her because after all of these years working in this marketing business, there is still so much to learn.  However, number one on the list is, as a business owner, you must always show up.
Five killer marketing ideas for 2017:
1. Showing up is much more than your personal presence.  It's about keeping your staff accountable to you. Your staff needs to know that your success depends on their success.
2. Get more social with social media. Increase activity, educate your audience, provide valuable content and create engagement.
3. Solidify relationships – choose 10 of your colleagues and meet with them for coffee, breakfast or lunch.  Ask them for advice, educate them about your business and, if appropriate, ask them to refer you.
4.  Shoot a video – in general, those who are very social on social media know that videos are the best way to engage people.  A short and sweet video could be the tipping point for your business.
5. Investment marketing – invest a small amount of dollars into taking your marketing to a whole new level – boost posts on Facebook, host a complimentary thank you open house at your business, or maybe purchase ads in a local newspaper like The Home News.
Before Christmas I walked into a store to purchase a gift.  A woman came right up to me and said, "Are you Carol?"  I replied, "Yes."  "You're Carol Ritter?"  Now I was really curious. She said she follows me on Facebook and asked me to tell her more about my client, the Bethlehem Food Co-op. The answer to "what's up with your business" is a lot when you use social media.  My advice to you in the new year is to improve, increase, inspire and "grow your biz!"
Carol is a Motivational Speaker, Executive Coach, Fundraising Strategist, Social Media Quarterback and Small Business Advisor.  She is Lehigh Valley's sought after consultant who assists organizations with results driven growth.  Her strategies can be easily adapted to a for profit or non-profit environment.  Carol specializes in high impact leadership, million dollar fundraising, smash the box marketing, and creating word of mouth epidemics for her clients.  Visit Carol's website at www.caroltalks.com and "LIKE" Carol at Caroltalks on Facebook. Carol S. Ritter, Past President, National Speakers Association Philadelphia and past board chair for St. Luke's University Hospital Visiting Nurses Association & Hospice.