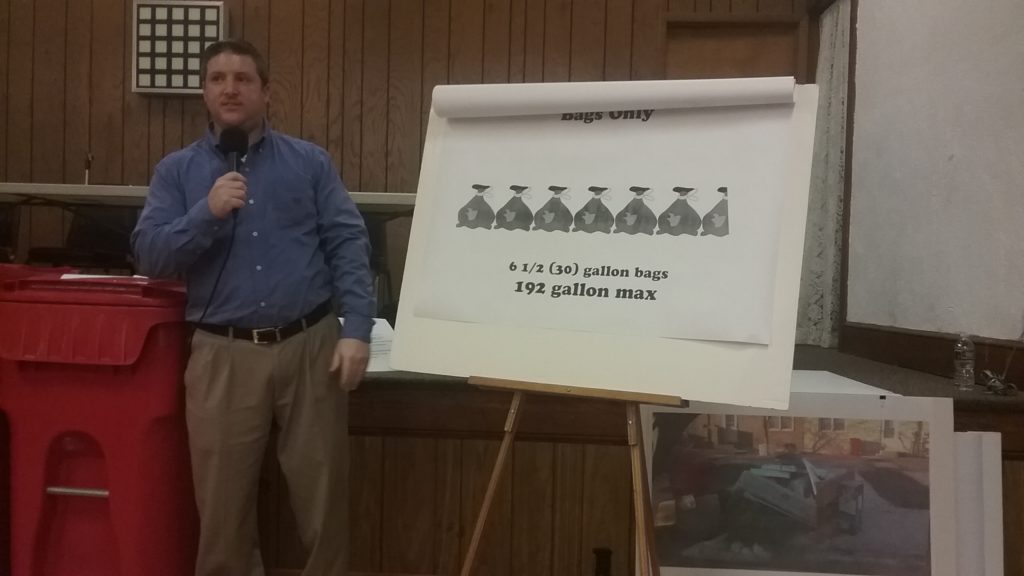 Borough Manager Bradford Flynn presenting a poster to those in attendance.
The borough of Bath hosted an informational meeting Wednesday, Jan. 18 to reveal details pertaining to the borough's new contract with J.P. Mascaro & Sons for sanitation services. Representatives from both Bath's borough council and J.P. Mascaro & Sons were in attendance to explain recent changes in the borough's contract and answer questions from Bath residents regarding new procedures.
The three-year contract, which will persist through 2019, will cost borough residents $297.16 per year, down from the $401 fee residents had to pay last year under the previous 10-year contract.
Under the new contract, recycling will be collected every week instead of every other week which helps to drive down the cost of the bill for borough residents.
Residents have been provided with red, trash-only toters at the expense of J.P. Mascaro & Sons. Bath residents will be permitted to expose of 192 gallons of trash per week.
Borough Manager Bradford Flynn encouraged residents to increase the amount they recycle and lower waste to reduce the cost of their trash bill in the future.
"Recycle as much and as often as you can," Flynn said.
Flynn also noted that J.P. Mascaro & Sons will hold collections two times a year for both yard waste and white good items. On June 6 and Oct. 17 the sanitation company will collect various types of yard waste such as tree branches, leaves and other types of yard-based material. On June 8 and Oct. 19, J.P. Mascaro & Sons will collect white good appliances like refrigerators, washing machines, dryers and similar appliances. Electronics such as televisions and computers will not be accepted as white goods.
Borough leaders also stressed the importance of clearly separating trash from recyclables on garbage days. Recyclables must be placed over three feet away from trash cans to ensure that sanitation employees can differentiate trash from recyclables. Additionally, Flynn told residents that recyclables must be broken down and visible so J.P. Mascaro employees can see what items residents are choosing to recycle.
Some residents voiced their displeasures over previous problems with J.P. Mascaro & Sons. A common issue referenced was that residents' recyclables have often been thrown out along with trash. J.P. Mascaro representatives assured residents that they would have a "more pronounced presence" and continue to follow garbage trucks in the short term to ensure that their employees are fulfilling their duties.
Some also criticized the color of the trash toters provided by J.P. Mascaro & Sons, with one resident even walking out of the meeting in frustration.
Mark Saginario, president of the borough council, defended the toters, saying, "The purpose behind the cans is to bring uniformity to the borough, to clean it up a little bit."
Borough council also revealed that if too many complaints are filed within a particular month the borough does have a way out of the contract. However, many borough residents were appreciative of J.P. Mascaro & Sons' recent efforts to address complaints.
Saginario said the borough would like to hold more informational meetings in the future, with the next town hall-style meeting slated for late fall.