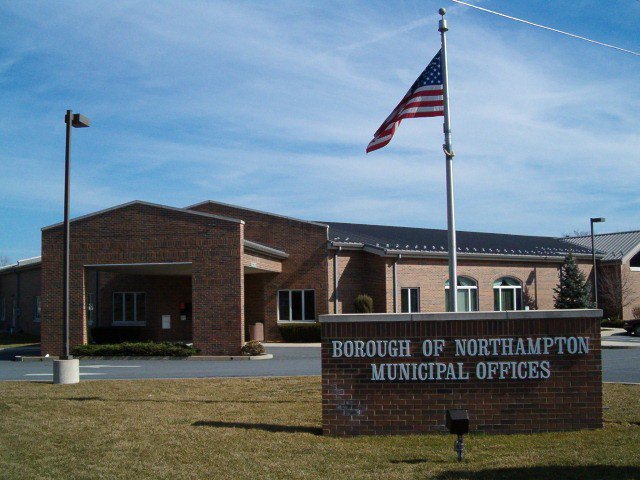 In what became a heated discussion at times at Northampton Borough Council's April 6 meeting, council members agreed to conduct research into the borough's past practices of police department sergeant tests as they look to eliminate a $100 fee associated with taking the test.
The fee was apparently implemented following a letter authored by Councilman Anthony Lopsonzski, Sr.
"I was stunned to see only one [sergeant test application]," Lopsonzski said. "I looked at the letter that I authored, and I was just perplexed whether it was a misunderstanding, a misstatement, or poor wording—I will take the credit for it."
Council members were in agreement that there should be no fee for officers wishing to take the promotional test, but confusion remained surrounding what the fee was for, and how it came to be implemented.
"I'm a little stymied as to who put out something that said there's a hundred dollar charge to apply for taking the test," Councilman Robert McHale said.
"That was I," Lopsonzski said. "I authored the letter, whether I misunderstood or did not hear clearly what the specific intent was, the way I documented that in the letter, that's what was read: there's a hundred dollar fee to take the test."
Lopsonzski reinforced how important he believed it was to eliminate the fee, stating that it could dissuade potential applicants from taking the test.
"I feel that though there should not be a charge given to any officer willing to take a test for a borough who is trying to find the best person for that position and not to hinder and hurt the candidates. Sometimes the amount there is not affordable," Lopsonzski said. "On my behalf I'll take the axe for that, because I authored it and I did it."
One resident in attendance wrongly suggested that the fee was implemented following a February motion from McHale and Councilwoman Judy Kutzler. The motion, however, did not approve any mandatory fees for test-taking, but instead approved the reimbursement of study materials for those who pass the sergeant's test.
Borough Manager LeRoy Brobst read the Feb. 2 motion that the resident alluded to, reading, "Mr. McHale moves, second by Mrs. Kutzler, and unanimously carried to grant permission to reimburse police for the cost of the study guide materials in the event they pass the sergeant testing."
Following the clarification that Lopsonzski authored the letter that led to the confusion surrounded the fee, Councilman Ed Pany suggested that the borough should revert to past practices regarding sergeant testing procedures, but no council member in attendance knew of what specific policies were previously in place relating to the sergeant test.
Solicitor Steven Goudsouzian concluded that the borough should look into what the past practices were before deciding on a motion to revert to past practices, and proposed that council revisit the issue at their next meeting.
In other business, Brobst said he will have a draft to help crack down on abandoned properties in the beginning of May, following an inquiry from Councilwoman Judy Kutzler who expressed her concern over abandoned buildings and what is being done to enforce penalties on the owners of abandoned properties.
The next Northampton Borough Council meeting will be held on Thursday, April 20 at 7:30 p.m.