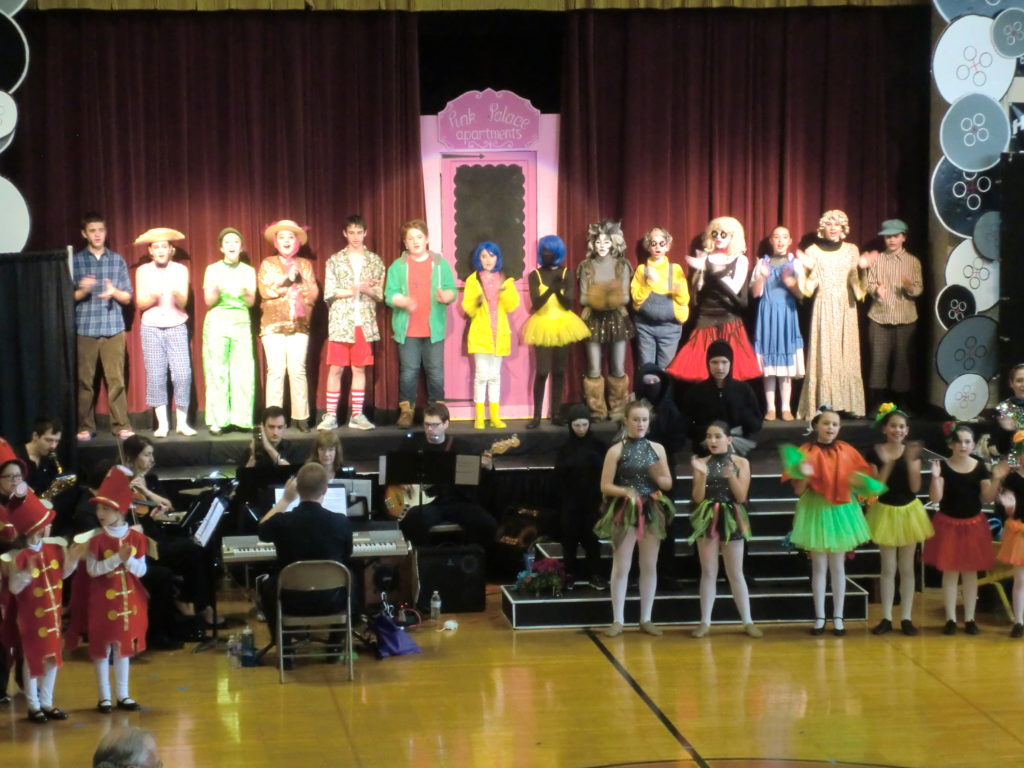 From May 19 through the 21, the Holy Family School Players performed a musical adaptation of Neil Gaiman's Coraline, turning the gymnasium of Holy Family School in Nazareth into an entirely new world, one where cats spoke, garden flowers sang, and mice performed circus tricks.
First through eighth graders shared the stage together in this enchanting production, directed by Catherine Little and featuring several original songs written by music director Liz Kerner. Elements were taken from both Gaiman's book and the 2009 stop-motion film about a young girl named Coraline, whose family moves into an old house full of secrets. Ignored by both her parents and her friends, Coraline escapes into the "Other World" through a secret door in her house. There she discovers the family, the friends, the neighbors, and the excitement she always wanted. However, not all is as it seems with her "other" family and their eerie buttoned eyes.
The stage design did a fantastic job of showing the transition between the two worlds, changing from a black and white stage to one with pops of bright color whenever Coraline visits the "Other World." The change in scenery was accompanied by twirling ballerinas and a button-eyed doll choir, which grew slightly more ominous as the danger in the "Other World" became ever more present.
The spunky Coraline was portrayed by both fifth grader Brittany Nestor and seventh grader Morgan Halldorson. (Nestor portrayed Coraline in the weekend's first two performances, with Halldorson as Coraline's dance double. For the final two performances of the weekend, the roles were switched.)
Coraline's real mother and father, workaholics who have little time for their daughter, were played by Theresa Crimi and Ben Morris, while Coraline's (seemingly, at first) more loving mother and father in the "Other World" were played by Anna Wikris and John Baron.
Coraline's new neighborhood is made up of an outrageous cast of characters, including circus mice trainer Mr. Bobinksy, played by Anthony Ephault; retired actresses Miss Spink and Miss Forcible, portrayed by Julia Hockenberry and Rachel Kindt (who performed an entertaining medley of show tunes during one scene that got the audience cheering); the adventurous Wybie, played by Henry Grimm; and Wybie's mischievous cat, played by Talia Collina.
The entire company was given plenty of time to shine during several group numbers. The students especially seemed to have a blast during their performance of "Sweet Coraline," a fun take on the Neil Diamond classic "Sweet Caroline."
The company also underwent several costume changes, transforming from a creepy doll choir in bright wigs, into a circus mice troupe decked in red, into bright flowers, fruits, and vegetables in a magical garden.
The Holy Family School Players took audience members to the "Other World" on an exciting adventure and held a performance they and their directors should be very proud of.