CHARLOTTE MARIE (HELLER) HERMAN
Charlotte Marie (Heller) Herman of Clermont, FL died Wednesday, October 31, 2018 at her home under hospice care.  She was the wife of Earl W. Herman, marrying in June of 1958.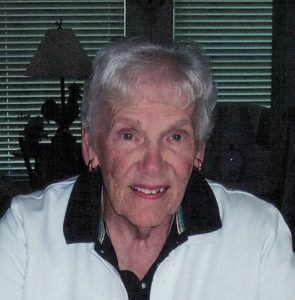 Charlotte was born in Northampton County, PA; she was a daughter of Horace H. Heller and Flossie (Super) Heller.  She was a graduate of Northampton High School, Northampton, PA.  Charlotte was Vice President of First National Bank of Bath, Bath, PA, and was employed for 40 years before retiring in 1989.  Charlotte was a member of South Lake Presbyterian Church, Clermont.
Charlotte is survived by her loving husband Earl; sisters, Catherine Hahn of Bath, PA, Caroline Struss of Nazareth, PA and Miriam Nachesty of Bethlehem, PA and several nieces and nephews.  Preceding her in death was her brother, Donald.
There will be no calling hours and the service will be private at the convenience of the family.
The family suggests in lieu of flowers memorials in Charlotte's name to: South Lake Presbyterian Church, 131 Chestnut St., Clermont, FL 34711.
MARYANN UNANGST
Maryann Unangst, 88, of Bath and Nazareth, passed away Tuesday, October 30, 2018. She was the wife of the late Owen C.H. Unangst who died in 1984. Born in Northampton, on September 5,1930, she was the daughter of the late Howard and Ruby (Sloyer) Luckenbach. She was the mother of five children, nine grandchildren and four great
grandchildren, all of whom were the joys of her life. Children: Son, Owen and wife Margi Cech of Colorado; daughter, Luann of Florida; daughter, Susan and husband Mark Bahnick of Nazareth; son, Charles and wife Shelly of Nazareth; and son, Roger and wife Trudy of Bath. Grandchildren: Mathew and Ryan Unangst, Chelsea and Kevin Unangst, Julie (Bahnick) Bartocci and Alison Bahnick, Spencer Unangst, Kody and Tori Unangst. Great grandchildren: Harper and Henley Bartocci and Brooklynn Unangst and Brooks Unangst. Maryann was predeceased by her Luckenbach siblings: Tim (Howard), Carl, Bobbie (Robert), Rodney, Helen and Sidney.
Maryann attended Northampton High School, where she met Owen, the love of her life. Sadly, Owen died young and his death left a permanent scar in her life. After 34 years, we are delighted for their Heavenly reunion.
Maryann was a Registered Nurse and attended Abington School of Nursing. Over the years, she has been employed at St. Luke's Hospital, Miller Blood Bank, Praxis Care, and Holy Family Manor. She retired from Good Shepherd Rehabilitation Hospital in Allentown.
Maryann's life story: When Maryann and Owen married, her life as a town girl ended and she moved to her husband's 1767 stone farmhouse and 113 acre farm. She happily spent time in the garden, picked apples and tended animals. For many years, Maryann chronicled her experiences in "Down on the Farm" stories for the Bath Home News. Maryann was delighted when son Roger chose to establish Unangst Tree Farms, keeping the farm in the family for another generation.
After marriage and moving to the farm, five children soon followed. She loved being a mother and filled her days with their activities including teaching Sunday School, being a class mom and Den Leader and coaching softball. When her daughter Luann, a natural athlete, could not play sports on the male teams, Maryann helped to create the area's first girls' softball league. Maryann also enjoyed sharing the outdoors with her family. Hunting, fishing, ice skating, sledding, swimming, canoeing and hiking trips to the Pocono cabin and lake were family favorites. (She was a good shot, putting over 20 deer in the freezer.)
Maryann loved to cook, bake, can, freeze and try new recipes. Every fall the basement was filled with rows and rows of canned fruits and vegetables. Her food preservation techniques were the feature article in an Organic Farming magazine and were highlighted in several Farm Journal articles. The meals for Easter and Thanksgiving were guaranteed to be delicious and tin after tin of Christmas cookies were ready for Santa. At local fairs, Maryann won many blue ribbons for her bread, sticky buns and chocolate cake. She was especially proud the year she won best of show from the Allentown Fair.
Maryann loved history and enjoyed being part of Burnside Plantation and The George Wolf Historical Society. For East Allen Township's 250th anniversary, Maryann researched and wrote a history book honoring their local history.
A Funeral service was held at 10:30 a.m. on Saturday, Nov. 3, 2018 at Schisler Funeral Home, 2119 Washington Ave. Northampton, PA, 18067 with the Rev. Larry E. Burd officiating. The family received friends from 9 to 10:30 a.m. prior to the services. Interment followed in Green Mount Cemetery, Bath, PA. Online condolences may be made to the family at www.schislerfuneralhomes.com.
EVELYN P. HARTZELL
Evelyn P. Hartzell, 88, of Bath, passed away on Friday, Nov. 2, 2018 at Gracedale,
Nazareth.  Born on Sept. 6, 1930, in Bethlehem, PA, she was the daughter of the late Milton and Pearl Mary (Tolan) Souders.  Evelyn was the wife of the late Willard H. Hartzell, with whom she shared 63 years of marriage prior to his passing in 2012.  She worked as a seamstress at Mary Fashion Co., Bath, for many years until retiring.  Evelyn enjoyed knitting, doing crossword puzzles, and making crafts for her grandchildren and great-grandchildren.  She served as a den mother for Pack 33 for ten years, and helped with 4H sewing.  She was one of the three original Bath Museum curators.  Evelyn was a member of St. John's Evan. Lutheran Church, in Bath, where she volunteered with many church activities, including serving as a Jr. choir mother, a Sunday School teacher, serving on the Altar guild, and was past president and member of the adult choir for over 50 years.  She was a 1948 graduate of Liberty High School.
Survivors: A daughter, Kathleen A. Flamisch and her husband John; three sons, Alan L. and his wife Judy, Jeffrey L. and his wife Linda, Gary W. and his wife Patricia; a sister Carol Cowan; 8 grandchildren and 10 great-grandchildren.  Evelyn was preceded in death by three brothers, Milton, Donald, and Ralvin Souders, one sister Laurene Opdyke, and a step-grandson Michael.
Services were held at 11 a.m., Wednesday, Nov. 7, 2018 at St. John's Lutheran Church, 206 E. Main St., Bath, PA, with Pastor George Grubb officiating.  Family and friends were invited to call Tuesday evening from 6 to 8 p.m. in the Bartholomew Funeral Home, 243 S. Walnut St., Bath, PA and again on Wednesday, from 10 to 11 a.m. in the church. Interment at Hope Cemetery, (Hecktown) Lower Nazareth Twp., PA.
Memorials: In lieu of flowers, memorial contributions, in Evelyn's memory, may be made to St. John's Lutheran Church, Bath, PA 18014.