Gov. Tom Corbett announced on Monday that the U.S. Department of Education has selected four Pennsylvania schools, including Nazareth Area Middle School, for the national 2013 Green Ribbon Schools award plus one school district for the District Sustainability Award.
"These award-winning schools serve as a model for all of Pennsylvania by incorporating innovative technologies and strategies to use resources effectively and efficiently,'' Corbett said. "I congratulate them.''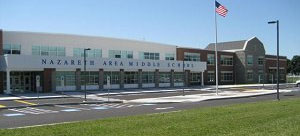 The schools are: Albert M. Greenfield Elementary School, Philadelphia School District; Broughal Middle School, Bethlehem Area School District, Northampton County; Nazareth Area Middle School, Nazareth Area School District, Northampton County; and Westtown School, Chester County.
Lower Merion School District, Montgomery County, was awarded the first-ever District Sustainability Award for applying energy conservation initiatives across multiple school buildings throughout the district.
Pennsylvania's five winners, honored among 78 schools and districts nationwide, are recognized by the U.S. Department of Education for working to reduce environmental impact and costs; improve the health and wellness of students and staff; and provide effective environmental and sustainability education.
Pennsylvania Secretary of Education Ron Tomalis nominated these schools in February.
"For the second year in a row, all of Pennsylvania's nominees have been selected for an award," Tomalis said.  "On behalf of Governor Tom Corbett, I congratulate these schools for being nationally recognized and showcasing their efforts. These schools join the list of green schools that will serve as a model to all public and private schools across Pennsylvania."
The department received 17 Green Schools applications from public and private schools and four District Sustainability applications.
Located in Northampton County, the Nazareth Area Middle School (NAMS), built in 2009, serves 7th & 8th grade students of the Nazareth Area School District.
Throughout the planning and construction process, the students, staff, and community were fully engaged in the project—offering a vision and providing input on the new school building.  With a goal to achieve USGBC LEED Silver Certification, the NAMS community was proud to receive LEED Gold certification due to the installation of a 574 kW solar photovoltaic system.
The NAMS building and grounds were thoughtfully planned and constructed in a manner that would reduce environmental impact. The 33.5 acre site maximizes open space and includes walking trails, outdoor classroom areas, a greenhouse and composting site, as well as numerous athletic fields for PE classes and team sports.  An elaborate system of storm water drainage and retention areas were installed and water efficient landscaping that requires no irrigation.  Water conservation happens inside the building as well, with low-flow plumbing fixtures and faucets used throughout the building.
During construction 75% of all construction waste was recycled and diverted from disposal. Materials used had at least 20% recycled content and over 25% of the materials were extracted, processed, and manufactured locally.
A comprehensive Indoor Air Quality Plan and Integrated Pest Management (IPM) program has been adopted and classrooms and other spaces are tested annually on a rotation basis to ensure the IAQ meets or exceeds standards.  HVAC filters in classroom units are replaced three to four times per year, depending on use, and more if conditions warrant. The IPM program also ensures the use of non-chemical treatments for the removal of pests and when chemicals are necessary, students and staff are notified in advance and kept away from the areas as per regulations.
The building includes a Metasys system which monitors and controls all HVAC and mechanical equipment.  A Lutron Lighting Control System works in conjunction with dimmable ballasts, day-lighting shelves in classrooms, and on-off sensors located throughout the building—and outdoors.  These systems have allowed the NAMS to reduce its energy consumption and earn the Energy Star Portfolio Manager Score of 94 for 2012.
Two additional monitoring and information systems are also integrated into the building.—and used in the classroom.
The  Windows on the World (WOW) sustainability information system provides energy management and interactive sustainability education data for use by staff and students.  WOW accesses data gathered by the building's gas, water, and electrical meters and consolidates it onto one convenient platform. Displayed on kiosk style touch screen displays and over the Web, WOW allows the building occupants and visitors to learn how the building is designed to conserve resources and preserve the natural environment. The real-time and historic resource consumption data can be used to compare and translate energy savings into tangible environmental benefits in support of sustainability education. The second system is DECK Monitoring. Also displayed on a kiosk style touch screen and over the web, DECK monitors and tracks the building's solar system performance. It compares the output in terms of environmental offsets such as gallons of gas saved, tons of CO2 saved, or number of 60 watt bulbs that can be energized for 8 hours per day, etc.
Not only do these monitoring systems help buildings perform better, they are tools for students to use in classrooms as part of the environmental education program, and both systems have been incorporated into the school's science and math curriculums.
For example, science classes use the real time data from the building's monitoring systems to correlate the effect of temperature, humidity and wind on the consumption of energy to operate the school. Using the above systems and associated data, the NAMS has realized and can demonstrate a 6.7% reduction in non-transportation energy usage (Portfolio Manager & DECK) as well as a 47% reduction in GHG emissions from the PV solar system alone. Also, the NAMS recycling and composting program has achieved a 29% reduction in solid waste to date.
Environmental education is also enhanced through community partnerships.  Working with an area  business, Environmental Club students compost cafeteria waste and bring it to a local nature center where they created a learning center to describe their work.   Similarly, the "Trout in the Classroom" program is a partnership with Trout Unlimited and the Pennsylvania Fish and Boat Commission, where students receive trout eggs in early November, hatching these eggs and caring for the fish until the release.  During the course of the year students will be responsible for maintaining high water quality, feeding the trout, and learning about the life cycle of trout. In the spring, the students release the trout into a local water system in Jacobsburg Park in Nazareth.
Nazareth Area Middle School made a commitment to building an award winning, energy efficient building, and has demonstrated effective use of the building to achieve their energy management goals.    With an environmental literacy graduation requirement, and high rates of proficiency in the science and ecology standards, NAMS has demonstrated its commitment to an interdisciplinary approach to environmental education that shows positive results.