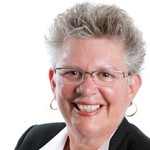 So many times we forget about "The Little Guy," amazingly loyal, consistently present but he or she doesn't necessarily bring in a lot of cash flow.  Last week I met with a new friend/colleague.  As I listened, he taught me about his business and the services he provides.  There was one thing he said that resonated with me, it's something that you rarely hear coming from a business owner.  He stated that he is HONORED to have the trust and loyalty of his customers.  HONORED?  So many times we are honored to be in someone's presence, or we are honored to be recognized but I've never heard anyone say they are honored that their customers trust them.  I decided to look up the word.  Webster's says it means a good name or public esteem or the showing of merited respect.  Well, now it makes sense.  Merited respect, earned not assumed is just one part of growing your business but one big part.  He then talked about his "BIG" clients and the smaller ones.  Interestingly, both were valued on the same level even though "The Little Guy" doesn't bring in as much of the bacon.
Small businesses cannot rely on one, two or three, "BIG" customers.  The risk is incredibly high and when you lose one, maybe even through no fault of your own, it hurts badly.
Here's What "The Little Guy" means to your business….
Figure out how many "little guys" you need to equal the "BIG" customer revenue
The word of mouth epidemic you are creating  is very dependent on "the Little Guy"
There's a chance "the Little Guy" will become a "Big GUY" someday
"The Little Guy" may be someone who can help you via advice, exchanges or possibly referrals
If you want to Grow Ur Biz, merited respect for all who walk through the door is not only an idea but a necessity.  That "Little Guy" must be treated the same as the "BIG Guy" because you never know where that business/relationship will lead or, better yet, a "BIG Guy" could be right behind "the Little Guy" with a fantastic referral.  "Little Guys Rock"
Carol serves as a featured writer for the Home News and the Lehigh Valley Chamber Blog.
Carol is an accomplished professional speaker, coach and educational consultant specializing in innovative leadership, outrageous fundraising, million dollar marketing, and building organizational alliances throughout the country.  Carol's creative  leadership with bullet proof ideas for recruiting MORE MEMBERS, MORE MONEY AND TER LEADERS. www.caroltalks.com
  Like Carol on  Facebook at Caroltalks and CarolCoaches!  Carol S. Ritter, Immediate Past President, National Speakers Association Philadelphia