Northampton's Roxy Theatre got a taste of Hollywood on Saturday, March 3. A red carpet was rolled out, photographers were on hand, and a long line of anxious movie goers stretched down Main Street for the Lehigh Valley charity premiere of "Getting Grace."
Directed and written by Bethlehem native and film star Daniel Roebuck, "Getting Grace" was filmed entirely in the Lehigh Valley. Roebuck stars in the film alongside Bethlehem Catholic alum Madelyn Dundon, who plays the title character of Grace.
Grace is a young teenager dying from terminal cancer. She meets funeral director Bill Jankowski, played by Roebuck. Together, they form a unique friendship as Grace plans her own funeral. The film, Roebuck stressed, is a comedy, and while there were plenty of laughs to be had, there were also some tears.
Roebuck, Dundon, and the rest of the film's cast appeared at the Roxy for the premiere. Escorted in a large bus with the movie's poster on its side, the cast took pictures on the red carpet and also took pictures will all of the film's attendees. Roughly 400 people attended the film.
"We are very proud to have this premiere at our downtown gem the Roxy," said Tony Pristash, Northampton councilman and president of the Northampton Area Chamber of Commerce. "We could not be prouder that this is here."
Before the film's premiere, Bethlehem native Heidi Ott performed songs from the film, including her original song "Linger."
Roebuck also spoke before the premiere and presented a donation to the Pediatric Cancer Foundation of the Lehigh Valley for $7,500. Roebuck wanted to give back to the Lehigh Valley. Donations raised from the charity premiere were also awarded to The Pennsylvania Playhouse, the Civic Theatre, Munopco Theatre, and the Lehigh Valley Charter High School for the Arts.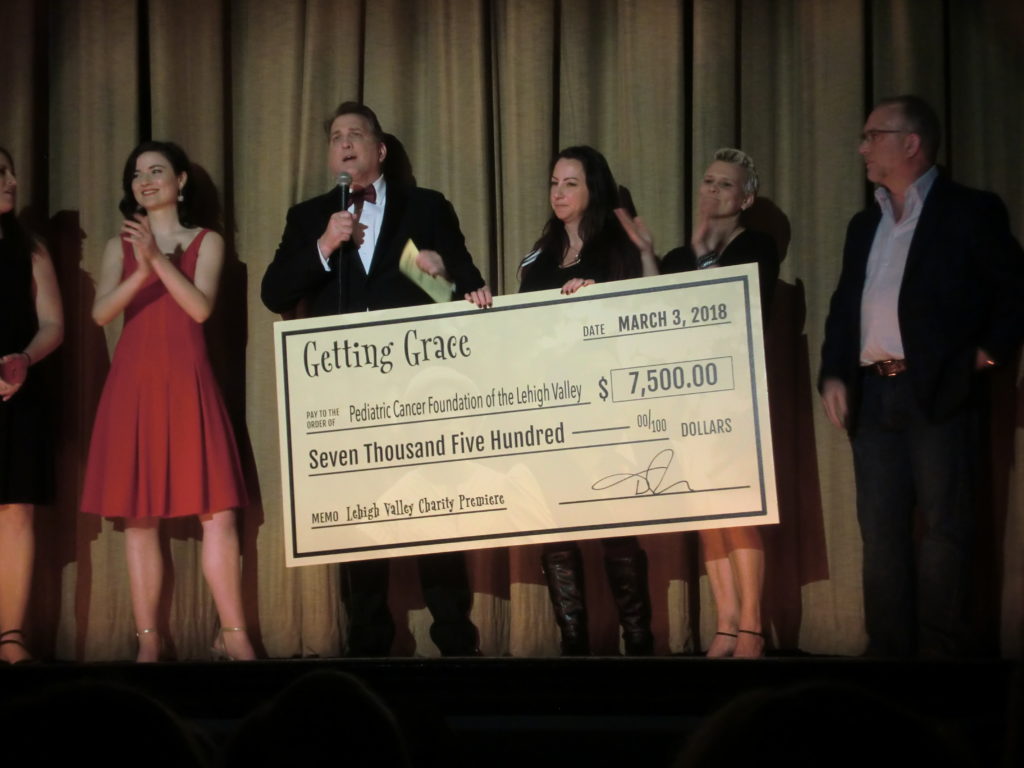 Roebuck had high praise for Dundon and the other local talent appearing in the movie.
"You are going to see people who have never been in a movie before and they are better than me…and I have been in like 200 [movies]," he joked.
The film opens nationwide on March 23. Viewers of the film can spread the word with #gettinggracemovie on social media.
"It is a comedy," Roebuck said of the film. "Enjoy it, laugh at it, and celebrate life."