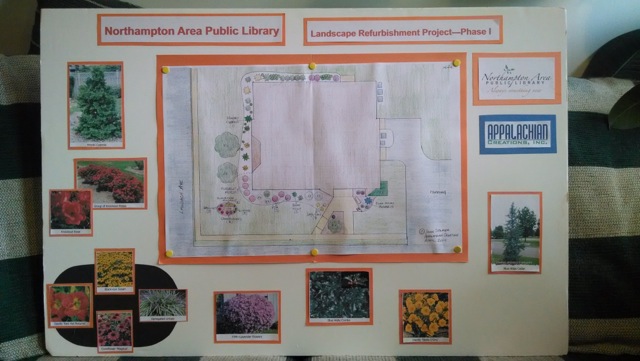 By ALICE WANAMAKER
(Photo courtesy of JENN STUMER)
Appalachian Creations Inc. will begin sprucing up the landscaping surrounding the Northampton Area Public Library this Friday, August 8, weather permitting. The project is being spearheaded by Appalachian Creations of Northampton. Their plan is to refurbish the outside to make it more management for the volunteers "Friends of the Northampton Area Public Library" to maintain the landscaping.
Jenn Stumer, owner of Appalachian Creations Inc. said this is a small way her company can give back. "As our business is located in Northampton, I have driven past the Library many times over the years and felt that the landscape could be updated – made simpler and easier to maintain.  I approached the Library in early Spring to broach the subject of the landscape refurbishment as a community project. We volunteered our services and opened the project up to other businesses in the area so that they could also take part. Whether it was monetary, materials, plants or some other contribution, we have managed to cover almost the entire cost of the project to date.  It's our way of giving back to our Community."
If you wish to make a monetary contribution, you may do so by submitting payment directly to Northampton Area Public Library and mark the contribution for "2014 Landscape Refurbishment." In return for giving back to the community, the library will recognize your organization on their brand new digital sign, their newsletters and press releases relating to the 2014 Landscape Refurbishment.
If you wish to make donations of material, plants or labor, contact Appalachian to coordinate 484-239-3918 or email at info@appalachianinc.com.