The Moorestown Garden Club's 61st Annual Flower and Garden Show will be held this weekend, Saturday, August 16, from 4:00 to 7:30 and Sunday August 17, from 11:30 to 4:00.
It is a free event with free refreshments! It is held in the Salem UCC Fellowship Hall, 2218 Community Drive, Bath, PA. ( 1/2 mile West of the RT 512 and RT 946 Traffic light on RT 946)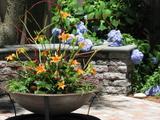 Several area garden clubs will be competing with arrangements as well as hundreds of competition entries from the Moorestown Club members.
Have your garden questions answered! Come out, vote for your favorite arrangement and have a snack with other gardeners. info – 610-837-7078