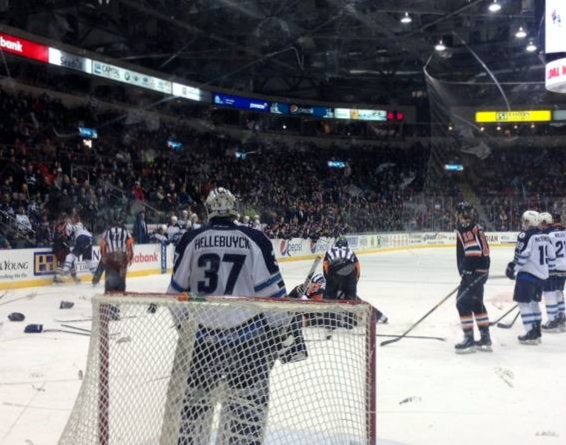 The Phantoms are fighting their way back into the AHL-East playoff picture. -Photo courtesy of Dwan Street
Coming into last weekend's road trip to Norfolk for a pair of games against the Admirals, the Lehigh Valley Phantoms had been anything but successful on the road. At 4-10-2 in their first 16 road contests, they came into last weekend having lost their last five road games.
After last catching up with forward Andrew Gordon on New Year's Eve after a game against Binghamton about the team's inability to win on the road, it now appears the Philadelphia Flyers top minor league affiliate is turning the proverbial corner.
"We need to play a little more consistently," Gordon said, referencing a good 1st period against Binghamton that night, and an equally bad period in the middle frame. "You can't win a game in one period, but you can lose one."
"We have to play dirty on the road and just chip the puck in the zone and play smart defensively, just wait for your opportunities to come," Gordon added. "If you try to play the other team's game in their building, they have a distinct advantage. We have to make sure we recognize what our game plan is and what our style of play is, and play that way. For now we have to try to put consistent periods together back-to-back-to-back."
With the results in their last four games – all wins away from home – it's safe to say the Phantoms (18-12-4-1) bought into their system the last two weeks on the road in both Norfolk and St. John's this past weekend.
That all culminated into a big 6-2 win for the Phantoms Sunday afternoon against the St. John's IceCaps, with six different goal scorers – Andrew Gordon, Nick Cousins, Steven Delisle, Oliver Lauridsen, Blair Jones and Jay Rosehill.
Cousins led the way with three points (one goal, two assists), all in the first period. Defensemen Delisle and Lauridsen each tallied their first goals of the season, while Taylor Leier, Jason Akeson and Austin Fyten tallied two assists each in the win for the Phantoms.
The win moves the Phantoms into seventh place in the Eastern Conference, and back into the playoff picture as the regular season approaches its midway point.
Combine the Phantoms four-game win streak with a four-game losing streak by East Division leading Wilkes-Barre/Scranton Penguins, and the Phantoms will return home to host the Albany Devils Friday night just three points behind the Penguins with four less games played as the American Hockey League schedule approaches the midway point.
You can follow all the latest Lehigh Valley Phantoms breaking news and in-game updates on Twitter -> @TonyAndrock_TCG.