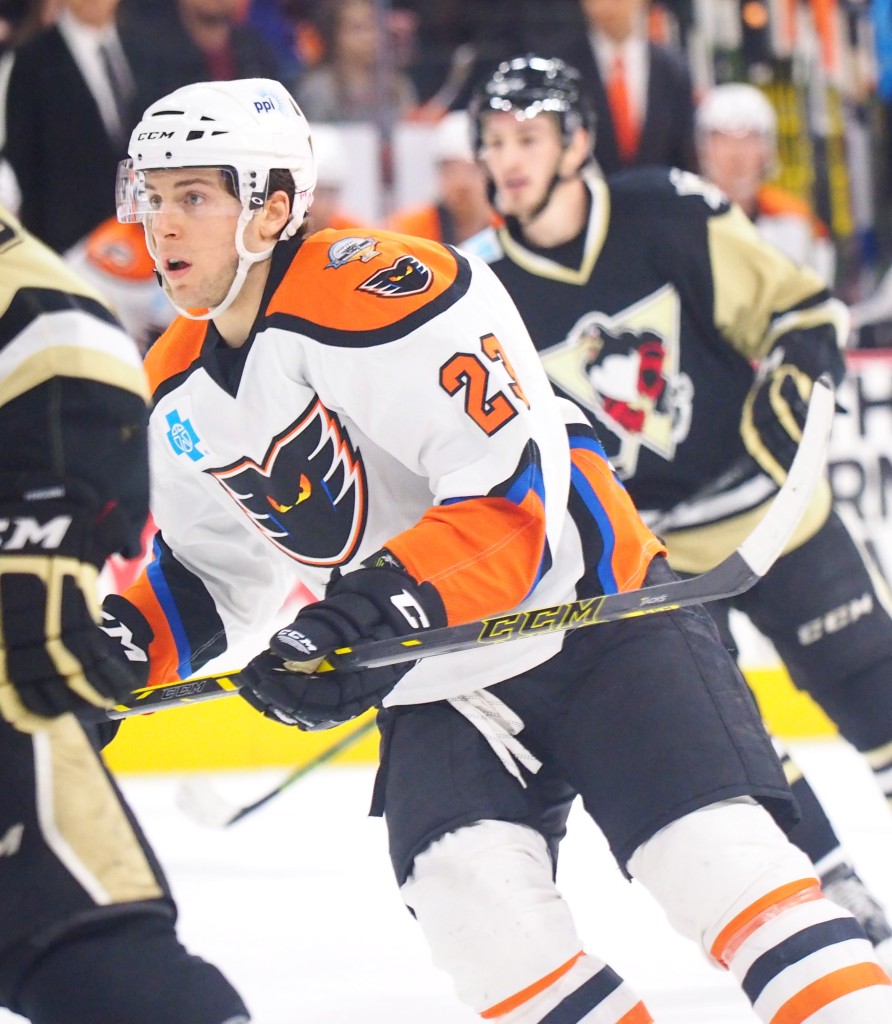 Photo credit to Nina Weiss
After a strong start to his rookie season of professional hockey saw him tally 13 goals in his first 47 AHL games, Taylor Leier battled through multiple injuries to finish the 2014-15 season. It showed on the stat sheet – no goals and just five assists in his final 26 games of the year – playing in the American Hockey League (AHL) with the Lehigh Valley Phantoms.
Towards the final five games of the season, it got to the point where then-head coach Terry Murray would ask Leier in the morning if he was sure he was good to go for that night's game.
"I had three injuries throughout the last 30 games of the season," Leier told The Home News earlier this month at the Philadelphia Flyers annual development camp.
"It's something that all hockey players and athletes have to go through. I gutted it out and I'm pretty proud of myself for that," Leier said, noting three separate upper body ailments he played through. "It sucked. It honestly sucked to play through. I'm just happy nothing bad came out of it and I could play for the guys."
While the end of the season saw Leier banged up, he came into this summer's development camp both healthy and bigger than he was in the spring.
"I've put six pounds of muscle on so far this summer over two months," Leier said, adding, "I've been working really hard."
Leier is hoping that a fresh start in the 2015-16 season could pave the way for him to make a good first impression with the NHL coaching staff.
"I'm excited for main [NHL training] camp," Leier said. "The Flyers have a new coach this year, so if he has any input that would be awesome to hear from him."
The former Western Hockey League standout with the Portland Winterhawks (WHL) had plenty of ups and downs in his rookie season with the Phantoms last year, but comes into this season knowing what to expect in his second season at the pro level.
"It's nice to have those 73 games under my belt now," Leier said, noting his AHL experience from last season. "It feels good to have the first year out of the way. It was a big step," he continued.
"The guys were stronger and they can think the game better. They were just experienced, you could tell all the little things like that. The details of the game were more significant in pro hockey compared to junior. There were no mistakes made really, so you had to create your own chances and work with your line mates to make something happen."
While the NHL roster seems set up front with 13 forwards on one-way NHL contracts, the summer camps give younger guys like Leier a chance to make a good first impression for the upcoming season. A good showing in training camp could go a long way in determining who the NHL club might call up during the season when injuries arise.
"Fourth year here for me and Scott [Laughton] and Shayne [Gostisbehere] and guys like that," Leier said of this year's development camp. "It's good to see the younger guys come in and you can help them out and stuff, but I'm really looking forward to [training] camp."